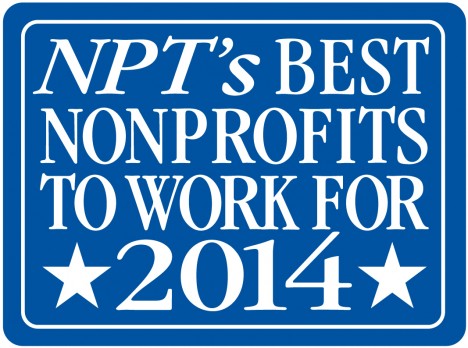 Three of New Profit's current portfolio organizations have made The NonProfit Times "Best Nonprofits to Work For 2014." Congratulations to Year Up, The Mission Continues, and iMentor!
The list also shows that you can be great at any size - it is broken into three categories, based on size of the organization by number of US employees. Year Up (large), iMentor (medium), and The Mission Continues (small) were each chosen. Check out the complete list and exclusive audio interviews with staff at some of the winning organizations, including Sara Holt, Director of Capacity Building and Recruitment at Year Up.
From The NonProfit Times:
"What makes an organization a Best Nonprofit To Work For? If you subscribe to the idea of Seven Habits of Highly Effective People, then there are a number of common traits among nonprofits on this year's list, regardless of their size, with the best organizations focusing efforts on:

Pay, Benefits and Incentives: Some organizations benchmarked at higher-than-average percentiles for salaries while others provided generous benefits to try to offset potentially lower salaries. Some employees receive incentives and healthy bonuses for reaching goals or going above and beyond.
Employee Engagement and Communication: Leaders at the best organizations often ask their staff what they want, and keep them abreast of what's going on and where the organization is heading.
Staff Development and Growth: When organizations ask their employees what they're looking for, very often it's the ability to grow and learn."
Congratulations to iMentor, The Mission Continues, Year Up, and all the honorees!