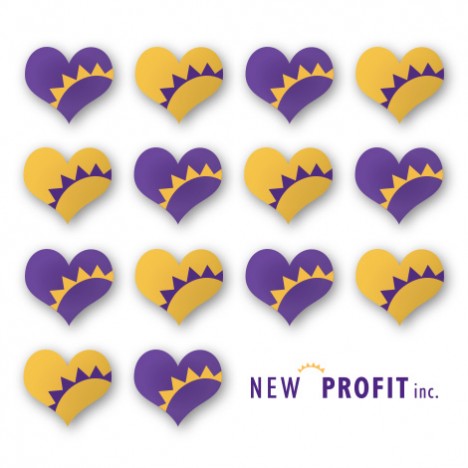 Happy Valentine's Day to our portfolio organizations! We asked our team at New Profit to tell us one thing that they LOVE about each of you and here is what they said:
Acelero Learning
Their tenacity and unrelenting drives towards bigger and better outcomes for kids and families and for redefining Head Start and early learning.

AVANCE
The way they empower parents to create better futures for their children and, at the same time, for themselves.

College Advising Corps
Their unwavering belief in their advisers' ability to help other young people like them attend and succeed in college, empowering them to empower others.

College Possible
For the lives and generations that they are changing by making college admission and success possible for low-income students through their powerful coaching and support model.

College Summit
Their firm and unyielding belief in the power of peers to build an inspiring and powerful college going culture in high schools across this country.

Educators 4 Excellence
They are giving voice to an authentic and powerful movement of education reform led by teachers for teachers and students across America

Eye to Eye
Their commitment to helping students develop the confidence, agency, and voice to tell their own stories, and in doing so, to fundamentally change how people think about learning in this country.

Family Independence Initiative
They reach for the stars and won't take no for an answer. It steps aside and puts low-income families in control.

First Place for Youth
Their laser like focus on transitioning foster youth to permanent self sufficiency and solving a problem at scale.

FoodCorps
The big tent they pitch to compel all kinds of stakeholders to care about the quality of food our 32 million students eat in school every day.

Genesys Works
Their commitment to their model that is changing the life trajectory of underprivileged high school students by enabling them to work in meaningful internships and see a path to opportunity.

Health Leads
That their discipline and courage has brought them to the cusp of permanently changing the health care system, ensuring that all patients' basic resource needs are met as standard part of quality care.

iMentor
Their helping thousands of high school and college students succeed in school and in life, by connecting them with dedicated, caring adult mentors.

KIPP
The passion and commitment of the thousands of KIPP team members across the country working every day to improve the lives of the fifty thousand kids they serve.

LIFT
Their deep commitment to understanding what their members need to reach their goals, and to using what they learn about their members to transform social services more broadly.

Management Leadership for Tomorrow (MLT)
Their commitment to unlocking and cultivating the potential of talented minorities to transform the face of leadership in America.

New Classrooms
Their bold vision to re-imagine the classroom and create personalized learning models harnessing technological innovations with best practices from education reform.

New Leaders
Their commitment to their mission and their openness to change and innovation.

New Teacher Center
Their unrelenting desire to constantly learn and improve internally - setting the tone for their work with tens of thousands of new teachers across the country every year.

Peace First
Their vision for a possible future that brings to bear the unique power young people possess to change the world through courage, compassion, and collaboration.

Peer Health Exchange
For the healthy population that they are creating by giving teenagers the knowledge and skills they need to make healthy decisions.

Roca
Their passion for their cause and the way they have completely embraced the Pay for Success model and performance outcomes.

Single Stop USA
Their innovative use of technology, making it easy for someone deserving of public benefits to access them (e.g., financial, legal), so they can spend their energy improving their life.

The Achievement Network
Their commitment to re-defining the term "data" to be about learning and growth, rather than assessment and consequence.

The Mission Continues
Their steadfast focus on meeting the need of veterans returning home, from expanding their skills and building their networks to making a difference in their communities.

Turnaround for Children
Their commitment to combating and reducing childhood stresses and challenges stemming from poverty, and their determination to create fortified environments in which over-stressed children can feel safe and receive counseling and treatment.

Year Up
Their path-breaking and path-creating model to close the Opportunity Divide in which all involved—the young urban adults and the companies that hire them—are bettered by their involvement.

YouthBuild USA
Their dedication to lifting up young people's voices.