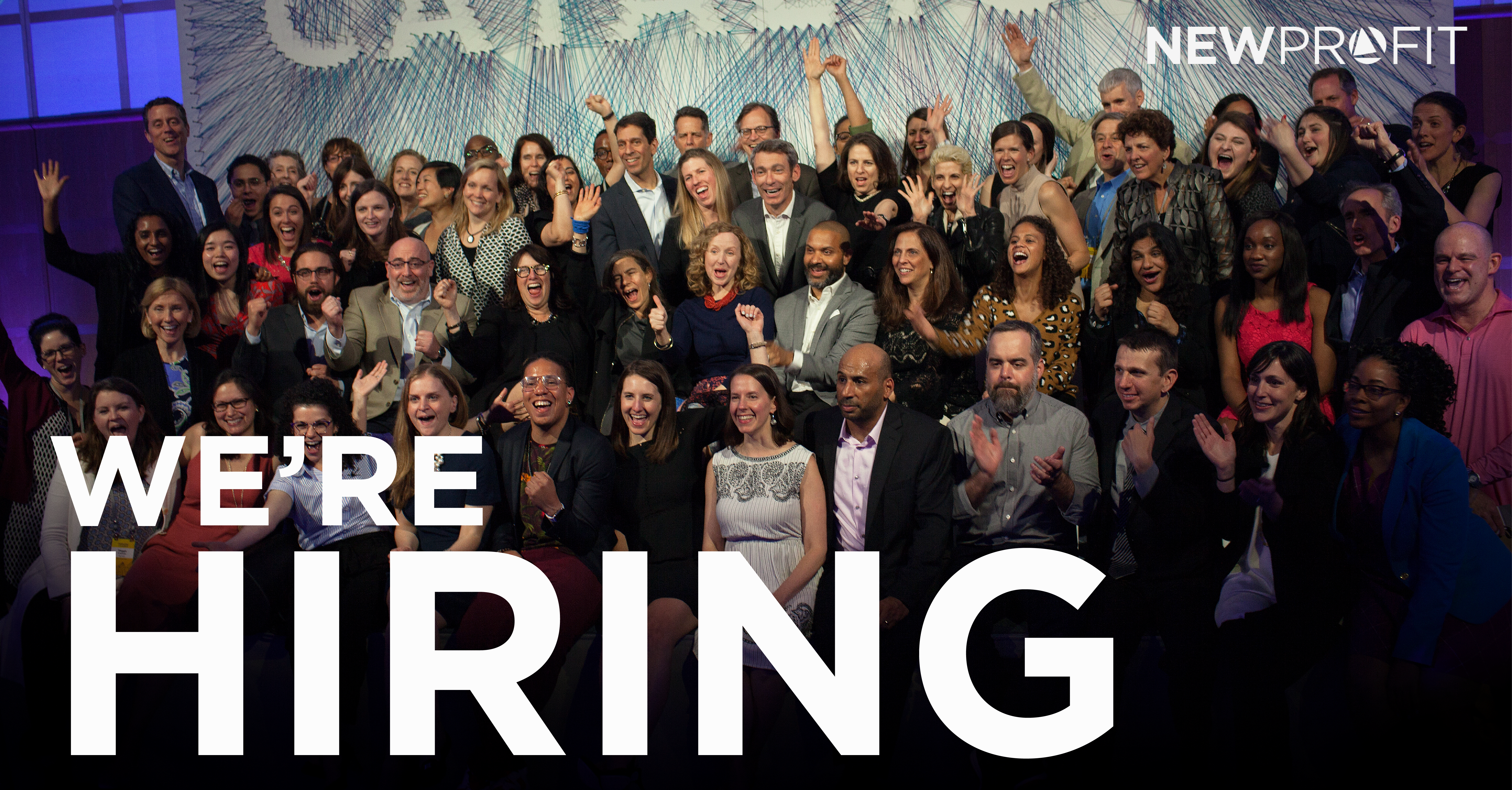 We are looking for five driven individuals to join the New Profit team this summer as part-time interns! Are you interested in contributing to and learning about the inner workings of an innovative, equity-centered, national venture philanthropy organization? Then we're looking for you!
Our internships are placed in various parts of our organization, each opportunity offering exposure to the program, external affairs, and/or operational management to help you develop skills, knowledge, and relationships to drive your career forward.
Our summer internship program will be 20-30 hours per week and provides each selected participant a $2,000 stipend. Keep reading for more information on each of the open positions and how to apply. We look forward to hearing from you!
---
Communications

The Communications team at New Profit engages on a daily basis with every part of the organization, collecting content from various teams, packaging and sharing across a number of digital platforms and driving the external understanding of New Profit's model.
Through an internship with the Communications team you will sharpen your skills and gain deeper understanding in numerous areas including writing (both long-form and social media), communications strategy, and utilization of communications methods as fundraising tools.
Click here to read more and apply!
Learn to Earn
Learn to Earn is New Profit's postsecondary education and career strategy. With a goal of seeing 10 million more career-ready Americans in the workforce by 2025, the Learn to Earn Fund works to catalyze holistic solutions that help learners from low-income and underrepresented backgrounds access upwardly mobile careers. We see opportunities to equip all learners with the education, skills, and opportunities needed to be career-ready in partnership with our networked community of diverse innovators, systems leaders, funders, and learners. For more information on Learn to Earn, click here.

As an intern on our Learn to Earn team, your responsibilities may include helping the LTE team build out the pipeline of organizations for future investments, designing a partner/stakeholder database for current initiatives, leveraging project management and event planning skills to assist in preparation for upcoming convenings, writing reports and supporting the content design of convening sessions, and supporting our selection processes for investment selection cycles that take place during your time with us.
Click here to read more and apply!
America Forward
America Forward is the DC-based nonpartisan policy initiative of New Profit, a pioneering national venture philanthropy fund that seeks to break down barriers between all people and opportunity in America. America Forward's mission is to unite social innovators with policymakers to translate local impact into national change. Since 2007, America Forward has been advancing a public policy agenda that advances equity, fosters innovation, rewards results, and catalyzes cross-sector partnerships.
The America Forward intern will provide support to America Forward, the nonpartisan policy initiative of New Profit. The intern will contribute to America Forward's strategic goals by supporting America Forward's policy and advocacy efforts on issues ranging from early childhood, K-12 education, post-secondary education, workforce development, poverty alleviation, and criminal justice reform. The America Forward intern will also provide support on a number of engagement activities, including: America Forward's Federal Collective Advocacy, Coalition Advocacy Capacity-Building, and our 2020 Presidential Initiative United to Move America Forward.
Click here to read more and apply!
Systemic Solutions Initiative
Building on 20 years of experience backing breakthrough social entrepreneurs and social impact initiatives, New Profit launched the Systemic Solutions Initiative to help strengthen the nation's capacity to solve pressing social problems systemically, with three key objectives in support of this goal: (a) identifying and investing in promising "system entrepreneurs," (b) developing frameworks and tools needed to advise and scale high-potential systems change initiatives; and (c) fostering a learning community of like-minded systems change actors (e.g., funders, entrepreneurs, and practitioners).

As a Summer Associate with the Systemic Solutions Initiative, you will gain hands-on experience in and exposure to entrepreneurial nonprofit organizations and the dynamic venture philanthropy field. You will specifically work in the following areas:
Investment Pipeline Management - Identify and research prospect investments for the initiative's investment while also supporting efforts for SSI's ongoing investment selection cycle.
Special Project Coordination - Oversee the project management and event planning/coordination for relevant initiative events and convenings
Field Research & Knowledge Development - Conduct field wide-research on the growth and development of systems-focused organizations across the social sector