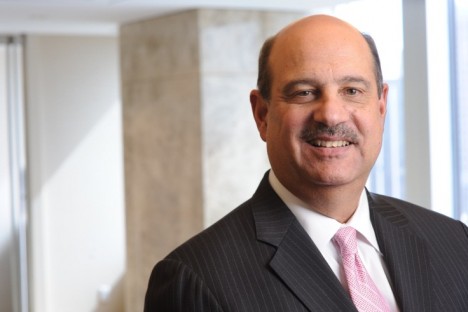 New Profit is extremely pleased to announce the newest member of our Board of Directors, Barry Salzberg.
Full joint press release from New Profit and Deloitte:
BOSTON, 4 February 2014 – Barry Salzberg, CEO of Deloitte Touche Tohmatsu Limited (DTTL), has been elected to the Board of Directors of New Profit Inc., a pioneering venture philanthropy and social innovation organization.
Salzberg's appointment strengthens a multi-year relationship between the Deloitte network and New Profit that has provided financial and advisory support to help build Teach For America, KIPP, Year Up and other New Profit organizations into influential forces of change in education, workforce development, public health, poverty alleviation and other social challenges facing the United States.
"We are honored that Barry will be bringing his insight and expertise to our board," said Vanessa Kirsch and Tripp Jones, managing directors at New Profit. "This is a unique moment in which new approaches and energy are needed to tackle tough social challenges and change lives, and we believe Barry can help us push towards new horizons in philanthropy and social impact."
Drawing on his decades of experience in the business world, Salzberg will provide invaluable guidance to New Profit as it considers its next phase of growth, while also helping the organization develop new approaches to driving social change, including innovative financing vehicles and public-private partnerships. In addition, DTTL's member firms will continue to provide strategic advisory services directly to New Profit's portfolio organizations.
"By collaborating we're able to leverage Deloitte's skills to help New Profit scale its vital social innovations, including programs that connect youth from underserved communities with employment opportunities and develop their careers," said Salzberg, who also serves as Chairman of the Board of College Summit, Chairman of the United Way Worldwide Board of Trustees, and is a chair emeritus of YMCA of Greater New York. "These programs have a positive and direct impact on families, and more broadly, the communities where we work and live."
To read Mr. Salzberg's full bio, click here.
To learn more about New Profit Inc., click here.
About Deloitte
Deloitte refers to one or more of Deloitte Touche Tohmatsu Limited (DTTL), a UK private company limited by guarantee, and its network of member firms, each of which is a legally separate and independent entity. Please see www.deloitte.com/about for a detailed description of the legal structure of Deloitte Touche Tohmatsu Limited and its member firms.
Deloitte provides audit, tax, consulting, and financial advisory services to public and private clients spanning multiple industries. With a globally connected network of member firms in more than 150 countries, Deloitte brings world-class capabilities and high-quality service to clients, delivering the insights they need to address their most complex business challenges. Deloitte has in the region of 200,000 professionals, all committed to becoming the standard of excellence.
For the press release on PR Newswire, click here.