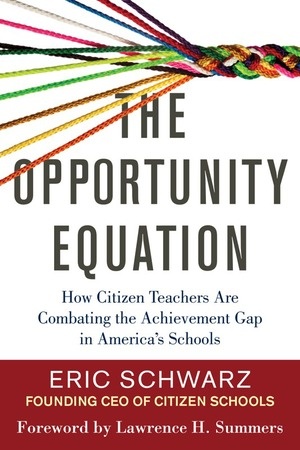 Eric Schwarz, Co-founder of Citizen Schools, realeased a new book this week, The Opportunity Equation: How Citizen Teachers Are Combating the Achievement Gap in America's Schools. It's a wonderful read about the power and potential that citizen volunteers hold in amplifying and reshaping education in America.
Eric was kind enough to let us share an excerpt, a powerful story about a boy named Francisco. If you want to read more, we strongly encourage you to click the link above to buy the book. Eric is donating all of his author proceeds back to Citizen Schools, a former New Profit portfolio organization.
Joel Bennett had a gentle smile and a truck full of saws, vice grips, files, and other tools he used in a burgeoning carpentry and cabinetmaking business. Joel's business was stable, and he liked the feeling of tangible accomplishment he got from working with wood. But when he met Stephanie Davolos at a community event near his home in Boston's Jamaica Plain section, Joel volunteered that he had always been curious about teaching. Sometimes after completing yet another kitchen renovation or set of built-in bookcases for a home office, he wondered if teaching children might be a more satisfying way to spend his days. Citizen Schools became a way to dip his toe into the education world, and he signed up to teach a carpentry apprenticeship in the spring of 1996.
That spring we offered a Saturday program at Dorchester's Woodrow Wilson School, four blocks from the Victorian fixer-upper Maureen and I were soon to buy in nearby Ashmont Hill. We enrolled sixty-four students and offered eight apprenticeships (including Joel's) in the morning, followed by various field trips and learning activities in the afternoon. Joel's team of young carpenters set out to produce high-quality carpenter's toolboxes. They measured them, cut them, sanded them, shellacked them—the whole thing.
The kids learned plenty. Those of us observing learned a couple of things too. For starters, we learned that a few of the kids didn't know how to measure—at all. In the second week, Joel asked a seventh grader named Kiel to cut a piece of wood in half. Kiel said, "Half? What's half?" Kiel was getting Bs at the Woodrow Wilson Middle School, and he didn't know what "half" meant. I couldn't believe it! Joel broke down the concept of half. (I remember him folding a piece of paper, then measuring his two feet compared to one, before pulling out a tape measure and actually addressing the piece of wood at hand.) Kiel and Joel cut the piece of wood together and moved forward.
Francisco was another young boy in the apprenticeship. He was eleven and a recent immigrant from Central America. His toolbox was a beautiful piece of work. Around week nine, the kids were planning their presentations and deciding what their toolboxes would be used for—gifts to their moms, or just additions to their own personal workspaces. Joel had noticed that on the side of his toolbox, Francisco had written MIGUEL in block letters. Joel hadn't heard him talk about a Miguel, so he asked him: "Francisco, who's Miguel? I thought you were keeping this or giving it to your mom."
"Miguel is this old man who lives in my neighborhood," said Francisco. "He's always doing nice things for me. He gets me ice cream. Last summer he took me out to a baseball game. I've never had anything to give to him. So I'm going to give this toolbox to Miguel."
Francisco's story has stuck with me ever since. Even after telling his story dozens of times, I still get goose bumps imagining Francisco presenting his toolbox to Miguel. Our society embraces the giving of gifts to our children. But kids want the chance to give gifts too. Kids who grow up with the privilege of private classes—in ceramics, jewelry, woodworking, or even music—have plenty of chances to be givers of presents they created themselves. Providing kids the chance to be makers of things—not just consumers—is an important part of the opportunity equation.
Used with permission of Eric Schwarz and Beacon Press. All rights belong to the author and publisher. Please contact them to reprint.