On May 29th and 30th, 1000 fellows and partners from the private, social, and public sectors came together to celebrate the decade-long success of Management Leadership for Tomorrow (MLT) and set the stage for the next ten years. Founded by John Rice, MLT works tirelessly to help high potential minorities unlock the second door to social mobility – career success – through its high-touch program model. To date, MLT has served 4000 fellows creating a vibrant and growing community of rising leaders and committed partners. In the coming decade, MLT aims to build on this strong foundation and accelerate the growth of its network to drive large-scale impact.
The two-day celebration commenced with a gala hosted by Gayle King, co-host of CBS This Morning. Over the course of the evening, MLT recognized three senior leaders – John Legend, Indra K. Nooyi, and Tom Bernstein – who have made tremendous impact in their respective fields. A few of the MLT fellows also shared their stories and the pivotal role MLT played in changing the trajectory of not only their careers but of their lives. Additionally, John Legend, former member of the MLT team, performed six of his biggest hits, which left the audience "ready to go." The evening has the essence of both a red-carpet affair and a family reunion.
Following the energetic and inspiring kickoff, the next day focused on providing professional development training for MLT's 1000 fellows, who are committed not only to achieve their career potential but also to create change in their communities and mentor the next generation of leaders. Plenary and breakout sessions covered topics such as "how to get to the next level" and "how to be an authentic leader" in the private, public, and social sectors. Among the panelists were New Profit Senior Partner Elizabeth Riker and Jeff Berndt (now of Roundtable Investment Partners & Carleon Capital Partners, formerly Managing Partner, Development at New Profit) who shared their perspective on social sector entrepreneurship and marketing, respectively. Additionally, a series of speakers including CEO of Citigroup, Michael Corbat, discussed their personal stories and the decisions that helped propel them to senior leadership. A few of the key takeaways from the conference include:
Identify your individual profile (your strengths/weaknesses, passion etc.) and find the path that best matches that profile
Focus on being the best player and NOT the best player on the team
Get perspective. Life is a long game; don't get too narrow too fast in your career. Take risks and focus on the day-to-day
Establish a personal success strategy including a team of honest advisors/friends
Stay scrappy and humble. As opportunity becomes more flat in this interconnected world, who you are becomes more important
To make an impact, do the things that make you uncomfortable
Be authentic and use effective storytelling to build relationships and trust
As someone who identifies as a high potential minority, supporting MLT through my role at New Profit has been a profoundly rewarding and learning experience. After the two days, I left New York feeling empowered to reach for my dreams and also inspired to be among a generation of MLT-ers committed to do just the same.
Together, I know that we can transform the face of leadership in America!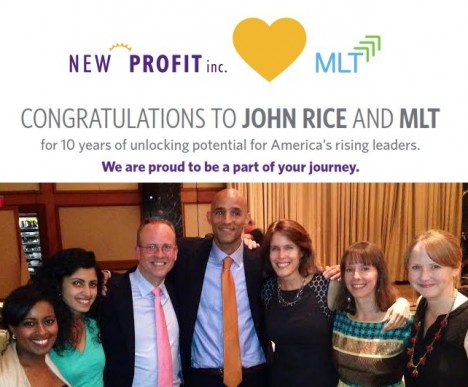 Members of our team had a terrific time at the MLT gala. Pictured left to right: Yordanos Eyoel (Manager, New Profit), Nithyaa Venkataramani (Talent Fellow, New Profit), Jeff Berndt (New Profit alumni, now of Roundtable Investment Partners), John Rice (MLT Founder & CEO), Liz Riker (Senior Partner, New Profit), Kelly Cutler (Associate Partner, New Profit), Jennifer Anderson (Chief Talent Officer, New Profit).