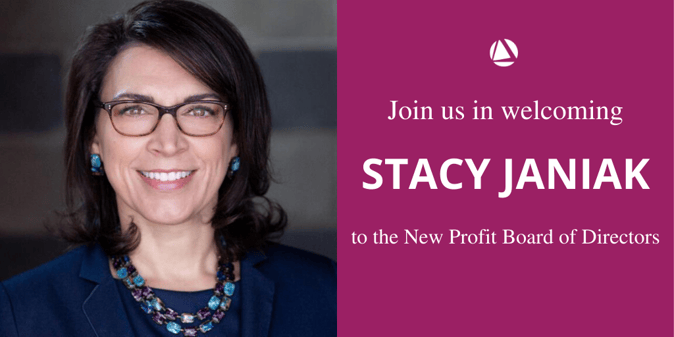 January 28, 2020 (Boston): New Profit announced that Stacy Janiak, Chief Growth Officer at Deloitte, has joined the New Profit Board of Directors. Janiak brings more than 25 years of experience counseling Fortune 500 companies and leaders to the board, where she will help guide New Profit into an exciting future, steward the longstanding collaboration between New Profit and Deloitte, and lend her insight and expertise to social entrepreneurs in the New Profit portfolio and network.
"Stacy will be adding her deep experience and expertise in growth, as well as her unique perspective from the Midwest, to the board at an important time when we ourselves are growing and broadening our network," said New Profit Founder & CEO Vanessa Kirsch. "We are excited to work with her and continue to strengthen the collaboration between New Profit and Deloitte."
The New Profit and Deloitte collaboration began in 2013, with a goal of providing nonprofits and other social impact organizations in New Profit's portfolio with the caliber of strategic support that Fortune 500 companies can access. This catalytic support, delivered principally in collaboration with the Monitor Institute by Deloitte, helps organizations scale social impact the way that companies are able to scale products and services to reach millions of people.
To date, Deloitte and New Profit have collaborated to build the capacity of more than 40 organizations (read the full story of the collaboration and view the organizations served here). Deloitte has also recently advised New Profit on its developing Inclusive Impact initiative, which seeks to drive more financial and strategic resources to social impact organizations run by Black, Indigenous, and Latino/a/x leaders. Janiak's colleagues on the New Profit board include Deloitte Principal Stephen Jennings, and she takes the place of Deloitte Principal and Government & Public Services Practice Leader Mike Canning, who stepped down in 2019.
"New Profit's approach to helping social innovations grow and thrive is truly groundbreaking," said Janiak. "I'm honored to join the Board of Directors, and I look forward to building upon the strong relationship between New Profit and Deloitte as our organizations collaborate to drive transformative change in early learning, K-12 education, workforce development, and other critical areas."
For more than 25 years, Stacy has worked side-by-side with Deloitte clients to help them solve their most complex business challenges, always seeking innovative paths while harnessing the power of teaming and diversity of thought. In her role as Chief Growth Officer, she drives a go-to-market strategy to optimize Deloitte's capabilities across service offerings, industries, and geographies, with an emphasis on bold, integrated, digitally-enabled solutions and services.
Stacy is currently a member of the US Executive Committee, US Management Committee, and Global Board of Directors, and has held significant leadership roles throughout her Deloitte career. She previously served as the Chief Client Officer, Assurance and Accounting Advisory Services National Managing Partner, Managing Partner for the Chicago office, and US Retail sector leader. She also served on the US Board of Directors.
In 2018, Stacy was recognized as a Woman with Impact by the Women's Business Development Council. She plays an active part in her local community through board roles with Boys & Girls Club of Chicago, The Executives' Club of Chicago, and her alma mater, DePaul University.
For more information, visit www.newprofit.org.
About Deloitte
Deloitte refers to one or more of Deloitte Touche Tohmatsu Limited, a UK private company limited by guarantee ("DTTL"), its network of member firms, and their related entities. DTTL and each of its member firms are legally separate and independent entities. DTTL (also referred to as "Deloitte Global") does not provide services to clients. In the United States, Deloitte refers to one or more of the US member firms of DTTL, their related entities that operate using the "Deloitte" name in the United States and their respective affiliates. Certain services may not be available to attest clients under the rules and regulations of public accounting. Please see www.deloitte.com/about to learn more about our global network of member firms.