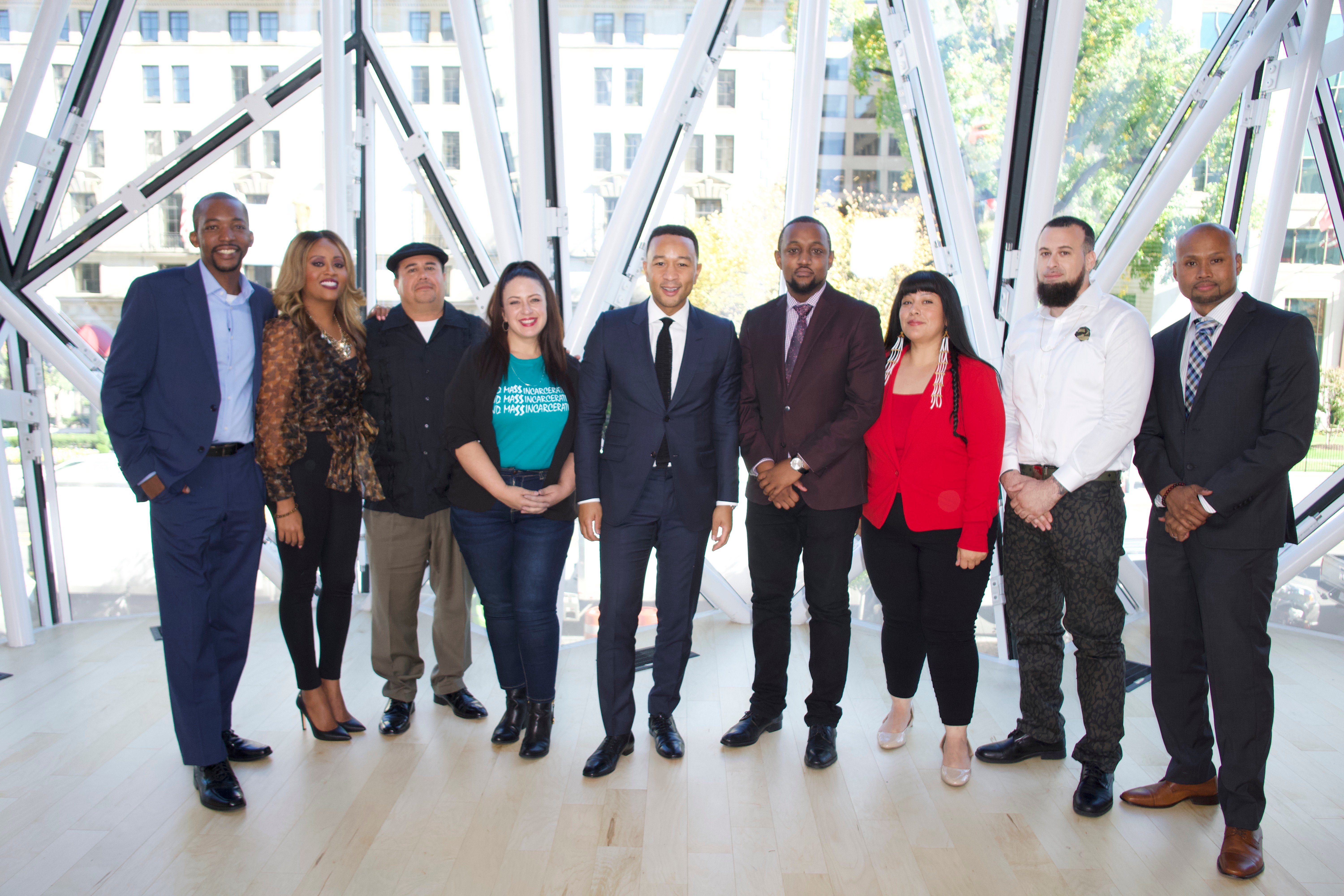 Backed by Award-winning Artist and Activist, and Founder of FREEAMERICA John Legend, New Profit, and Bank of America, Unlocked Futures supports social entrepreneurs directly impacted by the criminal justice system
---
October 25, 2019 (U.S.) - Eight social entrepreneurs from across America who founded mission-driven organizations focused on criminal justice system reform have been selected to be part of the second cohort of the Unlocked Futures initiative. Building on the momentum created by the first group of Unlocked Futures entrepreneurs, the second cohort similarly works to break down barriers to successful reentry into society for millions of people returning from incarceration and to reform the criminal justice system overall.
These barriers—including lack of access to formal job training, limited housing options, and hiring restrictions due to criminal records—leave 60 percent of formerly incarcerated individuals unemployed one year after their release, contributing to the recidivism cycle that damages so many communities. Entrepreneurship is one of the most viable economic pathways for the formerly incarcerated to escape this cycle, live with dignity, and contribute positively to their communities.
Founder of FREEAMERICA John Legend shared, "Even though an individual may have completed their prison sentence or paid their debt to society, they carry that sentence with them for the rest of their life because of how we view incarceration in the U.S. Basic necessities to get back on one's feet and reintegrate into one's community remain elusive. Each of us, regardless of industry or sector, has the opportunity to reconsider and restructure who and how we hire. Only when we integrate the formerly incarcerated into the workforce, do we truly unlock the full potential of our society and economy."
---
The second cohort of Unlocked Futures entrepreneurs, which was announced at the U.S. Chamber of Commerce Foundation's 2019 Talent Forward Conference in Washington, D.C. and in the Forbes article "John Legend Wants To Improve Job Opportunities For People With Criminal Backgrounds" are:
Chas Moore, Austin Justice Coalition: Improves the quality of life for people of color in Austin by engaging a grassroots, activist-led coalition that addresses community needs, increases political involvement, empowers communities, and drives criminal justice reform at the local level.
George Galvis, Communities United for Restorative Youth Justice (CURYJ): Works to end cycles of violence and poverty by uplifting young people of color that have been impacted by incarceration to lead the way in transforming their community and developing the policies that impact them.
Daniel Tapia, The First 72+: Works to stop intergenerational and cyclical incarceration in New Orleans by providing and connecting men and women impacted by the criminal justice system to resources essential to their growth and stability.
Brandon Smith, The Forestry and Fire Recruitment Program: Helps people in prison-supported forest firefighting programs gain skills to become full-time, paid members of California's firefighting force post-release.
David Heppard, Freedom Project: Addresses the trauma, stigma, internalized oppression and isolation that stem from involvement with the legal system by offering programs inside prison, in reentry, and in the community proven to reduce recidivism.
Syrita Steib-Martin, Operation Restoration: Provides holistic support to women and girls who are impacted by incarceration to help them recognize their full potential, restore their lives, and discover new possibilities.
Percilla Frizzell, Sacred Generations: Restores Native land and people by organizing system-impacted tribal communities to end educational inequity, mass incarceration, and climate injustice through data sovereignty, civic leadership, and policy advocacy.
Gina Castillo, Unloop: Builds a pipeline to tech for folks with records with an end-to-end pathway that begins with coding education and ends with real work at thriving wages—both in industry and at the Unloop Studio.
"This group of entrepreneurs is yet more evidence that the most extraordinary talent often exists
in places we aren't willing to look," said Tulaine Montgomery, a Managing Partner at New Profit
who leads the Unlocked Futures initiative. "They are taking on the unacceptable norm of
recidivism, with creativity that comes from their personal expertise and proximity to the criminal
justice system."
Unlocked Futures launched in 2017 as a partnership between New Profit and John Legend's FREEAMERICA with founding support from Bank of America, as part of the latter's broader focus on removing barriers to success for vulnerable populations. The first cohort showed powerful progress, particularly in spreading the message of hope and humanity about returning citizens. This work was highlighted by a FREEAMERICA video campaign that garnered more than 1 million views for the entrepreneurs and their organizations.
"This partnership helps to break down barriers and provides opportunities for the formerly incarcerated to create a powerful path forward," said Andrew Plepler, global head of Environmental, Social and Governance at Bank of America. "We are inspired by what the first cohort has accomplished and look forward to seeing the impact of the second cohort, and how the program continues to drive economic mobility in our communities."
Through this joint partnership, Unlocked Futures provides the selected entrepreneurs with funding and capacity building: each will receive an unrestricted $50,000 grant and one year of strategy support to help them scale the impact of their organization. New Profit, a venture philanthropy organization that backs social entrepreneurs advancing equity, shares resources and support so they can achieve impact at scale, supplemented by coaching from senior executives at Bank of America. FREEAMERICA works with the entrepreneurs to share their personal stories and experiences far and wide to help reduce the stigma of incarceration and highlight the value of returning citizens in America.

If you are interested in partnership or providing support for Unlocked Futures, please contact New Profit at UnlockedFutures@gmail.com.