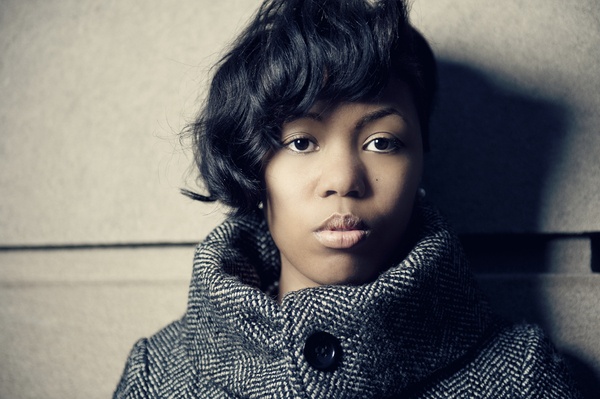 As part of our re-branding process, we created a video (below) about our work, featuring a poem created and performed by Jasmine Mans. The video was produced by our agency partner Hiker. You can see more of our video work with Hiker here.
Mans is an amazingly talented individual and we wanted to take a moment to give you all some insight into the person behind the voice. Further down, we've shared an interview with Mans, covering a range of topics including what inspires her and what she believes are the most critical social issues of today.
How did you get involved with poetry and the arts in general?
I was first introduced to poetry/the arts through orator classes. As a child, once a week, I received speech lessons. The children were all asked to memorize poems and it started there!
I didn't want to just memorize a poem, I wanted to create one. I wanted to tell the story. I wanted to be the story. I started documenting my creative narrative through word. I remember going to church, and before I understood religion, I relished in the creative wording of scripture.
What is your writing process?
For me, writing is one's ability to stay true to a moment. Honoring the moment is the only "rule" I set for myself. Stories come from different places and are triggered by different ideas and energies.
I may write because it's on my heart, because I was asked my opinion, or to just exercise my craftsmanship. And, honestly, each moment doesn't feel special, each poem doesn't sound great, most stories, people will never hear.
However, for me, the most important question is, "how honest did you make this moment?"
Who is/are your artistic inspirations?
My inspiration is limitless, or I work to make my inspiration limitless, rather. It is not contingent upon "a thing" or "a person" because that draws close to the assumption that, if said "thing" or "person" leaves, I'll loose my inspiration.
I look at my creativity a little differently. I seek to find inspiration in everything I can. Apart from my lived experience as a poet, or creative, is finding the beauty and story of things big and small. I mean, isn't everything inspiring depending on which lens you're looking out of?
Who is/are your inspirations in the social realm?
People who can be creative and accountable inspire me. The works of Kara Walker inspire me and how she can construct such an ugly truth beautifully. I'm also inspired by how Hebru Brantley makes me feel like I can fly. I am inspired by both the dare and deference seen in graffiti culture and how its challenges space and politics.
Do you think that the arts can/have had a significant impact on social change initiatives? Why? How?
Of course, Art is a language. And when we fail to use this language, among others, to engage people, we miss out on all things one could lose in the wasted brilliance of an artistic mind.
However, when you do access the language of "art" you begin to speak to new demographics of people, you welcome a limitless expression of thought. Whether this thought explores the passion between same sex lovers, or the terror of violence.
When Marvin Gaye wrote "Whats Goin' On," he created a space of fellowship for communities of young people and people of color alike. He added to the vocabulary, which sung out, like protest, against the Vietnam War.
I guess, what I mean to say is, art can travel to spaces that sometimes "religion", and "politics" don't seem so graceful in.
What, in your opinion, is/are the most important social issue[s] of our time?
I don't want to use the word "most" because there are realities of this world I am completely uneducated about. However, in 2015, I believe that prison systems and poverty are two crises. I'm often saddened by the number of undocumented students who can't receive higher education.
Nevertheless, each of these things: prison, poverty, and undocumented young people, are examples of structural issues. The social issue inherent is that our growing carelessness for the lives of others works as a prejudice.
What inspires you most right now?
Children. I'm inspired by the fact that children innately follow colors and love. I wished, as adults, we remembered to follow both love and color.