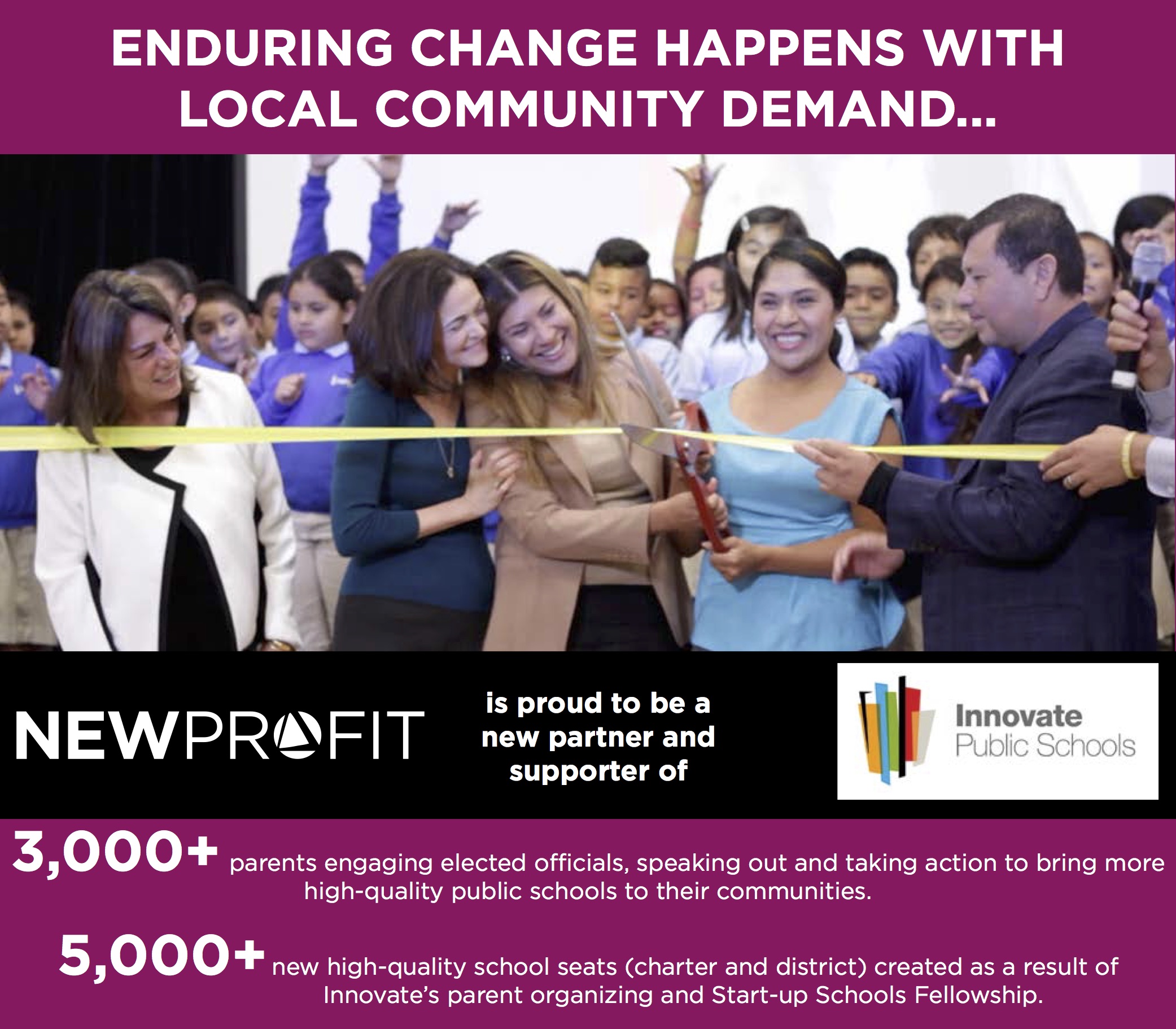 New Profit Commits $1 Million in Support of Innovate Public Schools
November 19, 2015 (Boston): New Profit, a national nonprofit venture philanthropy fund working to break down the barriers standing between people and opportunity in America, is investing $1 million over the next four years to support Innovate Public Schools (Innovate), a Bay Area-based nonprofit transforming education in low-income communities by supporting parents to become the leaders making change happen in their communities, providing accessible information on the problems and solutions in education, and partnering with districts and charters to create more high-quality schools.
The investment in Innovate will be a part of New Profit's Reimagine School Systems (RSS) Fund, a cross-sector collaboration aimed at significantly and rapidly increasing the number of high-performing schools serving low-income students by transforming the way school systems work and lifting up new models that can be used at scale across the country.
"The Innovate team is excited to join the New Profit RSS Fund portfolio of investments seeking to transform education," said Matt Hammer, Founder and CEO of Innovate Public Schools. "New Profit brings a national perspective and deep expertise in scaling programs and organizations. We look forward to leveraging their resources as Innovate explores how to create deeper impact in the Bay Area and broader impact nationally."
Innovate drives change through three complementary strategies:
Providing parents in high-need communities with leadership training and coaching so that they realize the power of their voices and can become compelling, constructive advocates for better schools, sustaining change in their communities over the long-term.




Creating and disseminating easy-to-understand, high-quality data and research to parents and their communities that highlight which schools are excelling and which are underperforming, and what the most effective solutions are to create more excellent public schools for low-income children.




Partnering with educators from both school districts and charter schools to start excellent new public schools and redesign chronically low-performing schools through their Start-up Schools Fellowship.
Innovate has worked with parents and district leaders across five districts, and is seeking to expand its work into as many as three more districts in the next 2-3 years. Through the new National Parent Leader Institute and the Community Organizer Training Program, Innovate is also developing community organizing and parent leadership trainings to support change efforts in other cities and transfer their expertise more broadly. Innovate's Start-up School Fellowship plans to work with 10 charter schools and district schools by 2018 to support the creation of over 5,000 more new high-quality school seats.
Innovate's approach and commitment to creating widespread impact make it an excellent fit and partner for New Profit's RSS Fund, which is focused on (a) creating actionable demand for better schools through changing the policies and politics of education systems, and (b) supporting great school models that can grow the supply of high-quality schools to meet that demand.
"We are excited to both support and learn from Innovate as it continues to scale its impact in and beyond the Bay Area," notes Alex Cortez, Managing Partner of the RSS Fund. "Innovate is demonstrating an entrepreneurial and effective model for education change that is both agnostic and pragmatic. It is agnostic in that it is focused on high-quality schools and works with both charter schools and district schools committed to providing communities the schools they deserve. Yet Innovate is also pragmatic in realizing the need to develop parents as leaders of change and equipping them with the data, training, and organization so that those parents can drive the agenda for enduring education change in their communities."
The funding from New Profit's Reimagine School Systems Fund will be unrestricted and supplemented by strategic advisory support from New Profit staff in collaboration with Deloitte.
Learn more about Innovate Public Schools by visiting www.innovateschools.org.
About New Profit:
New Profit is a national nonprofit venture philanthropy fund. The organization's mission is to break down the barriers standing between people and opportunity in America. To do so, New Profit is working to transform the way America educates its children, propels people towards social and financial stability, and creates healthy communities. Since being founded in 1998, New Profit has collaborated with philanthropists, social entrepreneurs, foundations, businesses, policy advocates and other entities to help drive more than $1 billion towards innovative, disruptive approaches to social problem solving. New Profit's unique, integrated approach brings together the following activities: investing through the New Profit Innovation Fund and Focus Funds; changing public policy through America Forward; and building communities of learning and action around innovative new approaches to change through the Gathering of Leaders and other activities. www.newprofit.org.