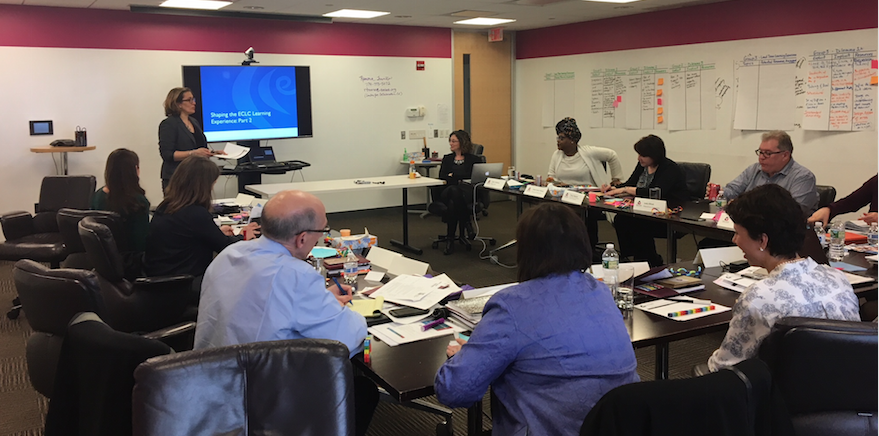 Last month at SXSW EDU, New Profit's Reimagine Learning Fund launched An Educator's Guide to Community-Engaged Strategic Planning, a comprehensive guide to community-driven change for school districts and consultants. We developed this guide following our community-engaged strategic planning process with Salem Public Schools in Massachusetts, recognizing that we had a unique opportunity to share the many valuable lessons we learned during this process with other school districts interested in creating similar types of change in their communities. We are excited to share this resource with the Reimagine Learning network, and we hope that you will also share it broadly with anyone in your network who may find it useful.

The Educator's Guide is the second codification of work developed by Reimagine Learning, on the heels of The Golden Ticket (launched in September 2017), a multimedia case study of Lawrence Public Schools' (LPS) Acceleration Academies, a highly effective intervention that has helped turn around the school district. We are also happy to share that we are supporting a new 501(c)(3), the Sontag Prize in Urban Education, that Jeff Riley, former LPS superintendent and now-Massachusetts Commissioner of Education, founded, in order to bring Acceleration Academies to other districts in Massachusetts and beyond. The creation of the Sontag Prize in Urban Education is a reminder of the fact that entrepreneurship can be found within our education systems.

Through our work in both Salem and Lawrence, we have strengthened our resolve to serve students with diverse learning needs. One of our key lessons is that in order to do that, we must give the adults in schools the time, the space, and a set of rich experiences that enable them to reflect on and improve the structures, systems, approaches, and practices that will best serve students who learn in non-traditional ways. Toward this end, we have just selected the first cohort of the Essex County Learning Community (ECLC), a cross-district experience that will bring together leadership teams and teachers from a set of school districts in Essex County, Massachusetts. Participating school districts in the 2018 ECLC are:
Beverly Public Schools
Danvers Public Schools
Gloucester Public Schools
Haverhill Public Schools
Rockport Public Schools
Swampscott Public Schools
Districts will commit to collaborative research, inquiry, and professional development focused on improving policies, programs, and practices to effectively serve students with diverse learning assets and needs, especially those with learning disabilities. New Profit is partnering with the Center for Collaborative Education (CCE) to facilitate the ECLC. We are excited to welcome these school districts into the Reimagine Learning community, along with a group of eight distinguished "faculty" members from the Reimagine Learning network who are helping to design the learning community and will provide advisory support to the district teams over the course of this year:
Bob Broudo, Landmark School
Bob Cunningham, School Leader and Philanthropic Advisor
Judy Elliott, Education Consultant
Jenee Henry Wood, Transcend Education
Lindsay Kruse, National Center for Learning Disabilities
Gabrielle Schlichtmann, EdTogether
Gisele C. Shorter, Turnaround for Children
Juanita Zerda, The Rennie Center for Education Research & Policy
At the end of March, we hosted a full-day meeting at New Profit for our eight faculty members to begin to shape the learning experience for the participating districts. We are deeply grateful to this dedicated group of professionals for committing their time, knowledge, and wisdom to the project. The ECLC will convene for the first time in May and culminate in mid-December 2018 with a Showcase of Learning that will be open to the communities of the participating districts. This work is made possible through the generous support and partnership of the Peter and Elizabeth C. Tower Foundation.