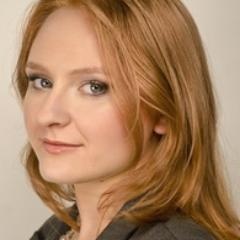 Last week, we announced the members of the second New Profit Women's Accelerator cohort. Stay tuned this week for a more in depth look at each of these amazing female social entrepreneurs and their organizations. Today, we shine a spotlight on Maria Vertkin and Found in Translation.
About Found in Translation:
Found in Translation aims to help homeless and low-income multilingual women to achieve economic security through the use of their language skills, and to reduce ethnic, racial, and linguistic disparities in health care by unleashing bilingual talent into the workforce.
Through their Language Access Fellowship program, they provide Medical Interpreter Certificate training, job placement, and ongoing career development to low-income bilingual women in the Greater Boston Area. With an Ivy League admissions rate and over 100 hours of training, a high support/high expectations model prepares exceptional interpreters. The program is free-of-charge; includes supports such as on-site childcare, transportation assistance and mentoring; and leads directly to well-paying jobs.
Their Interpreter Services program provides affordable, high-quality language access services for people with Limited English Proficiency (LEP) in medical, legal, and community settings; creates well-paying job opportunities for Language Access Fellows; and generates revenue that supports the next class of Language Access Fellows and Found in Translation's long-term sustainability.​
About Maria Vertkin:
In 2011, Maria Vertkin launched Found in Translation as the 2011 recipient of the Kip Tiernan Social Justice Fellowship, which awards one woman every year an opportunity to create a program to serve poor and homeless women. Maria herself was born in Nizhniy Novgorod, Russia and lived in Kadima, Israel before immigrating to the United States. In addition to English, Maria speaks Russian, Hebrew, Spanish, and a little Portuguese. Maria began her career at the nonprofit Rediscovery, working with adolescents transitioning out of foster care. She has also worked with survivors of domestic violence, was a mentor to girls at Big Sister of Greater Boston, a support group facilitator at Parents Helping Parents, a phone counselor on the state-wide Parental Stress Line, and translated for the grassroots media project Alive in Mexico to raise awareness of social justice issues in Mexico. For her service and dedication to the community, Maria has received several awards, including the 2009 Veronica Award from the Superstars Foundation, the 2010 Pearson Prize, the 2011 Women of Peace Award from the Women's Peacepower Foundation, the 2011 Kip Tiernan Social Justice Fellowship, which has enabled her to launch Found in Translation, the 2013 Echoing Green Global Fellowship, the 2015 Richard Cornuelle Award for Social Entrepreneurship from the Manhattan Institute, the Innovator for Social Justice Prize from Grinnell College. She is profiled in the 2016 Chronicle of Philanthropy 40 Under 40 list, and in the 2016 Forbes 30 Under 30 Social Entrepreneurs.
To learn more about Maria Vertkin and Found in Translation be sure to follow along on Twitter:
Maria Vertkin: @MariaVertkin
Found in Translation: @Found1nt