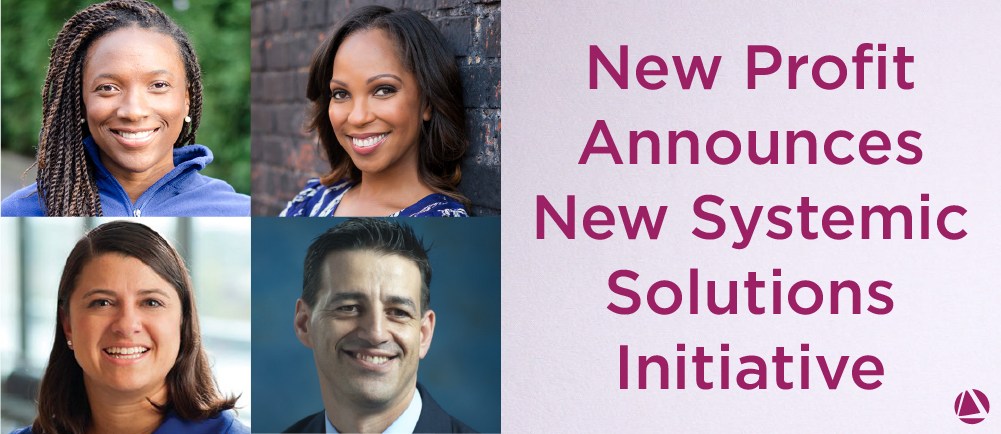 Initiative will support progress against fundamental systemic social challenges in the US and demonstrate an expanded range of approaches ready for significant philanthropic investment
BOSTON (July 30) - New Profit, a venture philanthropy organization that has helped catalyze the growth and impact of more than 120 breakthrough social entrepreneurs across America, today announced the launch of a new Systemic Solutions Initiative. The initiative, which builds on New Profit's 20-year track record of transformative social impact investments, aims to back innovative, nimble leaders who see a pathway to disrupting and reshaping systems, and fostering new capacity in them, to achieve equitable and sustainable outcomes.
The first two investments the initiative will make are in GirlTrek, the growing national movement addressing black women's health led by T. Morgan Dixon and Vanessa Garrison, and The Health Initiative, an initiative to transform health care at the state level led by Rebecca Onie and Rocco Perla. Each organization will receive $1.2M total over 3 years, as well as intensive strategic support from New Profit's team of partners.
"These are groundbreaking leaders who are thinking and acting at a systems level to address problems they understand from experience and care deeply about," said New Profit Managing Partner Kim Syman and Executive-in-Residence John Kania, who are co-leading the initiative. "They embody the qualities of systems awareness, collective leadership, curiosity and continuous learning, and a focus on equity and impact - all qualities we believe are critical to leaders who aim for system-level change."
The GirlTrek and Health Initiative investments are the first among many New Profit aims to make in the Systemic Solutions Initiative. A robust pipeline of systems-focused social entrepreneurs has already been vetted and New Profit's goal is to raise the resources to invest in up to 10 more over the next few years.
---
GirlTrek
GirlTrek aims to create the next American civil rights movement centered on one million Black women walking for healthier bodies, safer streets, and bold new culture of health liberation. Drawing inspiration from Black history to contextualize health as a broader civil rights issue, the organization facilitates regular one-hour group walks that enable Black women to take control of their health and engage in community building activities. As a result, GirlTrekkers develop a deep understanding of the mental, physical, and environmental drivers of their personal health while also taking active ownership of public spaces in their communities. Today over 200K women (Trekkers) are participating in the movement.
"A million mothers walking and advocating for change will transform America and supercharge New Profit's work in education, food justice and public policy. Vanessa and I are excited to partner with, support, and learn from the New Profit team, portfolio leaders, and community of supporters to affect local and national change. Let's do it!" says GirlTrek CEO T. Morgan Dixon.
---
The Health Initiative
The Health Initiative was founded by co-CEOs Rebecca Onie and Rocco Perla based on their experience leading change in the U.S. healthcare system. Onie, a MacArthur Genius Grant winner, co-founded Health Leads, an organization that has done as much as any other to elevate the importance of the economic and social conditions that affect health. Perla previously served as president of Health Leads and was part of the leadership team that established the Center for Medicare & Medicaid Innovation where he developed the national learning system to test and evaluate new payment and delivery models through the Affordable Care Act. Based on conversations around the country and public opinion research, Onie and Perla launched The Health Initiative to spur a new national dialogue about – and new investments in – the things people need to be healthy, such as access to healthy food, safe homes and decent-paying jobs.
Onie and Perla said, "New Profit's investment in The Health Initiative is catalytic for two reasons: First, it enables THI to mobilize an ecosystem of public and private institutions to increase investments in the known drivers of health - healthy food, safe homes, and well-paying jobs. And second, it models how philanthropy can conduct due diligence, make investments, and accelerate the success of organizations pursuing systems change."
---
Systemic Solutions Initiative Overview
Building on 20 years of experience backing breakthrough social entrepreneurs and social impact initiatives, New Profit launched the Systemic Solutions Initiative to help strengthen the nation's capacity to solve pressing social problems systemically, with three key objectives in support of this goal:
Identify and invest in promising "system entrepreneurs" who have the potential to create nationally significant systemic impact;
Develop frameworks and tools needed to advise and scale high-potential systems change initiatives;
Foster a learning community of like-minded systems change actors (e.g., funders, entrepreneurs, and practitioners)
New Profit is launching the initiative at a time of growing dialogue and activity around philanthropic "big bets," which are most often understood to mean mobilizing large pools of philanthropic capital to scale individual programs or organizations. New Profit supports the general idea of investing behind proven interventions in order to reach more people.
However, the Systemic Solutions Initiative proposes a broader frame that: 1) goes beyond the programmatic to embrace approaches that directly and holistically address the root causes of problems (for example damaging public or institutional policies, inequitable power dynamics, or mental models that limit the possibilities for social problem solving); 2) prioritizes solutions that emerge from within communities where systemic challenges are most acutely experienced; 3) addresses the need for collaboration across conventional issue or sector boundaries to achieve equitable and enduring results; and 4) illuminates through the use of less familiar frameworks for learning and evaluation, how the work of systems change can be rigorous and accountable.
One such framework New Profit is leveraging is the "Six Conditions for Systems Change" framework developed by Kania in his recent article, "The Water of Systems Change."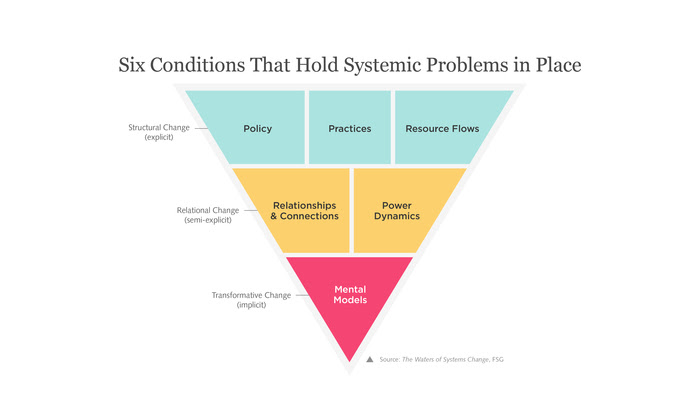 "Any effective system entrepreneur must understand both the barriers and opportunities to shift all six conditions of systems change," says Kania. "And since the less explicit of these six conditions are the most challenging to clarify yet can have huge impacts on shifting a system, changemakers must ensure that they pay sufficient attention to the relationships, power dynamics, and especially the underlying mental models (such as racism and gender biases) embedded in the systems in which they work. We are excited that the leaders of both GirlTrek and The Health Initiative are thinking and acting in their work with this holistic systems perspective."
Syman adds, "The opportunity to work with a set of system entrepreneurs like Morgan, Vanessa, Rebecca and Rocco is incredibly exciting. Compelling leaders in their own right, ultimately their success depends on their ability to build collective leadership inside the systems they're focused on, which opens the door to true social transformation and population-level social change."