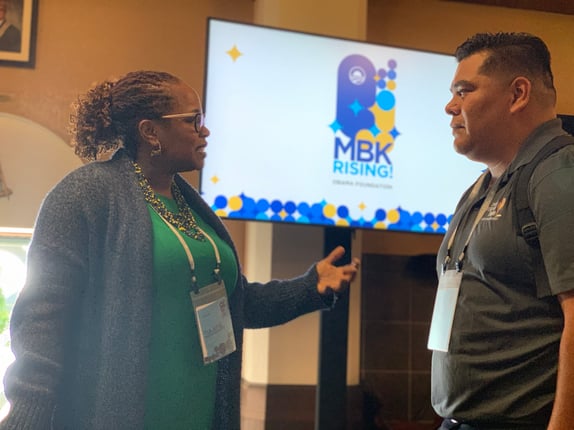 In February, the Obama Foundation hosted the first-ever MBK Rising! event in Oakland, CA to celebrate the 5th anniversary of the My Brother's Keeper Alliance (MBK Alliance). The event brought together hundreds of young men of color and their allies who are part of a growing network of leaders working to break down the barriers that prevent boys and young men of color from achieving their goals.
We were extremely excited to have two New Profit team members, Tulaine Montgomery, Managing Partner, and Delanoe Johnson, Senior Associate, in attendance. They had the opportunity to speak with members of the MBK community at the event about important topics related to creating a brighter future for not only boys and young men of color, but for our communities and country as a whole.
---
The event kicked off with a day of service, a powerful bonding experience that brought attendees together to give back to the community.
Service is one of the many ways to engage our communities in creating the change they hope to see
Throughout the day, attendees participated in various service activities including classroom cleanup, gardening, and mural painting. During the day of service, New Profit's Delanoe Johnson, connected with other attendees to ask a pressing question:
"How do we think about service and the ways it can impact black and brown communities?"
Check out the video below to hear answers from leaders at MBK Rising!:
---
Throughout the rest of the two-day event, Tulaine and Delanoe continued to get the pulse of the crowd by checking in with various leaders on another important question:
"What investments and supports enable young men of color to make the biggest difference in their communities?"
Check out the video below to hear what some of the leaders had to say.