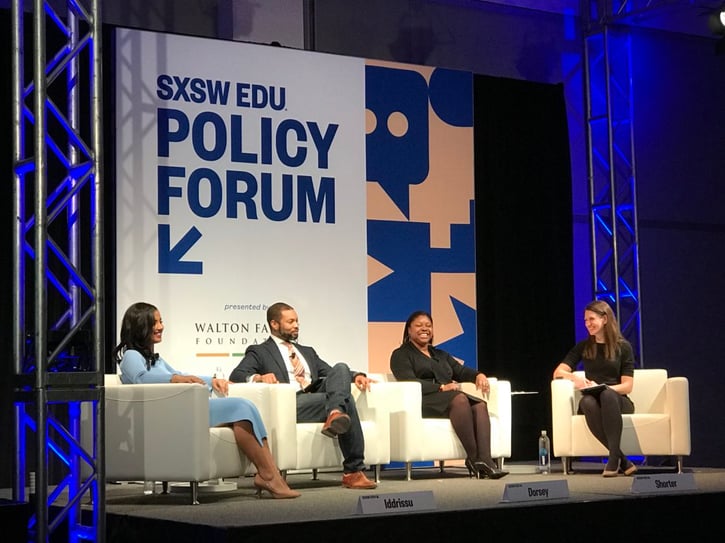 A big team of New Profit staff and grantee-partners recently descended on Austin, Texas for SXSW EDU, an annual conference where leaders from across the education landscape gather for dialogue about the future of teaching and learning. It was a major moment for our community. Here's the backstory.
Over 20 years of supporting breakthrough leaders and systems change initiatives in K-12 education, New Profit has kept its eye on the innovation frontier, working to find, fund, and scale the impact of emerging, high-impact models. Organizations and initiatives we've supported include Teach For America, KIPP, New Teacher Center, Educators for Excellence, Black Teacher Collaborative, and the Pathways Fund, among many others.
In recent years, a large part of our K-12 education work has focused on accelerating the revolution in learning, which seeks to support the millions of vulnerable students who aren't being served by traditional classroom models. Our Reimagine Learning initiative, which has become a 500-strong network of organizations and people committed to supporting the diverse needs of all learners, and the related Personalized Learning initiative, a collaboration with the Bill & Melinda Gates Foundation and the Chan Zuckerberg Initiative, are two examples of this work.
The group that traveled to SXSW EDU carried all the experience and insight from these initiatives into sessions at the conference. Our Personalized Learning initiative grantee-partners led a series of well-attended dialogues about reshaping education and creating a more equitable landscape for students:
The Personalized Learning cohort also spent a day together in Austin discussing opportunities for their collective work to advance the personalized learning field.
Members of the New Profit team and community facilitated two additional SXSW EDU sessions about future-oriented, transformative approaches in K-12 education.
New Profit's Reimagine Learning initiative led a workshop on Facilitating Community-Engaged Strategic Planning, drawing on Reimagine Learning's experience collaborating with Salem Public Schools in Massachusetts to develop a community-driven strategic plan. Over the course of a year, our team partnered with Superintendent Margarita Ruiz and her Senior Management Team to facilitate dozens of meetings with six work teams driving the strategic planning process and to hold three community forums that enabled residents to provide meaningful input to ensure that the strategic plan genuinely represented stakeholder and community needs. Superintendent Ruiz—a system entrepreneur who possesses a bold vision for her district—joined our team in Austin to share how we authentically engaged the community in shaping the future of the district. We also shared a new tool with participants, An Educator's Guide to Community-Engaged Strategic Planning, which is both a codification of Salem Public Schools' planning process and a robust set of tools and strategies that other district leaders can use to facilitate their own community-engaged strategic planning processes. The key learning from our work in Salem is that people will support what they have helped to create. Salem Public Schools' 2017-2022 strategic plan had unanimous support from the School Committee because they—and so many others in the community—were instrumental in shaping it.
America Forward, New Profit's nonpartisan policy initiative, gathered leading education experts for a panel on Trauma-Informed Education Policy & Practice. Trauma and adversity deeply affects the way students learn. The panel discussed educator and community-led efforts underway to bridge research and practice into responsive public policy. America Forward and New Profit's Sarah Groh facilitated a conversation on this topic with Gisele Shorter of Turnaround for Children (New Profit grantee-partner), Rahn Dorsey, Chief Education Officer for the City of Boston, and Sarah Iddrissu of Educators for Excellence (former New Profit grantee-partner). Collectively, this session offered recommendations for policies that support the creation of trauma-informed learning environments in our K-12 classrooms and investments that will enable trauma-informed education practices, including the need for R&D and targeted professional development funding to support educators and practitioners on the front lines of this work. Read more here about America Forward and partner's trauma informed education policy recommendations.
The common superpower of these New Profit community members is their ability to translate research, science, and innovative ideas into policy and practice. Conversations like these at SXSW EDU help to both spread and shape their ideas and programs that are transforming K-12 education across the country by engaging the bold thinkers, practitioners, and leaders at the conference who are working on the ground across the country to advance teaching and learning.