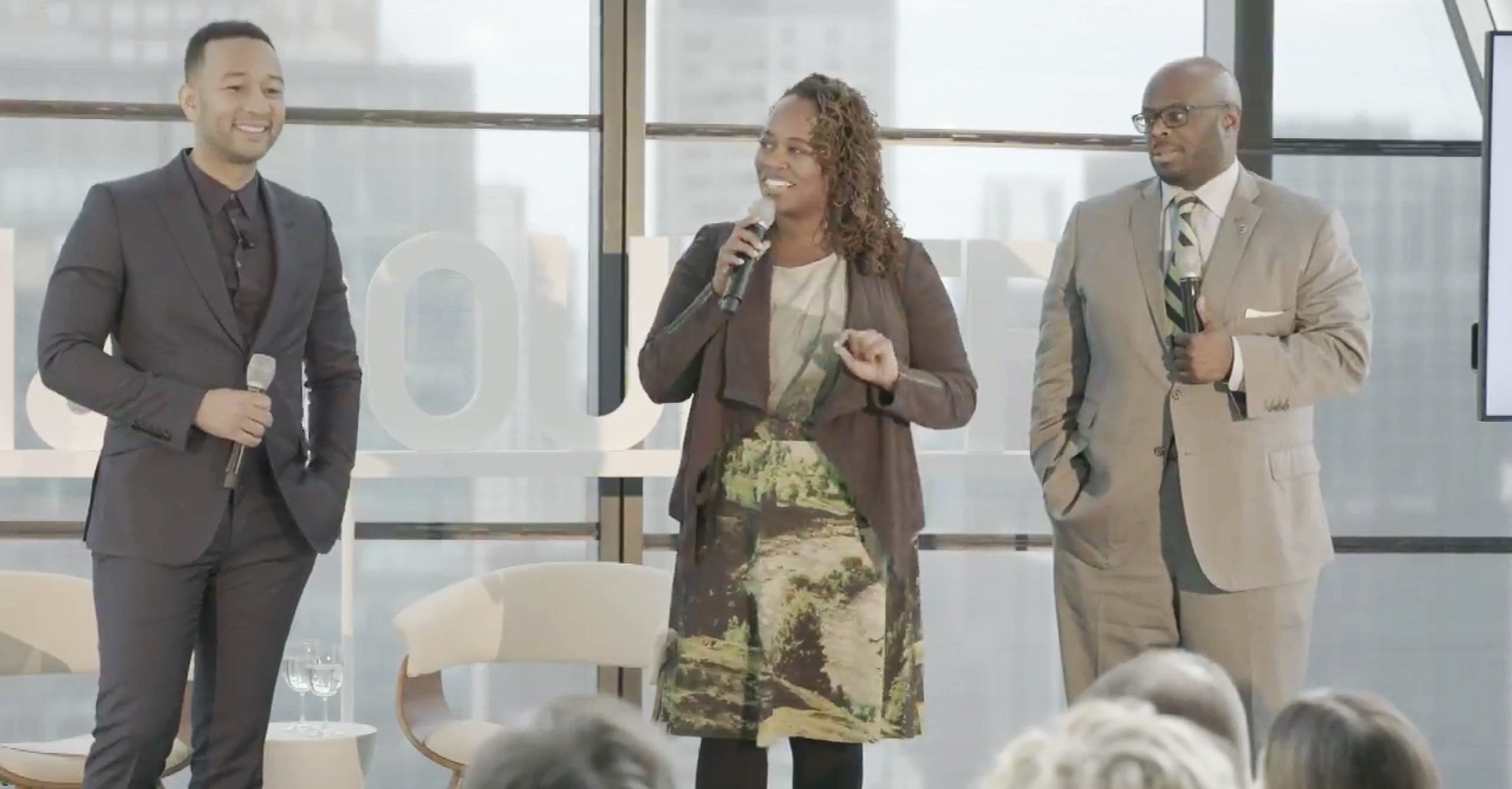 UPDATE: On December 5, 2017 the first cohort of Unlocked Futures was announced. Click here to read about these amazing social entrepreneurs.
MAY 9, 2017 (NEW YORK) – In partnership with Grammy winner and activist John Legend's FREEAMERICA, New Profit will launch Unlocked Futures, an Accelerator providing capacity building funding and support to formerly incarcerated individuals operating mission-driven organizations.
Unlocked Futures aims to drive meaningful progress to address key challenges related to America's criminal justice system, which currently houses 2.2 million individuals, costs taxpayers $80 billion a year, and disproportionately affects communities of color. The initiative will provide funding to help break down barriers to reentry and renewal that face so many people leaving prison. Up to 60% of formerly incarcerated individuals are still not employed one year after release, and partly as a result, more than four out of ten return to prison within three years.
"Though 1 in 4 Americans has a criminal record, too often are formerly incarcerated individuals locked out of job opportunities because of their past. I have seen that entrepreneurship is a viable way for formerly incarcerated individuals to build sustainable livelihoods and contribute to their communities and neighborhoods," said Legend. "We hope Unlocked Futures will serve as a powerful tool to break through the barriers to opportunity that exist for so many who have criminal records."
FULL VIDEO: Watch the full Unlocked Futures announcement and a panel discussion on criminal justice reform here.
The initiative is being launched through a $500,000 leadership grant from the Bank of America Charitable Foundation and will be led by New Profit Managing Partner Tulaine Montgomery. The first year-long cohort will include approximately eight social entrepreneurs currently operating innovative, promising organizations. Each participant will receive a one-time unrestricted grant and professional coaching from New Profit, designed to help support the growth and impact of each organization. New Profit has developed its core expertise in nonprofit capacity building through over 20 years of supporting and partnering with groundbreaking organizations like Teach For America, KIPP, Year Up, Acelero Learning, Health Leads, Roca Inc., and dozens of others.
"At Bank of America, our purpose is to help make financial lives better and that includes helping to build pathways to economic progress," said Kerry Sullivan, President of the Bank of America Charitable Foundation. "Our investment in Unlocked Futures focuses on creating shared success by deploying grant capital that helps these entrepreneurs build a brighter future for themselves and their local communities."
In addition to funding and strategic support, social entrepreneurs involved in the initiative will benefit from the resources and become key voices in FREEAMERICA, a multi-year culture campaign to change the national conversation about our country's misguided policies and transform the criminal justice system.
"We believe the Unlocked Futures entrepreneurs will be true agents of systemic change," said Montgomery. "They will not only create jobs and upward mobility in their communities, but also help lead a transformative movement for equity in America."
In the coming months, the Unlocked Futures partners, led by New Profit, will be conducting a nationwide search for social entrepreneurs and organizations run by formerly incarcerated individuals to support in the first cohort. The selected organizations will be announced later this year. If you know a social entrepreneur or organization that fits this description, please submit their name and supporting information to UnlockedFutures@newprofit.org.
Unlocked Futures will be part of New Profit's larger Accelerator program, which currently consists of the Women's Accelerator, aimed at supporting female social entrepreneurs, and the recently launched Proximity Accelerator, which seeks to support and engage innovative social entrepreneurs of color.
For more information on FREEAMERICA, click here.
For more information on Bank of America, click here.