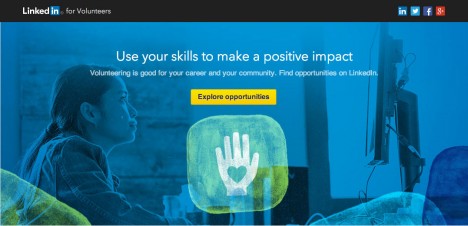 This summer, I had the amazing opportunity to intern for New Profit as part of "The LinkedIn Volunteer Marketplace Intern Program". LinkedIn teamed up with New Profit and similar organizations to arm nonprofits with a new platform, the LinkedIn Volunteer Marketplace (LVM). With the LVM, nonprofits can fulfill their high-quality volunteer needs by discovering the millions of LinkedIn professional members who have expressed interest in volunteering, and these members can find volunteer opportunities that nonprofits are seeking to fill. I worked with several New Profit portfolio organizations to leverage the LVM to attract skilled volunteers. To provide you with a lens on some of this work, I will focus here on how I worked with Citizen Schools, which greatly benefited from what New Profit and LinkedIn had to offer.
I was excited to introduce the platform to Citizen Schools, whose program relies on skilled volunteers to achieve their mission. After all, this was an opportunity that nonprofits seeking high quality volunteers couldn't miss; posting opportunities on the LVM is absolutely free for New Profit organizations through September of this year. Before doing so, I made sure to collect thorough information on Citizen Schools' mission, program model, and volunteer needs. With help from the New Profit team, I learned that Citizen Schools partners with public middle schools in low-income communities to provide an expanded learning day, where volunteers (also known as "Citizen Teachers") fill afternoons with a variety of educational experiences— from science to architecture to business to law—all intended to develop critical thinking and leadership skills.
Eager to learn more about Citizen School's existing process for recruiting their volunteers, I met with Carolyn Roscoe, the Director of Civic Engagement at Citizen Schools. Citizen Schools currently recruits its volunteers through various pipelines, including corporate partners, universities, civic organizations, and individuals. More than 55% of all volunteers each year are recruited from corporate partners, 35% are from university and civic organization partners, and only 10% are recruited via Facebook, Twitter, Idealist, and VolunteerMatch. While these recruitment channels provide a steady flow of volunteers for the organization, Carolyn was very transparent about the organization's ongoing need to effectively recruit diverse, skilled-based volunteers. In fact, she specifically mentioned that Citizen Schools' Massachusetts office was hungry for skilled professionals to volunteer for their program now more than ever; the organization is currently seeking a number of "Citizen Teacher" volunteers before mid-September for the 2014 fall semester.
Confident that Citizen Schools would benefit from using the LVM, I presented the platform to Carolyn and David Blinn, the National Teaching Fellow who manages Citizen School's online presence. With the customized tools and guides I created, I showed them how the LVM provides more flexibility and viability than Citizen Schools' existing recruitment channels through its ability to target individual volunteers with specific and diverse skill sets. Carolyn and David were so enthusiastic about the free posting platform and its unique skills-targeting feature that within two weeks of my first meeting with them, Citizen Schools had already posted several high quality volunteer opportunities that attracted many professionals with the specific skill-sets Citizen Schools was looking for. Fascinated with the results, Citizen Schools expressed a strong interest in working with New Profit to continue to use the LVM in the longer term. New Profit's communications team is already in touch with LinkedIn and is thrilled to continue with this work.
My experience working with New Profit as part of the "LinkedIn Volunteer Marketplace Intern Program" has been invaluable. Not only did I learn a tremendous amount about New Profit's organizations and all that LinkedIn has to offer, but I also made a significant impact in connecting talent to opportunity, in setting the stage for long-term partnerships, and in modernizing organizations' volunteer recruitment processes to help them achieve their mission.
Citizen Schools is a past New Profit portfolio organization. To learn more about Citizen Schools please click here.