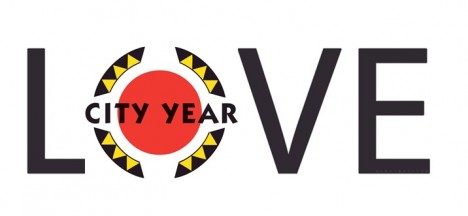 Tonight our dear friends (and family!) at City Year are celebrating 25 years of service and idealism. New Profit staff members Kim Syman, Katie Pakenham, and Sheeren Fardella Bellinghausen have all served with City Year in one way or another, so we asked them to share some thoughts and photos of their time with the organization...
Kim Syman, Managing Partner
City Year Staff Member: 1994-1999
"City Year transformed my life. After reconsidering my brief career in television news and concluding medical school was not for me, I was uncertain about my path forward. I was thunderstruck when I read about City Year and had a hunch that working there (I was past corps age) would help me clarify my life's purpose, bring me into an entirely new and vibrant community, and become, effectively, a graduate school in everything I cared about. All that turned out to be true. City Year set the bar higher than I had imagined possible and did so everywhere, all at once: vision, clarity of purpose, deliberateness of culture, passion, civic commitment, drive to improve program and increase impact. I learned what was possible--and also what the barriers are to growing great social innovations. I found lifelong friends, mentors, role models and compatriots in my adventures of the past two decades."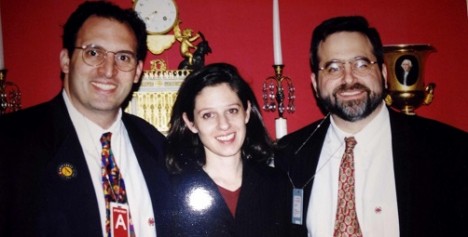 Above: Alan Khazei, Kim Syman, Michael Brown at the White House in 1999

Sheeren Fardella Bellinghausen, Special Assistant
City Year Corps Member, Boston: 2008-2009
"I truly had no idea what I was getting myself into when I applied to City Year after graduating from LSU, chose Boston (a city I had never visited), laced up my Timberlands for the first time and joined 140 other members in the City Year Boston '08-'09 corps. What I'd come to realize, however, is that I found the place and culture I never wanted to leave and am so lucky to be a part of. My corps year was the best - and hardest - year of my life: I was pushed to think and act out of my comfort zone with an entirely new group of people who came from different backgrounds and places and come together every day for one purpose. I was given an eye-opening education in national service, civic duty, event management and fundraising (while in-kinding pizzas for 150 Young Heroes), not to mention the cultures and religions of my fellow corps members and the value-add of an incredible alumni network. This education and experience re-routed my career path into working for game-changing nonprofit organizations (and the amazing Vanessa Kirsch), and I haven't looked back since. Would I do another year of service with nights sleeping at CY Headquarters, living in a house with 14 fellow corps members, never-ending to-do lists and 7:00am Saturday morning wake-up calls to middle school aged Young Heroes? You bet your starfish I would."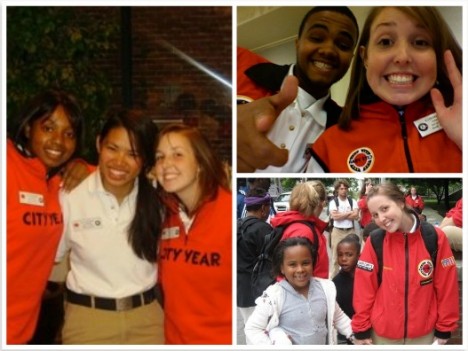 Above: Sheeran's photos from her time at City Year.

Katie Pakenham, Director of Network Engagement
City Year Corps Member, Boston: 1993-1994
City Year Staff Member (RI, Boston, National): 1994-1999
"Three lines into an article published in The Boston Globe about the power and promise of a new program called City Year and I was hooked – I knew instantly that this was what I wanted to do with my life. I dove straight into my Corps Member year with an almost obsessive passion, enthusiasm, and fierce desire to get things done, and was thrilled to find myself surrounded by hundreds of others just as driven by their idealism and belief in the force of social justice and the power of young people. My City Year extended into seven and I've never been more grateful for all that I learned and the friendships that sprung up in every project, initiative, event, crisis, and team. It's always hard to put a finger on the effect of experiential education, but I've often felt that the reason our City Years were so meaningful was that we were authentically blending our learning and development with hearty purpose and impact."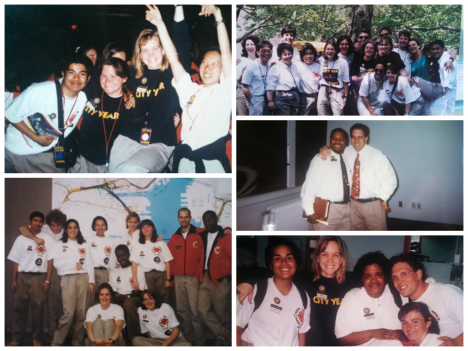 Above: Katie's photos from her time at City Year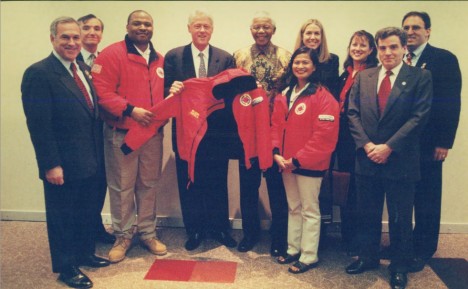 Above: 2001 - South African President Nelson Mandela hosts President Clinton and representatives and alumni from City Year to travel to South Africa with him for a conference on civil society, ultimately inspiring the creation of City Year's first international affiliate in Johannesburg. New Profit founder Vanessa Kirsch joined the delegation.
HAPPY ANNIVERSARY CITY YEAR!