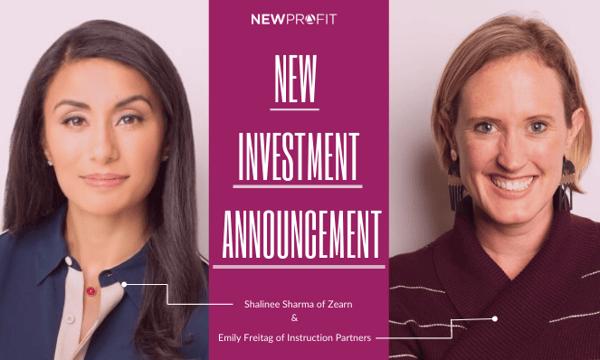 Both organizations exhibit growing evidence of impact, commitments to equity and inclusion, and strong systems change potential
February 20, 2020- New Profit, the pioneering venture philanthropy organization that invests in social entrepreneurs who are creating equity and opportunity across America, has announced two new organizational investments in Instruction Partners and Zearn.
---

Instruction Partners, which is based in Nashville and led by Co-Founder and CEO Emily Freitag, was founded in 2015 to work shoulder to shoulder with schools and districts to support great teaching and accelerate student learning. Using targeted support services, the organization partners with school systems to address two key questions: (a) are schools challenging their students with the right content?; and (b) are students learning what teachers are teaching? Instruction Partners focuses on small systems, both districts and autonomous schools, and throughout all of its work embeds an intentional focus on diversity, equity, and inclusion (DEI) to ensure outcomes are improved equitably for all students with a focus on students in poverty, students of color, students learning English, and students with disabilities.
Instruction Partners has local teams in Tennessee, Louisiana, Indiana, Texas, and Florida, as well as teams that travel to partners in other locations around the country, such as the Bay Area and Kansas City. Additional demand for the model is high: in FY19-20, over 70% of partner school systems renewed their contracts. Early impact data is also compelling. Instruction Partners deploys the Instructional Practice Guides (IPGs), which are content-specific rubrics, to track positive instructional indicators. In FY18-19, Instruction Partners schools saw an average of 11.9% growth in their IPG metrics for English Language Arts (ELA) and math standards. Additionally, in the past two years, Tennessee partners have not only improved their growth rates relative to that of the previous year, but did so at an accelerated pace compared to the state average.
"Instruction Partners has experienced remarkable growth in just four years and is well-poised to continue on this ambitious trajectory while deepening the organization's impact and establishing long-term sustainability," said Carrie Previtera, a New Profit Partner who has joined Instruction Partners' Board of Directors. "What we find particularly compelling about the model, in addition to this growth trajectory, is the focus on smaller school systems -- an area of great need that also presents enormous potential to generate insights for the entire field -- as well as the intentionality around DEI that is woven throughout the fabric of the organization and model."
---

Zearn, which is based in New York City and led by Shalinee Sharma, has built one of the highest-impact learning platforms for K-5 math instruction in the country, with over 2.5 million active students in all 50 states. Zearn created Zearn Math, a pioneering math program that seamlessly connects hands-on instruction and immersive digital learning. This powerful combination creates multiple pathways into math content and helps teachers provide every student with the support they need. Zearn Math includes a comprehensive set of products to support teachers with leading daily instruction, including top-rated curricular materials, intervention, professional development, and implementation tools.
Zearn Math has received a top-rating in multiple independent reviews. EdReports, an independent nonprofit that delivers evidence-based reviews of instructional materials, gave Zearn Math a top rating across all review gateways. Similarly, the Louisiana Department of Education labeled Zearn Math a Tier 1 curricular resource that "exemplifies quality" across all review dimensions. Most recently, in Fall 2019, New Mexico named Zearn Math the only instructional material recommended for all grades K–5 in New Mexico, following a rigorous review process by the state's Public Education Department.
Research indicates that learning with Zearn Math can increase student engagement with math, build positive math mindsets, and drive gains in academic achievement. Insights from year one of an ongoing treatment-control study indicate usage of Zearn Math is positively and statistically significantly associated with student achievement gains, and educators at treatment schools also noted definitive increases in student engagement with their math learning after the first year of Zearn Math implementation.
"Zearn has created a powerful platform and curriculum that is reframing the way the world thinks about math," said New Profit Managing Partner Shruti Sehra, who has joined Zearn's Board of Directors. "What is particularly important about this model is the fact that it has been designed to be valuable and catalytic for all learners, including those who have been systematically underserved by the education system, and the results are speaking for themselves."
Over the next four years, these organizations will each receive $1 million in unrestricted philanthropic funding, as well as capacity building support on leadership and board development, and strategic planning for growth and impact, among other areas.
For more information, visit www.newprofit.org.