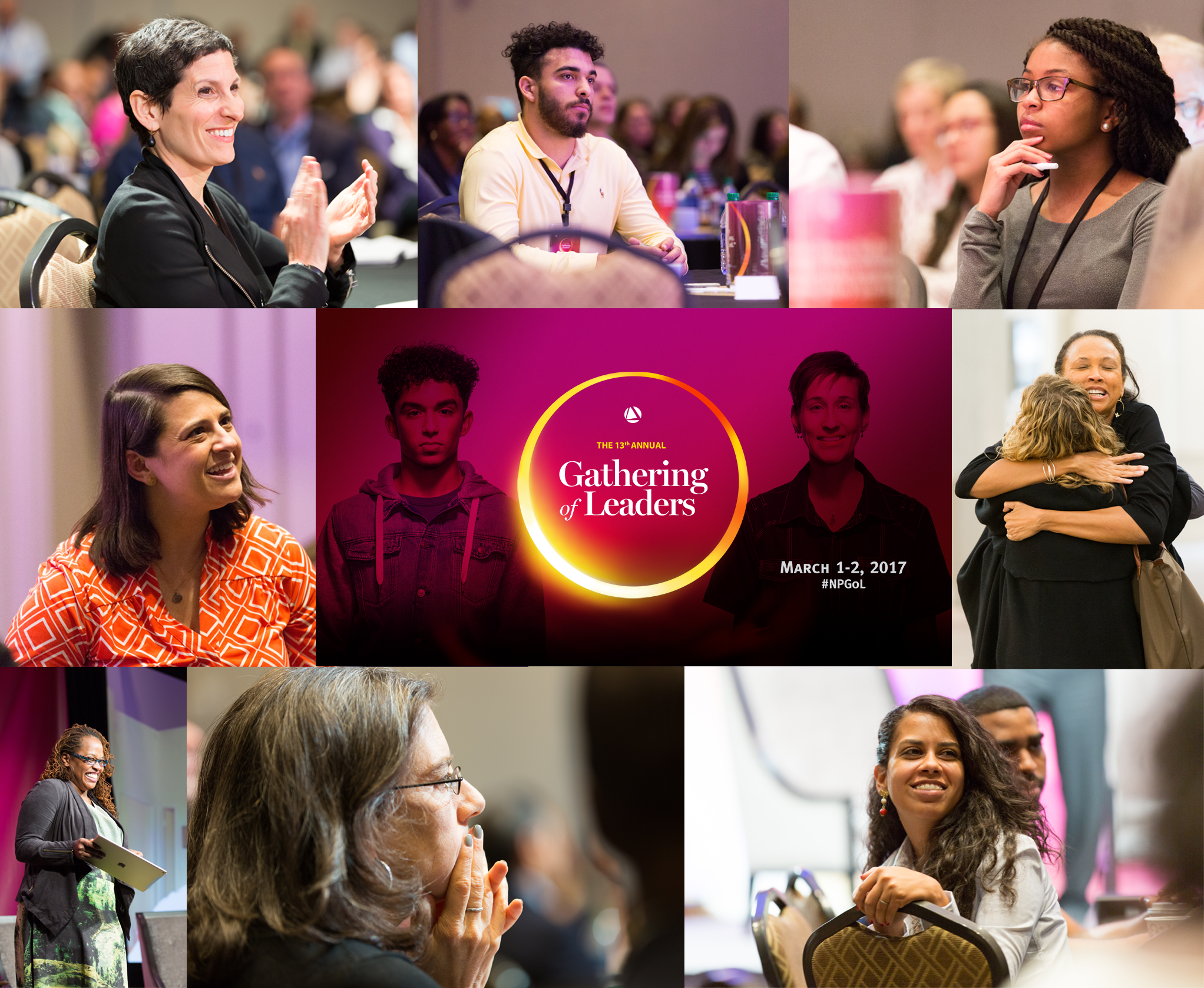 The Gathering of Leaders 2017 Lead Video from Hiker on Vimeo.
Below you will find the full, video-linked agenda from the 2017 Gathering of Leaders, which was held in Atlanta at the beginning of March. Follow along on Facebook and Twitter with #NPGoL as we reflect on our time in Atlanta and chart the course ahead for making progress on our country's greatest social challenges.
Wednesday, March 1
Plenary Formal Opening of the 2017 Gathering of Leaders
Welcome
SHAWN BOHEN, Year Up (Emcee)
TULAINE MONTGOMERY, New Profit (Emcee)
CHARLIE ROSE, City Year (Emcee)
AMBASSADOR ANDREW YOUNG (by video)
SARAH DI TROIA, Sarah Di Troia Consulting
SHRUTI SEHRA, New Profit
COURTNEY COGBURN, Columbia University
KIM SYMAN, New Profit
2016 Election: What Just Happened? What Does it Mean? What Can We Do? DC Insiders on the Rhetoric and Emerging Reality for Social Changemakers
In the wake of the 2016 election, it's hard not to wonder what we value as a country, and what it will take to bridge the evident divides. How can we move all of America forward? What role can social changemakers and community-based organizations play in the process? What tools does our community have—or need to develop—in order to meaningfully engage with both common and uncommon allies to chart a path of opportunity for all? To prepare us to answer those questions, a bipartisan, cross-sector panel of policy experts and political strategists will help us make sense of the current state of the political environment, articulate the role they see our community could play in the time ahead, and highlight specific opportunities for engagement with the Administration, Congress, and local leaders.
LEE FOLEY, Capitol Hill Partners
JULEANNA GLOVER
MARIA TERESA KUMAR, Voto Latino (moderator)
JOHN PUDNER, Take Back Our Republic
Metaphors, Misses, Missions, Megaphones: Unlocking the (Communicative) Power of Social Innovators
The Gathering community is made of people who, for the most part, have been long on vision, passion, data, knowledge, networks, and even, sometimes, cash—and short on the ability to move hearts and minds. To succeed, this community must find ways to fundamentally reshape public perception of the possibility for real progress in closing opportunity and achievement gaps. Help is on the way. Cognitive linguist George Lakoff will illuminate the workings of the metaphors that shape world-views and translate into political differences with far-reaching implications. Next up, Alan Jenkins, drawing on decades of experience in government and philanthropy, will share lessons for talking about equity and opportunity—and how greater communications capability could take us forward.
The 2016 election revealed accumulating dislocations and re-alignments in our people and politics. Three close observers of America's past and present talk with us about our nation today: What's different now? How did we get here? What happens next, and what can social changemakers do about it?
BEVERLY GAGE, Yale University
DAVID GERGEN, Center for Public Leadership at Harvard Kennedy School
MICHAELA ANGELA DAVIS, CNN and MAD FREE
High-Performing Communities and the Real Deal: Entrepreneurs, Innovators and American Renewal
Research shows that the same Americans who place little trust in national institutions or leaders are nonetheless often optimistic about their own communities. What's going on where communities are working—recovering, taking on their challenges, and sustaining, and being sustained by, civic institutions and democratic norms? And where do entrepreneurship and innovation come into the picture?
JAMES FALLOWS, The Atlantic and the American Futures Project (by video)
CHRISTOPHER GERGEN, Forward Impact
ELIZA GREENBERG, New Profit (moderator)
ANDERSON SAINCI, City of Dubuque
DANIEL SHOY, JR. East Lake Foundation
NANCY VAN MILLIGEN, Community Foundation of Greater Dubuque
An Atlanta Celebration: Discussion and Performance
"ATLANTA." Asked what that brings to mind, people of all ages and from across the country often cite with pride the work of Dr. Martin Luther King, Jr. & Sr., The Honorable Maynard Jackson, and others who pushed our country to new heights through earlier periods of our nation's great movement for civil rights. That story—the bedrock of this great city—is ever-present and still critical to understanding "the city too busy to hate." Often overlooked is the equally inspiring and essential social movement unfolding in our great city and across the region today.
Atlanta stands as a beacon of hope with legacies of generations past continuing the work of progress, justice and love. The city of the historical Auburn Avenue and Black business independence, one of the highest concentration of HBCUs in the country, and the 1996 Olympics, is also the city struggling with under-resourced communities, a trauma center contending with the uninsured and under-insured, and homelessness that has women and children as its largest population.
Join us as a group of prominent Atlantans highlight their connections to the past and share their present commitment to progress. Their voices will shine a light on the resilience, connections to others across difference, the importance of proximity and how honest, challenging and graceful love defines this city as we fight on and serve.
STEPHANIE BLANK, GEEARS (Georgia Early Education Alliance for Ready Students)
TAYLOR STANLEY
ANDREA YOUNG, ACLU of Georgia
Performance - Rudy Currence
Thursday, March 2
Plenary - Philanthropy Powering Up
Funders and fundraisers both feel great urgency to drive impact. Paradoxically, though each needs the other, their relationships with one another can stand In the way of achieving the results each aims for. Our next two discussions will help us unlock greater social change for funders and their partners alike.
Part I: Diversity, Equity, Inclusion and Funders Over the past few years, racism and other forms of bias inside the social innovation field have taken center stage at the Gathering—along with examples of how social entrepreneurs and service delivery organizations are tackling them. Now we'll extend the conversation to funders, with fresh data on the Gathering community from the recent survey led by our partners at Deloitte to kick us off.
DOUG BORCHARD*, New Profit
CHRISTY CHIN, Draper Richards Kaplan Foundation
CHERYL DORSEY, Echoing Green
DANA O'DONOVAN, Monitor Institute, a part of Deloitte (moderator)
Philanthropy Powering Up
Part II: Privilege, Power, and Vulnerability in Funder-Grantee Relationships It's old news that funders' priorities can pressure grantees in ways that compromise their ability to drive impact. But funders also experience compromising pressures and grantees have more power than they may know. What could we accomplish if we could struggle with these pressures together? What if shared vulnerability and transparency could add rocket fuel to funder-grantee partnerships? What would this transformation look like in action?
ALEX BERNADOTTE, Beyond 12
SHEILA HERRLING, Case Foundation
JESSAMYN SHAMS-LAU, Peery Foundation
MARCO DAVIS, New Profit (moderator)
Systems Entrepreneurship Puts Together All the Pieces
To achieve large-scale, sustained social change that impacts fundamental levers of opportunity, we must wrangle with systems. This is as true for social entrepreneurs as for policy advocates, community organizers, or leaders of social movements. Yet we – the GOL community – lack a broadly shared set of tools to understand or talk about this work, which makes it hard to do well. It feels squishy. It's hard to explain, and seems harder still to measure. For these reasons, it's often a struggle for funders to get behind it. Training the insights and experiences of two leading practitioners on the real-time challenges of Health Leads' endeavor to transform health care, we'll build systems change muscles as a community. What is systems entrepreneurship? What does it look like in action? How does it relate to the work of building an organization? To policy-advocacy? To creating social movements? And who's a systems leader, anyway?
JOE MCCANNON, Billions Institute
REBECCA ONIE, Health Leads
DAVID STROH, Bridgeway Partners
Evidence at a Crossroads: Shaping A Path Forward
Over the past two decades, using data for learning and decision-making has become a social justice imperative. We've learned a lot about how to do this work…and about its challenges and unintended consequences. Excitement about the possibilities of Pay For Success and tailwinds under the Obama Administration and are giving way to a different reality. For all the potential, we face public sector headwinds; getting implementation right is extremely difficult and the price of acknowledging bumps can be high; and, alongside progress, unanticipated results have emerged for organizations and the communities they aim to serve. What's required? A doubling down of leaders and funders—we're ready for the "what works, where, when and why," agenda. But that means we need to acknowledge and address the challenges and barriers experienced to date. In this session, we'll hear from leaders who are wrestling with these issues—and committed to figuring them out—from a multitude of perspectives.
JIM BALFANZ, City Year
SAM COBBS, First Place for Youth
KELLY FITZSIMMONS, Edna McConnell Clark Foundation (moderator)
ESHAUNA SMITH, Urban Alliance
FRED WULCZYN, Chapin Hall
The Opportunity: Love Armies, Democracy Activists, Cultural Entrepreneurs and a Meta-Movement for the Next America
Where many see barriers and bleakness, entrepreneurs (also) see opportunity. How can today's social, political, and cultural entrepreneurs align around a shared commitment to social justice to seize the movement and invent our future?
VAN JONES, Dream Corps (by video)
MAYA ENISTA SMITH, Born This Way Foundation
ALAN KHAZEI, Be The Change
TULAINE MONTGOMERY, New Profit (moderator)
LYNN TALIENTO, Obama Foundation


Firestarters
This year we're excited to continue our firestarter sessions, as we have in past Gatherings, to energize the room before jumping into our plenaries. Check out their bold stories here: