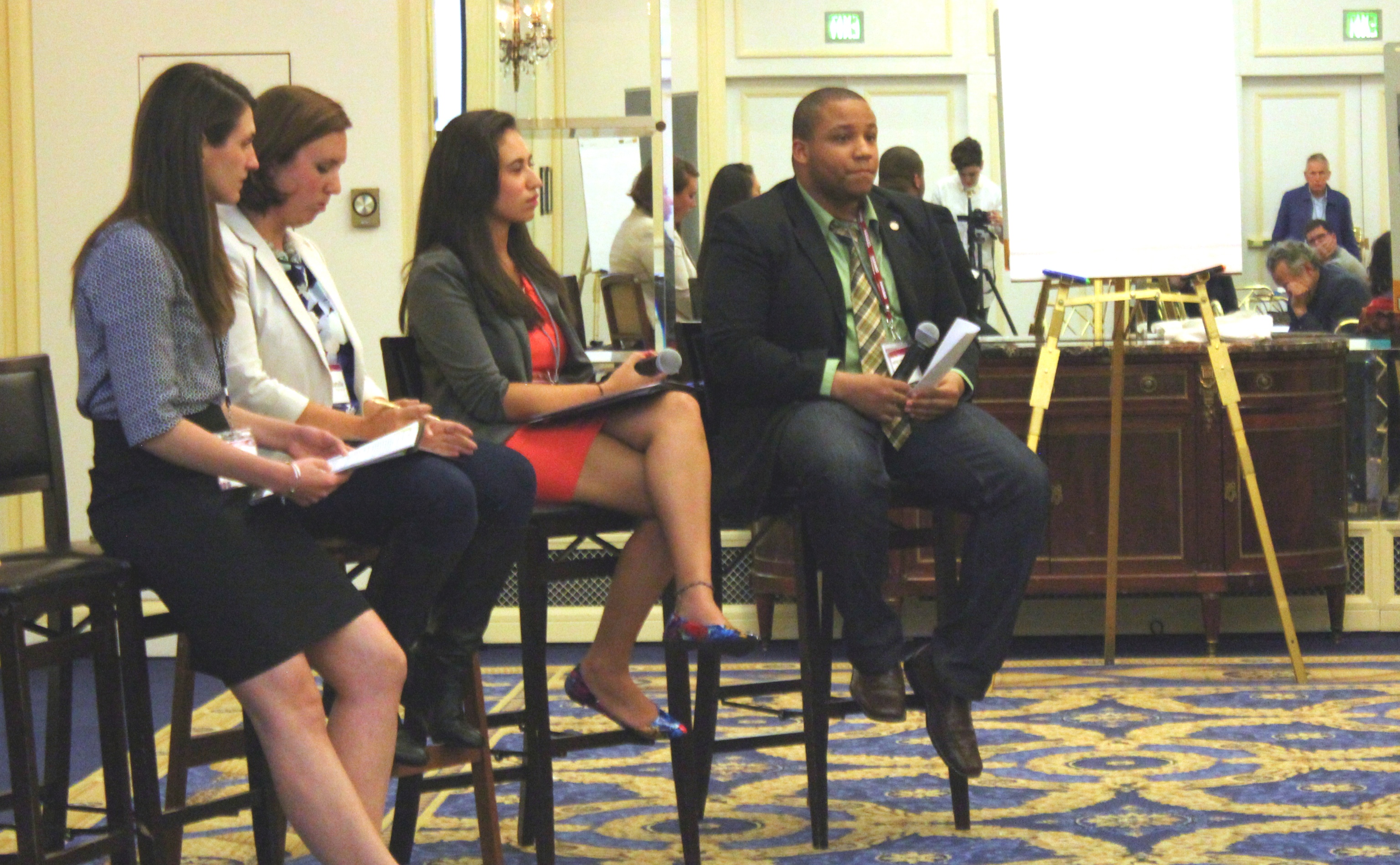 The below post was written by Sarah Groh, Senior Analyst with the Reimagine Learning Fund. She is pictured above at left with young leaders from the Reimagine Learning network (see below for more detail).
On June 2nd & 3rd the Reimagine Learning network came together in Boston for two days of collaboration, conversation and action. We were thrilled to again bring together leading nonprofit organizations, policy influencers, educators, young leaders, researchers and practitioners united in a shared vision to reimagine the way that learning happens in America so that all students can achieve academic and life success.
Together, we aim to make a sincere difference for students from low resource communities who face additional barriers to learning like exposure to trauma and toxic stress, and learning and attention issues.
Poet LeDerick Horne kicked off a powerful opening session with a spoken word piece entitled Dare to Dream "…this is a revolution/a fight for inclusion /segregation is no solution/Brown vs. Ed is how I'm provin' /we deserve the best/nothin' more and nothin' less/every child gets left behind/when all we focus on are tests/And so I dare you, - To judge yourselves by a different standard, to lift as you climb, to fight like gladiators/to become master and commander /of your own beautiful minds…"
Click here to watch a video of LeDerick performing his poem.
Dr. Pamela Cantor from Turnaround for Children, David Rose from CAST and Paul Reville from the Harvard Graduate School of Education described the critical moment in time; research empowers us to understand learning in ways we never have before and, at the same time, deep persistent inequities fracture students' learning opportunities across the nation.
Incoming Boston Public Schools Superintendent Dr. Tommy Chang and his transition team lead a dialogue with Reimagine Learning attendees about the future of learning in Boston. Organizations in attendance were eager to share their insight about best practices and what it takes to make powerful partnerships work for students, as well as to hear from the transition team about their vision and efforts to engage the Boston community in building student centered practices together.
Jim Balfanz, President of City Year and Mora Segal, CEO of Achievement Network, teed up a deep dive session about how our network has been collaborating to advocate for key tenants of our work in Congress's current approach to reauthorize the Elementary and Secondary Education Act. A major piece of federal education legislation, this process has opened up an opportunity for our network to build on the 2+ years of our policy working group's efforts and collaboration with the America Forward Coalition, to advocate for key inclusions like a competency based pilot and advocate for strong subgroup accountability so educators, parents and students have a clear sightline into how students are doing.
Click here to read an op-ed from Shruti Sehra, a New Profit Partner who leads The Reimagine Learning Fund, on the opportunity at hand in education policy.
Young leaders Marquis Cabrera, Natalie Tamburello and Amanda Matos (pictured above) led a dialogue about what it means to authentically empower students and engage young people as equals in systemic education work. "Students have to see themselves in what they're learning," shared Amanda Matos, founder of the WomanHOOD project. Amanda has developed a powerful program focused on racial justice and political organizing in her home community in the Bronx. Natalie discussed that the work she leads through her Restorative Education Program is dedicated to engaging incarcerated young people with learning and attention issues. Engaging someone as an equal, talking about their dreams and aspirations and offering up resources and support can make a huge difference, shared Tamburello. Driven to serve because of the challenges she has faced as a dyslexic, Natalie cautioned that no two students share the same lived experience but drawing on shared experiences can build trust. Marquis Cabrera added "beneficiary voices have to be what drives innovation. Turning to young people's lived experiences helps us get to the root of what causes poor outcomes, especially for students with so much stacked against them." Grounded in his own experience with the foster care system, Marquis's organization Foster Skills aims to empower young people with resources, skills and support they need to navigate challenging circumstances and overcome barriers.
Joe McCannon from the Billions Institute led a panel with experts from the healthcare field about widescale systems change. As our network works together towards a shared vision of supporting learning, we are drawing insights from other fields about how to collaborate, implement effectively and make a sincere difference informed by the lived experience of the students we serve. As panelist Jim Conway, Former CEO of Dana Farber shared, "You must have both a bold vision of what is possible and an in depth understanding of the current context and what isn't working."
The network also engaged in hands on work sessions, mapping out clear next steps and opportunities to collaborate. In closing we shared individual and organization wide commitments to drive our work forward.
Three years into building this network, we are grounded in firsthand insight from students, educators and parents and dedicated to working towards a vision where every young person has the opportunities they need to succeed in school and in life. Our goals are ambitious but we know students across the country are counting on us to do better and ensure every child has a chance to learn and thrive.
To learn more about our Reimagine Learning effort and support this growing movement please follow us on Facebook and Twitter.
With sincere thanks to our participating organizations and lead funders The Peter and Elizabeth C. Tower Foundation, The Oak Foundation and the Poses Family Foundation. Thanks also to Press Pass TV, a Boston-area nonprofit that helps students build skills in music and video production, for capturing moving images of the event.