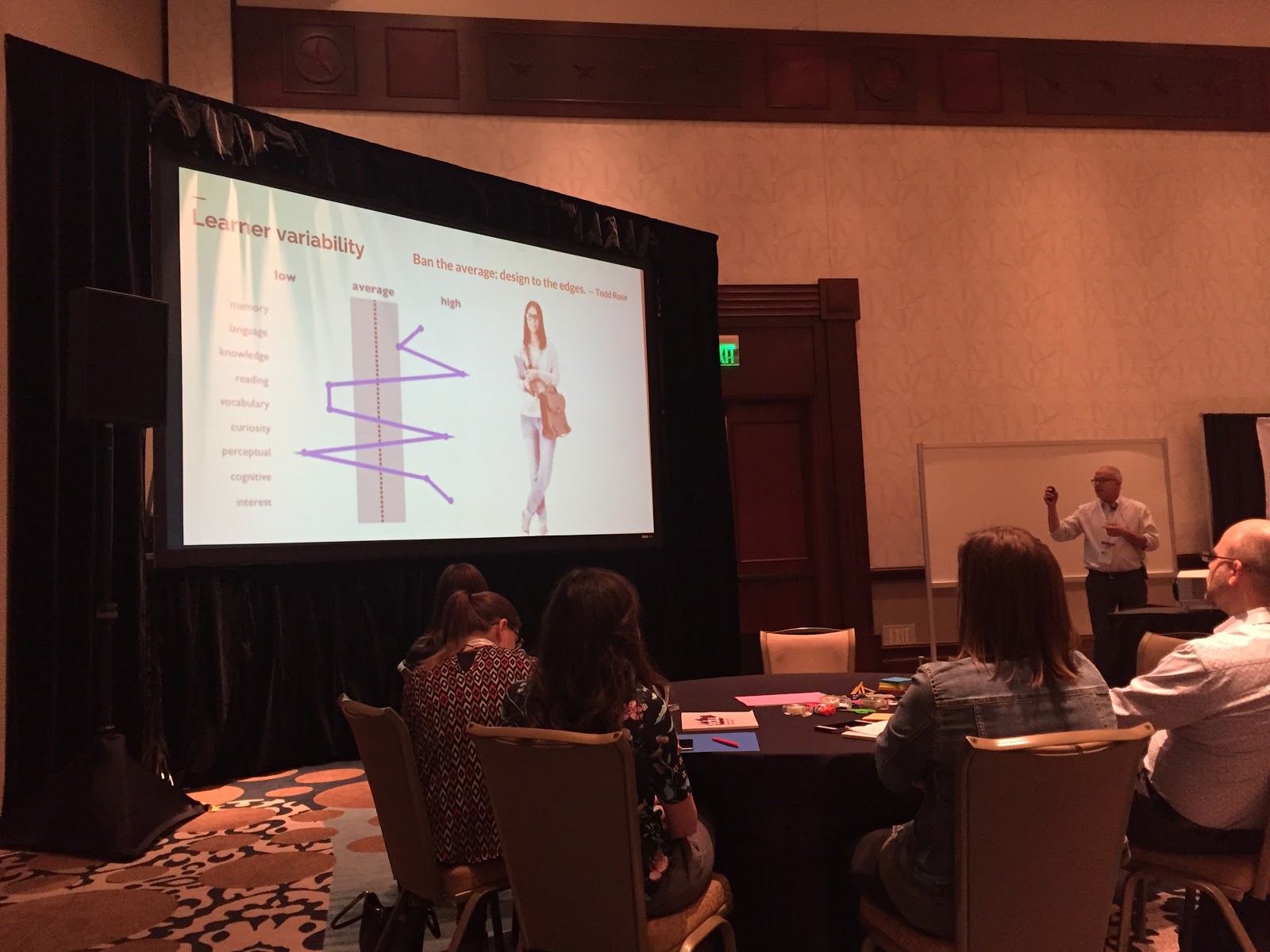 Pictured Above: Jose Blackorby, Director of Research and Development at CAST, leading Makerspaces: Moving Beyond Accessibility with UDL
The following post was written by Liz Leberman, Senior Associate, Reimagine Learning.
Earlier this month, I spent four days in Austin with over 14,000 fellow education advocates and practitioners at SXSWedu. This experience came after having the opportunity to sit down with Ron Reed, the Founder and Executive Producer of SXSWedu, earlier this year to talk about his vision for the conference. When we met, Ron put forward some important tenets for what he seeks to achieve through SXSWedu: disrupt the education convening space, advocate for the teaching profession and celebrate teachers, disseminate research-informed best practices, bring to light work that is happening at the intersection of learning and culture, promote a focus on equity across all the work we do in education, and more. He talked about wanting to create a neutral, open forum for a diverse cross-section of education stakeholders to come together to share and shape ideas and solutions, and talk about where we go from here as field.
It was incredible to see Ron's vision come to life in Austin. While it can feel like there is an overwhelming amount happening at any given time across the city as a part of the conference, I consistently found myself in sessions and conversations that came back to those core tenets. I joined sessions that talked about how we can support teachers, students, and parents as education innovators, promote equity for all children through thoughtful approaches to foundation funding, and create a U.S. public education system that reflects our understanding of the science of learning. I also participated in sessions that brought together folks to share and build on actionable ideas for how different stakeholders in this space can collaborate to collectively move forward our vision for learning more quickly and efficiently than any one organization could do on its own.
What was particularly exciting for me was to see the role that different members of the Reimagine Learning network played in leading many of these conversations at the conference. The Reimagine Learning network is fused by a collective commitment to three core values:
Students should be engaged in and control of their own learning, harnessing and strengthening their own voice
Learning environments should be personalized to meet the different talents and needs of every learner
Teaching and learning environments should equally support the development of cognitive, social, and emotional skills
The sessions led by our network members at SXSWedu demonstrated how our community is living those values in their own work, and taking an active role in helping share their insights and innovations with the broader field. Check out a few of the sessions led by Reimagine Learning network members below, and hear for yourself how our community is helping to shape the national conversation on the future of K-12 education.
Developing Student Agency via Internships at Scale
In this session, Andrew Frishman, Co-executive Director of Big Picture Learning, discussed the process of developing a vibrant, student-centered internship program, offering solutions to coordinate a scalable, systematic approach to implementing student internship experiences that lead to college and career readiness and civic engagement. ImBlaze, Big Picture's internship management platform, helps schools bring to life the notion of "leaving to learn," and will help make it possible for more students to engage in high-quality internship experiences. Frishman also put forward easy-to-implement ideas for all schools to provide learning experiences that emerge out of student's interests and passions, such as creating student-driven job shadow days.
Listen to the session here.
Network Effect: Robust Learning Pathways for All
This panel, moderated by Cricket Fuller, Project Director at Education Innovation Clusters at Digital Promise, discussed Education Innovation Clusters, local communities of practice that bring together educators, entrepreneurs, funders, researchers, and other community stakeholders to advance breakthrough learning tools and practices in their region. Panelists explained how these networks are more equitably diffusing social capital, opportunity, and resources across racial, socioeconomic and geographic divides.
Listen to the session here.
Teachers Are Learners, Too: Next Gen Learning & PD
This panel, featuring Andy Calkins, Director, Next Generation Learning Challenges at Educause
and Rebecca E. Wolfe, Senior Director Students at the Center at Jobs for the Future, discussed the new mindset and skills required of next generation educators to effectively teach within redesigned learning environments. The panel talked about how we can better prepare teachers to teach in personalized, blended, competency, and project-based schools, even if they have only previously worked in more traditional classroom settings.
Listen to the session here.
Personalized Learning & the Tech to Make It Happen
This panel, featuring Phyllis Lockett, CEO at LEAP Innovations, focused on the growth of edtech and its potential to transform schools and classrooms into environments that support individualized learning. Educators and edtech practitioners learned how to replicate successes happening in cities like Chicago and Boston and gained real-world insights on the innovative ways that technology is being used in today's classrooms.
Listen to the session here.
Makerspaces: Moving Beyond Accessibility with UDL
This session, facilitated by Jose Blackorby, Director of Research and Development & Kim Ducharme, Director of Educational User Experience Design at CAST, discussed the importance of considering the challenges of supporting learners marginalized learners when introducing makerspaces into school, in order to make these new avenues of student engagement and learning accessible to everyone. The workshop uncovered insights into effective pedagogy in maker education and generated strategies to support all learners.
Listen to the session here.
Addressing Critical Needs in the ELL Digital Space
According to the NEA, by 2025, a quarter of the U.S. student population will be comprised of English Language Learners (ELL). This talk, featuring Eva Gonda Green & Cameron White, Associate Partners at NewSchools Venture Fund, highlighted the role that teachers and students play in identifying the critical needs within ELL, and discussed the role that digital tools play and how they can best serve teachers and students.
Listen to the session here.
If you're interested in exploring more, watch all of the keynote sessions from SXSWedu here.