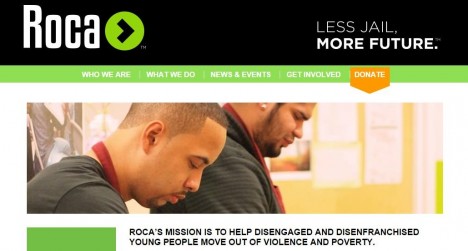 Roca Inc., a New Profit portfolio organization whose mission is to help disengaged and disenfranchised young people move out of violence and poverty, has opened a new site in Boston as part of an effort to dramatically expand the reach of its programming. The new location will be Roca's first outside of Chelsea, a city adjacent to Boston where the organization has built a 25-year record of success.
***An event to celebrate the launch of their new location will happen from 5:00-7:00pm tonight at the new site (845 Albany Street, Boston, MA 02119). Visit www.rocainc.org or email Erin Clark (erin_clark [a] rocainc.org) for more information.
A Boston Globe article about the new site references the Massachusetts Juvenile Justice Pay for Success Initiative (MAPFS), a groundbreaking public-private social service financing effort in which New Profit is a founding investor:
Roca's expansion into Boston started in January when it became the state's first "pay-for-success" contract. The innovative financing tool, also referred to as a "social impact bond," works like this: Philanthropists and commercial investors put up the money a program needs to expand, and the state pays them back if the program is successful.
An anecdote in the article highlights the promise and potential of Roca and the young people it serves:
Roca's transitional employment program is built knowing the men will relapse — slip back into destructive behavior — and it focuses on relentless outreach and engagement to change behavior and find jobs.

"I have a young man now that lives in Dorchester off of Washington Street, and this kid will not come down the stairs," said Miguel Torres, who has been involved with Roca since the inception of the Boston program. "He will only talk to me through the window."

The young man lives on the third floor, so Torres said he stands on the sidewalk, shouting over passing traffic and catching bits and pieces of the conversation.

But once a young man opens the door or returns a call, the conversation doesn't begin with lectures about avoiding jail time, breaking the cycle of poverty, or creating healthy relationships with family members. At first, youth workers say, there are kind gestures such as checking on the individual's well-being to see if he needs anything — food, shelter, clothing — because most have dropped out of school, many are unemployed, and some are homeless.

"The push for change is not immediate," Torres said. "If we don't have a relationship to bring them back after they relapse, then we've failed."

Torres and Maria Amezquita said they want theirs to be the first number dialed in a time of need, whether it is for something serious like a young man having just been shot at and the urge for retaliation is irresistible, or something simple like light bulbs.

"He was in the dark in the house because he didn't have money," Amezquita said. "And he hadn't eaten for a week."

Torres said the young man told them, " 'Man there's people that tell me I can ask for anything but they really don't mean it because when you do ask, they look at you funny.' "

He continued: "He was struggling to ask us to take him to Home Depot to buy him some light bulbs. It blew my mind."
New Profit is proud to support Roca and the Pay for Success approach. Our policy arm, America Forward, has been an leading champion of Pay for Success in Washington, where bipartisan policymakers have begun to rally around it as a way to get better results from social service programs. For more information on Pay for Success and related issues, click here.