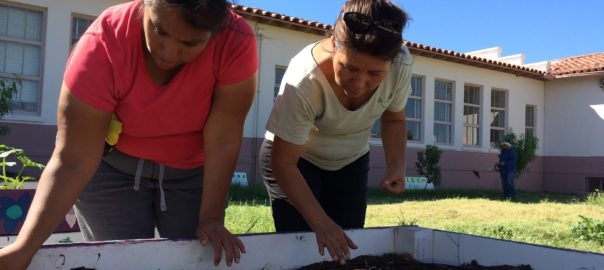 Amazing work is being done in the New Profit community every day! Here are some recent highlights from our game changing organizations, partners, and friends.
College Possible:
More than 200 High schoolers graduate from College Possible program "The 2016 College Possible Omaha class has earned more than $1.2 million in scholarships."
Family Independence Initiative:
Detroit Families Changing the Narrative"While it is important for our nation to invest in its infrastructure, it is equally, if not more important that we invest our greatest asset: people. As a life-long Detroit resident, I do not want the studies to be used as a trigger for imposing solutions on us. Rather, I prefer that these studies be used to ask what IS working. Instead of only responding when something is wrong or broken, what if we support and invest in the strength and hard work our families demonstrate, every day? As we invest in their initiative and resourcefulness, families are more likely to sustain their progress. We know FII families can pull themselves out of poverty. Now, we need to provide them with access to resources that fuel this positive momentum. If the neighborhoods of Detroit are to experience a similar resurgence that is taking place in our downtown and midtown regions, it is essential that we develop strength-based policies that work with and for the people. Detroit does better when its people are doing better."
FoodCorps:
6 Ways to Engage Parents to Grow Healthy Families "FoodCorps service members plan activities after school that can involve the whole family, so that parents and guardians understand what their children are learning. (I just flipped the sentence structure). At family cooking nights and 'Family Fun Nights,' service members teach entire families new, fun healthy recipes. They use these evenings to build skills and enthusiasm and to recruit parents for further engagement."
Health Leads:
Health Sector Revolution: Changing What Counts as Healthcare. "Our vision, however, is not rooted in more Health Leads, but in accelerating a revolution in the healthcare sector. We envision a health system that addresses all patients' basic resource needs as a standard part of quality care. We want to change what 'counts' as healthcare so that the sector—which currently accounts for 17 percent of the US gross domestic product—actually delivers health, rather than simply treats or manages disease."
The Alarming Connection Between Your Zip Code and Your Life Expectancy
KIPP:
3 Firsts for Kipp "What a year it has been! If you haven't yet, check out this fun video celebrating our 2016 high school and college graduates...We've never been more excited about the year to come, which includes many 'firsts' for KIPP. New initiatives to learn more from our peers, to share more of what we know, and to adapt in order to better confront the challenges our students face."
LEAP innovations:
LEAP Innovations releases personalized learning framework and school survey "On April 19, the Chicago-based nonprofit released the LEAP Learning Framework—an interactive resource meant for educators and administrators to use when designing personalized learning instruction and environments. 'The framework is unique in that it includes actionable strategies for teachers and it is part of a suite of tools designed to measure the degree of personalized learning practice happening at the classroom level,' said LEAP Innovations CEO Phyllis Lockett in an interview with EdSurge."
Match Education:
Match Education Awarded National AmeriCorps Grant "During the 2016-2017 school year, Match Education will oversee 159 AmeriCorps members who will serve full time in one of 14 schools nationwide that are operated either by Match Charter Public School in Boston, Baltimore Collegiate School for Boys in Baltimore, or Summit Public Schools in California and Washington state. Last year, the first year Match Education partnered with CNCS, AmeriCorps members tutored over 1,000 students from low-income backgrounds in Boston, New Orleans and San Jose, California."
The Mission Continues:
Veterans Beautify Central High School: The Mission Continues (video)"Step onto the grounds of Detroit Central High School, the oldest public school in Motown. Come along as volunteer veterans, students, and teachers help restore beauty to this historic landmark amid it's violent and blight-stricken surroundings in Detroit, Michigan."
Year Up:
JPMorgan Chase & Co. And Year Up Convene Employers To Discuss Talent Solutions That Work."A panel featuring Capital One, AT&T, and Bank of America highlighted new talent initiatives at each of the three companies focused on innovative methods of bringing young adults without college degrees into the workplace. Capital One has created a structured curriculum around cyber security, a field with increasing demand for talent, while Bank of America has focused on connecting 'pockets of success' that they have observed by partnering with Year Up at different locations across the country."
YouthBuild USA:
Saint-Gobain and YouthBuild Philadelphia Announce Completion of Two LEED Platinum Home Renovations "YouthBuild USA's partnership with Saint-Gobain means students in Philadelphia get the opportunity to experience the LEED building and design process," said Simran Sidhu, Executive Director of YouthBuild Philadelphia Charter School. "They walk away from this invaluable experience with the tools they need to build a brighter future for themselves and the community."