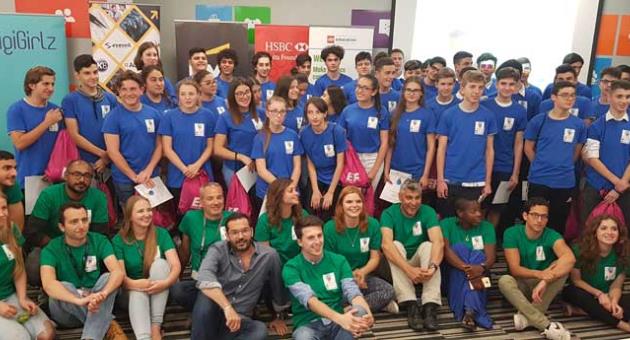 Take 5! Here are five social innovation links we are clicking on this week.
1.) EdWeek: States Are Failing to 'Put Students' Civil Rights First' in ESSA Plans, Advocates Say "We have a landscape of plans that do not meet standards [for subgroups of students] and we still have to work towards equity," said Marc Morial, the president and CEO of the National Urban League. "What I would like the department of education to do is to do what a teacher does [when they] get a paper from a student that doesn't meet the standard. They send the paper back to the student for a do-over. ... [The plans] ought to be sent back to the states with red ink because it's time for a do-over."
2.) Independent: Microsoft empowers youths to use innovation to foster more inclusion and diversity in schools "The Microsoft Innovation Centre continues to fulfil its role as a promoter of innovation as 50 students from six different schools last week competed in the 6th edition of the JAYE Malta Foundation Social Innovation Challenge."
3.) Business Insider: Biogen Foundation Selects Grantees to Receive $10 Million Investment for STEM Education"The Biogen Foundation's STAR Initiative is intended to strengthen and support educational offerings in these cities by helping increase access to STEM resources and opportunities for students currently underrepresented in STEM college or career pathways. STAR stands for Science, Teacher support, Access and Resources. Through a coordinated network of grantees, STAR endeavors to help low-income students develop and sustain their interest in STEM, gain necessary STEM exposure and enrichment opportunities, and successfully transition into post-secondary education in pursuit of STEM careers."
4.) The 74: Walton Family Foundation Unveils New $100M Effort to Support School Diversity, Inclusion, and Innovation"Starting and scaling high-quality public charter schools, a continuation of the foundation's signature work, which began with four schools in 1997. Since then, the foundation has provided $424 million in startup funds for 2,235 schools, including national networks like KIPP and fast-growing IDEA Public Schools in South Texas. After Sternberg spoke, IDEA co-founders Tom Torkelson and JoAnn Gama were inducted into the National Charter School Hall of Fame."
5.) Education Dive: Ditching the timed test "With the Every Student Succeeds Act allowing some flexibility over testing, schools are increasingly looking for multiple models of assessment. In addition, not all students perform well in such a high-stakes environment, a reality that the college arena is growing to accept. Even the University of Chicago has dropped the SAT and ACT tests from its college application process."