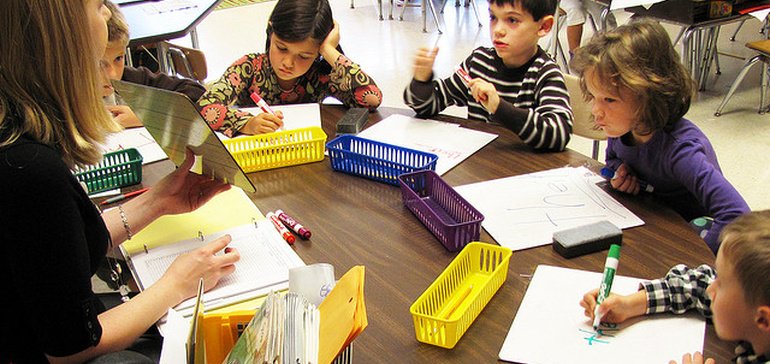 Take 5! Here are five social innovation links we are clicking on this week.
1.) Education Dive: Report suggests competency-based framework for K-12 "In a new report titled "Levers and Logic Models: A Framework to Guide Research and Design of High-Quality Competency-Based Education Systems," iNACOL's Competency Works initiative seeks to lay out a model framework for what an effective competency-based education (CBE) program looks like in K-12."
2.) The 74: Predicting the Next Wave of Teacher Strikes: Experts See a Whole New Round of Walkouts Come Fall, and a Possible Key Wedge Issue Come Election Night "This spring's historic teacher uprising, which emptied classrooms and rocked statehouses for three months, just claimed its first political casualty...Educators in state after state have moved so quickly, in fact, they've often left their own union leadership out of the loop. Walkouts across districts in Kentucky and Oklahoma were conducted largely without the support or approval of union leadership, which was gun-shy about provoking state authorities."
3.) Forbes: An Entrepreneur Lifts Liberian Women And Children Out Of Poverty "In 2015, cofounder Chid Liberty launched Liberian apparel company Liberty & Justice's label, UNIFORM, which operates on the one-for-one model (taken mainstream by TOMS shoes), promising a school uniform to a Liberian child for every piece of clothing sold."
4.) The Hechinger Report: School counselors keep kids on track. Why are they first to be cut? "McElvogue has the time to spend an hour with Almanza, as well as attend to her caseload of 230 students, because Colorado is betting that a big investment in counseling can improve educational outcomes for its low-income students. Since 2008, it has spent almost $60 million to hire an additional 270 counselors and provide professional development training at 365 low-income middle and high schools throughout the state, via grants from the Colorado School Counselor Corps."
5.) Education Dive : Full inclusion of special needs students requires extensive work "As we address the stall in our ability to meaningfully include a greater number of students with disabilities, we need to update our inclusive approaches to include student voice and advocacy while making room to celebrate a student's success through a deeper learning lens..."