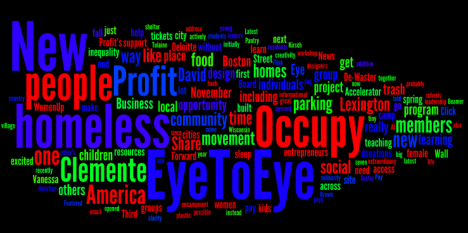 Here's five social innovation links we are clicking on today:
New Profit Blog: Latest Edition! New Profit News: Exciting News to Share "Here's the latest edition of New Profit News. If you'd like to join our email mailing list, please email [email protected]"
Aljazeera: Tiny House Village Built With and For the Homeless Opens in Wisconsin "A community of tiny houses for the homeless opened this weekend in downtown Madison, Wisconsin — built by a coalition of homeless individuals and members of Occupy Madison, organizers told Al Jazeera...The site is the latest example of groups turning toward one-room properties to provide shelter to those who would otherwise go without, and is believed to be one of the first that has actively involved homeless individuals throughout the building process."
The Washington Post: Lexington Residents Can Pay Parking Tickets With Food Donations "The Lexington Parking Authority is offering something like an amnesty for vehicular scofflaws between Nov. 17 and Dec. 19, allowing anyone with a parking ticket to pay with a donation to a local food bank. Residents can wipe their records clean with a 10-can donation to God's Pantry Food Bank, the city announced Friday. And it's not just current parking tickets that qualify: Residents can take advantage of the program to pay past-due tickets, too."
Fast Company: Kids Solve The Most Pressing Urban Problems With Designs You'd Never Think Up "Ask a 10-year-old how to solve the problem of cleaning up trash, and you might end up with a concept like the "De-Waster 5000," a helicopter that scoops plastic out of landfills and the ocean—and then uses a solar-powered flamethrower to melt the trash into beds for homeless people. In other words, you'll get something that probably wouldn't occur to an adult designer. The De-Waster was one of the prototypes created in the Global Childrens' Designathon on November 15, which invited kids in five cities to spend a day designing solutions to improve food, waste, or mobility issues in their hometowns."
Brown Alumni Association: Career Spotlight: David Flink '02 "David Flink is a leader on the front lines of the learning rights movement. In 1998, while a student at Brown University, he co-founded Eye to Eye, which has grown into a national mentoring organization that is empowering young people with learning disabilities by pairing them with mentors who share that experience. In 2011, David was named one of the New Leaders Council's '40 Under 40.' Most recently, David was elected to the prestigious Ashoka Fellowship. Here, he discusses how his experience at Brown helped launch his future career and how his ability to ask for help was pivotal to his success." New Profit is a proud funder and partner of Eye to Eye.