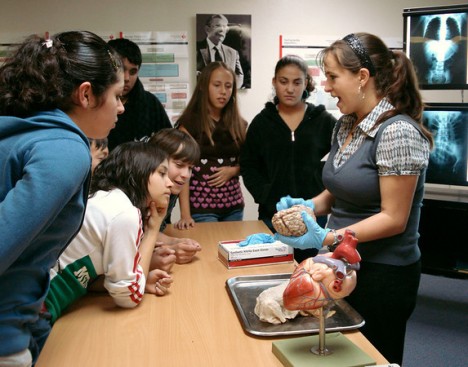 It's Teacher Appreciation Week AND Throwback Thursday! What better way to combine the two than to ask some of our staff members to reflect on teachers that made an impact in their lives?
Adria Chamberlain, Special Projects Manager:
"Faith Vautour, my high school social studies teacher: she made us do these arduous and infamous DBQs - data-based questionnaires. By leaps and bounds, these were the hardest assignments we'd ever had to do, but, in retrospect, probably one of the most useful and effective assignments and methods of teaching I've ever had. It really taught you that you can do more, far more than you think you're capable of."
Adam Lewis, Criminal Justice Fellow:
"Rick Betz, my teacher from 1st through 6th Grade at the Marin Waldorf School, was an amazing story teller. His ability to capture my attention and imagination with gripping stories on topics ranging from Norse Mythology to the California Gold Rush was a large reason why I fell in love with history--and still love it! Outside of my family, he might be the person who has had the biggest role in making me who I am today. Every time I have the chance to work with kids I do my best to embody some fraction of the energy, wisdom, and inspiration that he brought to our classroom every day."
Deborah Smolover, Executive Director, America Forward:
"Nat Sloan, my 8th grade Earth Science teacher, continues to be my inspiration. It wasn't his passion for science that captured my heart and mind, but his passion for life. He let us grow crystals in his classroom and taught us how to swing dance at 13. He rode a motorcycle and made surprise visits to his favorite kids' homes to get to know their families. He adopted us as his "nieces and nephews" and taught us about life. At almost 90 he is still dancing, playing tennis, hiking national parks, creating sculptures and writing political commentaries decrying any injustice or bigotry. An avid humanist, he believes in the power of people (more than ideologies) to change the world. He has more zest for life than people half or three quarters his age and a limitless capacity for joy and adventure. He's the teacher from whom I got my worst grade in Jr. High and the best life lessons in all my years of formal education. I treasure him deeply."
Amanda Clark MacMullan, Managing Partner, CDO:
"I loved my second grade teacher Miss Watson because she really emphasized the idea of grit - keep trying until you succeed - she always told us persistence was the key."
Addie Johnson, Development Coordinator:
"Mark Cline-Lucey, my social studies teacher at the Vermont Commons School, completely shaped the way I view the world. Mark pushed the boundaries of the typical high school class by encouraging his students to critically question every and all perspective of any issue we tackled. He loved to play the devil's advocate to make us look at the other side of an argument and find evidence to support the claim we made. He was passionate about influential thinkers that I value as some of the brightest of our time- namely Howard Zinn, who wrote People's History of the United States. In fact, he was so inspired by Howard that he ended up naming his son Zinn! Along with being a deeply engaging teacher, Mark was a profound mentor for me because he valued his students as equals. His office door was always open, and I so enjoyed talking with him for hours about complex topics we were studying, or even our favorite albums. To this day, I consider Mark one of my biggest role models, and I hope that I someday have even a fraction of the amount of influence on someone as he had on me."
Sandy Fernandes, Event Operations Manager:
"Sister Eleanor, Third Grade Teacher, Saint Mary's Catholic School. She taught me about compassion, caring, and love for the others and the world around us, to always be mindful of others and their unique stories and how our actions can not only shape our lives but the lives of others."
Lavon Fairclough, Executive Assistant:
"Mrs. Smith. My English teacher from the 7th grade at St. Raphael's School in Medford, MA. She was inspiring, thoughtful, and a brilliant English teacher. I thank her for sparking my love of words and books."
Sam Hiersteiner, Communications Director:
"Gayle Pemberton, an English professor of mine from Wesleyan University. Her "Harlem Renaissance" class had a profound impact on me, because it was such a vibrant intersection of so many of my interests: literature, social justice, jazz, food, oral history. Professor Pemberton taught with passion that I had never seen in a classroom before, and I tried to channel that energy into my work as a mentor in DC Public Schools early in my career. I still have a copy of The Collected Poems of Langston Hughes that I marked up (conscientiously) with a kid I worked with for a few years. We started every session by reading "The Heart of Harlem", which grabbed us and implored us to learn and always brought "Professor P" to my mind."
Elissa Gathman, Asst. to the Executive Director, America Forward:
"Jessica Moore was my 10th grade English teacher at a small private school, and was hands down the best teacher I have ever had the pleasure of learning from. I was fully captivated and engaged in every single class, and always came away incredibly inspired and excited to write. She was so young, and yet was able to command so much respect through her presence which was simultaneously kind and caring, but also quite stern if you tried to mess around - the perfect combination for a teacher! The way that she taught us to dissect and analyze and understand classics like Jane Eyre, King Arthur, and Shakespeare lit up every light bulb in my brain. I loved the lively debates she facilitated in class, and to my great joy, I discovered through her teaching that I was capable of thinking and writing and producing ideas that were deeply substantive and analytic, and what's more, I learned how to defend my opinions when they were appropriately grounded, yet at the same time be open to considering new ideas. I wanted to grow up to be just like her. She helped me discover the gift I had for writing and thinking analytically, and the joy of embracing my own mind and potential. Throughout the years, she has remained a truly wonderful mentor and friend."
Thank you Faith, Rick, Nat, Gayle, Mark, Jessica, Miss Watson, Mrs. Smith, and Sister Eleanor! Your passion for teaching and learning has given us some truly awesome staff members who are helping to change the world, just as you have!
*Photo courtesy of Citizen Schools.