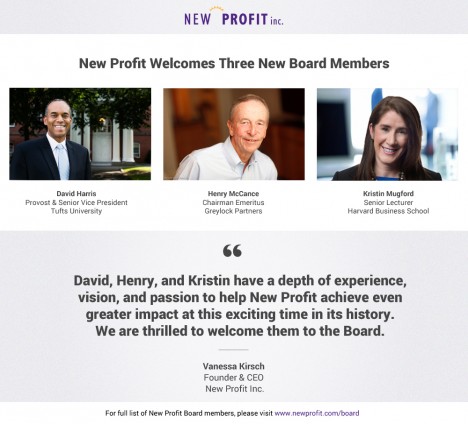 We are excited to announce that three new members have joined New Profit's Board of Directors: David Harris, Provost and Senior Vice President at Tufts University; Henry McCance, Chairman Emeritus of Greylock Partners; and Kristin Mugford, Senior Lecturer at Harvard Business School (See below for full bios).
David, Henry, and Kristin have distinguished themselves as visionary leaders and path breakers in government, academia, and business. Through their various philanthropic pursuits, they have also demonstrated their clear passion for New Profit's mission of breaking down barriers to opportunity in America. Taken together, their diversity of experiences and skills will be invaluable as New Profit aims for even greater impact through our work with great social entrepreneurs, our advocacy for high-impact public policy, and our efforts to convene leading problem solvers around new solutions.
On behalf of the entire New Profit community, including my fellow board members, I welcome David, Henry, and Kristin to our team. We could not be more excited to work with them.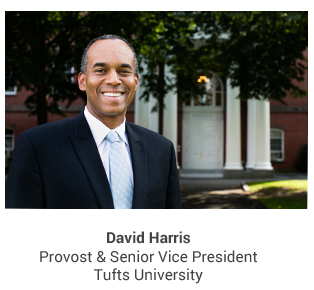 David Harris is Provost and Senior Vice President of Tufts University, where he oversees eight schools as well as multiple cross-sector school programs, centers, and initiatives, ensuring that the education and research programs are of the highest quality. Prior to becoming Provost, Dr. Harris served as Senior Associate Dean, Deputy Provost, Vice Provost for Social Sciences, and Professor of Sociology at Cornell University. In 2010-2011, Dr. Harris also served as the Deputy Assistant Secretary for Human Services Policy at the U.S. Department of Health and Human Services, where he led the Office of Human Services Policy in the Office of the Assistant Secretary for Planning and Evaluation (ASPE). View Dr. Harris' full bio here.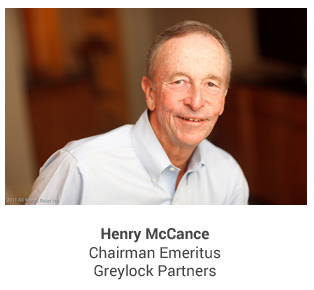 Henry McCance is Chairman Emeritus of Greylock Partners, one of the oldest and most successful venture capital firms in Silicon Valley. With 40 years of tenure at Greylock focusing on the software sector while overseeing the firm's strategic direction, Henry has been recognized as a renowned venture capitalist by several national institutions and publications; he received the National Venture Capital Association's Lifetime Achievement Award in May 2004, the Harvard Business School Award for Alumni Achievement in 2003, and was recognized as one of the country's 10 best VCs by Forbes in 2000. Henry co-founded Cure Alzheimer's Fund in 2006, a nonprofit which uses the venture capital model to fund breakthrough research on Alzheimer's disease. View Mr. McCance's full bio here.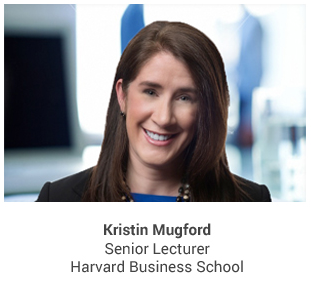 Kristin Mugford is a Senior Lecturer in the Finance Unit at the Harvard Business School. She joined Harvard upon retiring from Bain Capital, one of the world's leading private investment firms. At Harvard Business School, she currently teaches an elective course that analyzes how economic stress and restructuring creates challenges and opportunities for businesses and their stakeholders. At Bain Capital, she helped found the firm's credit affiliate, Sankaty Advisors, and helped build it into a $20 billion unit with 180 employees in six offices on three continents. View Ms. Mugford's full bio here.