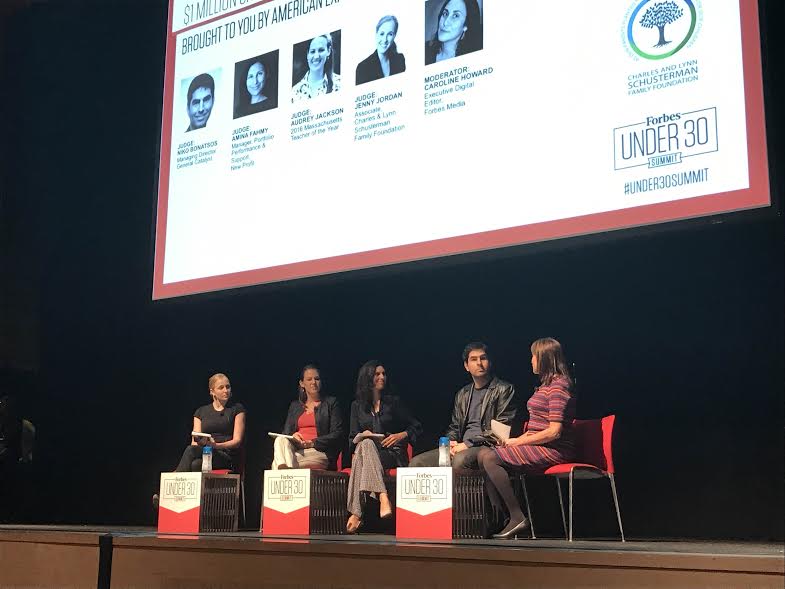 This week Forbes hosted their annual 30 Under 30 Summit, a gathering of extraordinary leaders across science, technology, investing, media, policy and social impact. We visited the Impact Stage, where panelists and speakers explored unconventional paths to make big changes, both around the world and right here at home. Here are our top five takeaways from our time at the #Under30Summit:
1. Emotions drive our work
Forbes Media Executive Producer Caroline Howard could not have said it better in her introduction to the Impact Stage:
"This stage is the heart of the Summit, because we're here to change the world."
As the first speaker of the day, Katie Meyler began with an explosively emotional open. Her outrage, confusion, grief, hope, and unrelenting passion came through vividly in her performance of two spoken word poems. She told the story of founding More Than Me, a much-needed all-girls school in Liberia, and fighting to keep the school open amidst the Ebola crisis.
Her gripping performance embraced the emotions that make this field so powerful, and reminded us that the nature of our work is rooted in passion for change. No matter what it is - dismantling the system of mass incarceration, breaking down barriers to opportunity through education, shining a light on talent all over the world - our work changes us.
"I will never be the same and I don't want to be the same" @katiemeyler @MoreThanMeORG #Under30Summit

— New Profit (@newprofit) October 17, 2016
2. Change comes in many forms
Coming from a lens of social entrepreneurship, the Under 30 Summit was a refreshing reminder to us that nonprofit organizations are not the only avenue for social change. Storytelling, film, art, comedy, television - all have the ability to share and shift perspectives for greater social equity.
Amani Al-Khatahtbeh's website Muslim Girl does just that: it is a platform that both enables Muslim women to share stories that empower one another, as well as rewrite the destructive narrative of Muslim women in the media.
"We didn't try to cater to mainstream media or fit in anywhere. We built a movement." — @xoamani https://t.co/6JyoUls5r0 pic.twitter.com/K8mT3MDXy6

— Technical.ly Bklyn (@TechnicallyBK) October 19, 2016
We heard from the "Liberal Redneck" Trae Crowder, who uses comedy to tear down stereotypes about his upbringing and political views; we watched Good Girls Revolt, a series about women in the 1960s facing sexism in the workplace; we watched Where We Are Now, a highly personal short film that explored the changing relationship between a daughter and her transgender parent.
3. The "profit vs purpose" dichotomy is dissolving
More than any other generation, millennials are forging impact-driven career paths. In short, mission matters.
Yes! 70% of #millennials would quit job for lower pay if mission focus @Shiza @ForbesUnder30 #Under30Summit pic.twitter.com/2YYKOy5HtG

— Sue Liang (@L_suesue) October 17, 2016
But a serious question remains: how can millennials choose between profit and purpose? One panel tackled this issue head-on, offering a promising response: the world of "either/or" is transforming into a world of "both/and."
Shiza Shahid of the Malala Fund reminds us that mission-driven companies are the future, from both an impact perspective and a returns perspective. Jeremy Johnson of Andela agreed:
"People are realizing this impact thing is not just fluff - this is where the world is going."
"The greatest business opportunities are in fact the greatest social challenges." @Shiza #Under30Summit #Impact

— Kate Hayes (@kdahayes) October 17, 2016
4. Authentic storytelling is strategic storytelling
The under-30 crowd are digital natives. Growing up with tech in all areas of life, they have an innate understanding of new media channels that does not necessarily come easily to generations before them.
"You guys know a hell of a lot more than I do about this new world" -Dukakis to @MDuppler @dank @just_jenna @michaelwhitney #Under30Summit pic.twitter.com/4TEHiwleYN

— New Profit (@newprofit) October 18, 2016
However, using social media is no longer enough. It is upon us to use new channels in creative and strategic ways to spread a message. Above all else, an authentic message is the most effective message.
Reach people where they are, and meet them with the authenticity that each channel requires @michaelwhitney #Under30Summit #impact

— New Profit (@newprofit) October 18, 2016
5. Inspiration is all around us.
After witnessing so many incredible speakers, some stood out to us as especially powerful to us:
Katie Meyler | Founder, More Than Me
Amani Al-Khatahtbeh | Founder & Editor-in-Chief, Muslim Girl
Jeremy Johnson | Co-Founder & Chief Executive Officer, Andela
Shiza Shahid | Founder, Now Ventures; Co-Founder, Malala Fund
Sarah Kunst | Founder & Chief Executive Officer, Proday
Colin Goddard | Survivor Fellow, Everytown for Gun Safety
DeRay McKesson | Black Lives Matter
Adam Foss | Founder, Prosecutor Integrity
Steven Keating | Research Affiliate, MIT
Jeffrey Martin | Founder & Chief Executive Officer, honorCode
"Change has to happen on the inside before it is noticed on the outside." @CarolineLHoward. Such powerful storytelling at #Under30Summit

— New Profit (@newprofit) October 17, 2016
These speakers, as well as their colleagues and peers, are the future leaders of the social sector. We are looking forward to following the careers of these changemakers as they forge new paths in social innovation, as well as the next cohort of 30 Under 30 entrepreneurs.