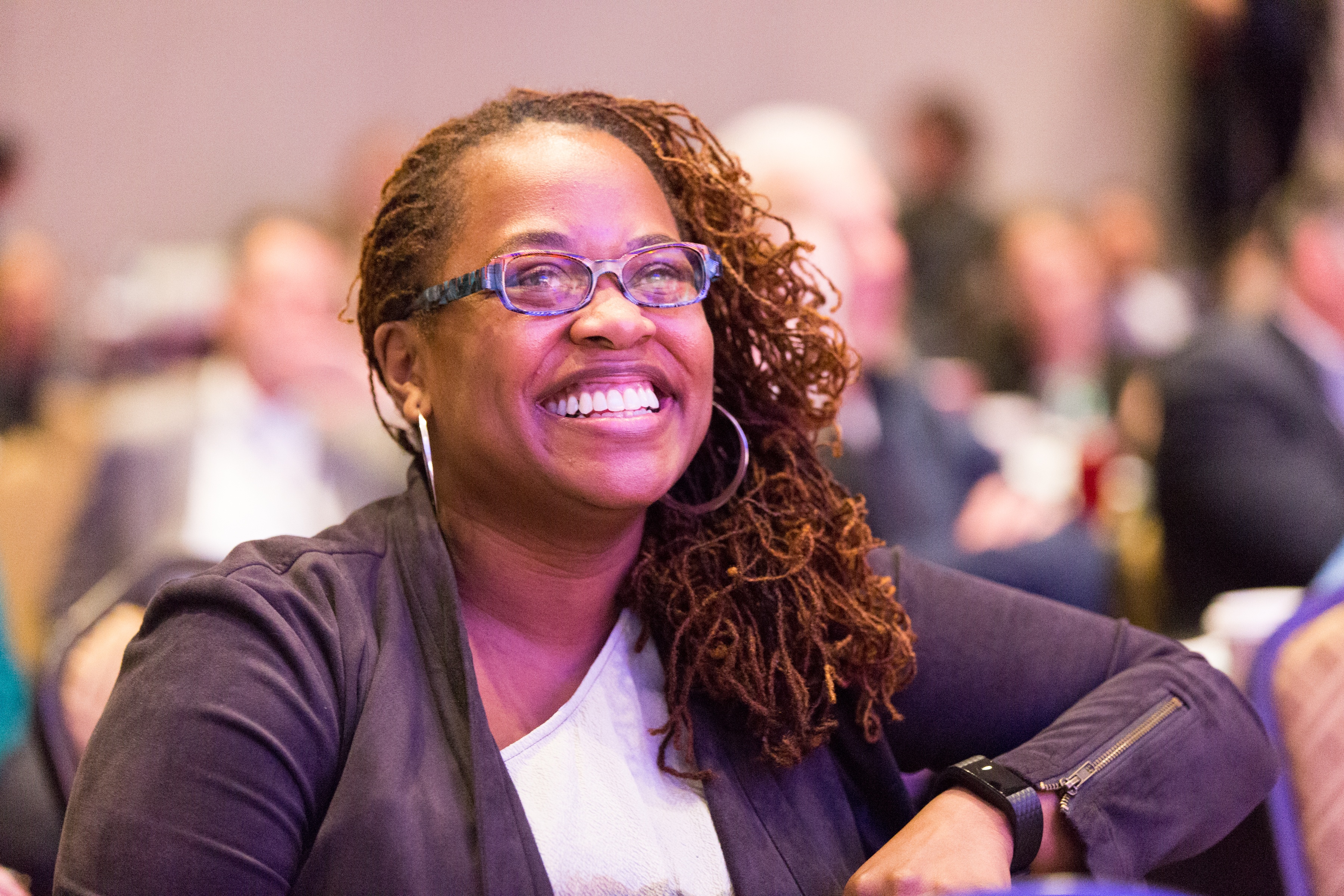 Tulaine Montgomery, a longtime New Profit staff member who has led initiatives focused on post secondary-to-career success for under-resourced students and catalyzing social entrepreneurs from underrepresented communities, has joined the organization's Executive Team.
In addition to her core organizational stewardship responsibilities as an Executive Team member, Tulaine will act as a lead spokesperson for New Profit, at a time of growing dialogue in philanthropy about the unprecedented opportunities and challenges facing the sector. She will help guide New Profit's efforts to establish an ambitious long-term vision for impact and execute a successful 20th anniversary initiative in 2018. She will also support internal, ongoing work to build a more diverse, equitable, and inclusive organization, while leading external efforts to strengthen dialogue and engagement around these issues. This work will focus on diversifying leadership pipelines and funding partnerships, as well as working with organizations to embed diversity, equity, and inclusion in core strategies and impact models.
"Tulaine was a member of the original team that dreamed up New Profit 20 years ago, and since then, from outside and inside the organization, she has been an inspiration for me and our community every day," said Vanessa Kirsch, New Profit's founder and CEO. "She is beloved in our organization and across our community because she has a unique ability to match community and capacity building expertise with a radiating sense of joy and possibility about our work."
Tulaine will continue to lead New Profit's three-pronged Accelerator Program, which aims to support visionary social entrepreneurs and leaders from underrepresented communities. Currently, the Accelerator Program includes the Women's Accelerator, the Proximity Accelerator, and Unlocked Futures. She also serves as an MC of New Profit's annual Gathering of Leaders, which brings together social entrepreneurs and their change agent counterparts from across sectors to discuss the future of social problem solving. She has driven dialogue on issues ranging from nonprofit capacity building to race and philanthropy, interviewing visionary leaders like Brittany Packnett of Teach For America and Black Lives Matter; former Massachusetts Governor and Bain Capital Partner Deval Patrick; and news commentator and activist Van Jones.
"Tulaine is that rare leader who is confident yet humble; diplomatic yet candid; vision-oriented yet attentive to details; charismatic and inspirational yet down-to-earth and empathetic to the plight of others," said Alex Bernadotte, founder and CEO of Beyond 12, who was a participant in the first New Profit Women's Accelerator program in 2015. "She is one of the most gifted conveners and facilitators I have ever met, always managing to help a group navigate difficult conversations with expertise, finesse, and grace."
Prior to joining the Executive Team and launching the Accelerator Program, Tulaine led the Pathways Fund, a 5-year (2011-2016), $93 million public-private partnership that created and catalyzed the postsecondary-to-career success field, which helps students from under-resourced communities get through high school graduation and gain the continuing education and/or skills necessary to build sustainable livelihoods. The Pathways Fund helped hundreds of thousands of students by providing growth funding, strategic support, and community building to groundbreaking organizations like College Advising Corps, College Summit, iMentor, Single Stop USA, Year Up, and YouthBuild USA.
College Advising Corps Founder and Chief Executive Officer Nicole F. Hurd, Ph.D., said the following of her experience working with Tulaine: "As a social entrepreneur, I could not ask for a better partner and collaborator than Tulaine. She is the perfect combination of head and heart. Our organization is making a greater impact due to both her counsel and inspiration. Tulaine understands it takes persistence, passion, and a commitment to community in order make a difference in the social sector. She brings knowledge and dedication or, as I like to say about Tulaine, she brings light and love."
Tulaine joins Founder and CEO Vanessa Kirsch, Chief Operating Officer Doug Borchard, Chief Administrative Officer Kathryn Price, and Managing Partner and Chief of Staff Eliza Greenberg on the New Profit Executive Team.
To read Tulaine's complete bio, click here.