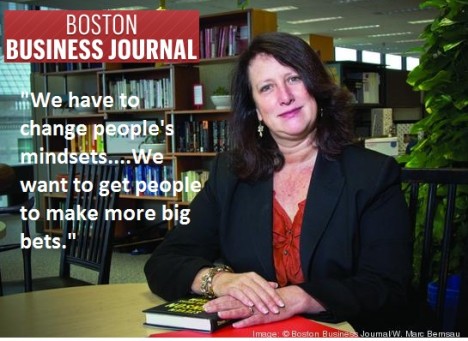 Today's issue of The Boston Business Journal features an interview with New Profit Founder and CEO Vanessa Kirsch. In a Q&A, reporter Keith Regan asks Vanessa several questions about her learnings and philosophies, including:
How has New Profit evolved compared to your original vision?
"When we started out finding and supporting great social entrepreneurs, we found they needed more than financial support. They didn't always have the business plans and performance systems they needed to be able to scale. In our first chapter, we invested in individual great leaders and ideas and we continue to do that. But it is increasingly obvious to us that to create the transformative change we want to create, we need to make sure we also work with the public sector, so we do public policy work, and we try to involve all the problem-solving leadership to create more of a collective impact."
How has the social philanthropy marketplace changed over the past decade?
"I speak often on college campuses and social entrepreneur is just an assumed part of the vocabulary. When you see 22 percent of Harvard students applying for Teach For America, you say, 'Wow, we have changed the world already.'"
Want to read more? Click on over to the article here. Some of it is subscriber-only content, which may be frustrating to some, but we'll take it as compliment that Vanessa's words are considered premium content!
Photo credit: W. Marc Bernsau, Boston Business Journal