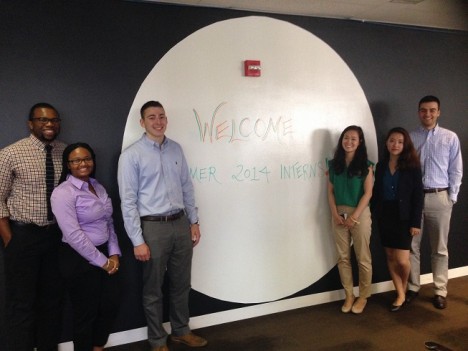 New Profit interns pictured left to right: Phillip Ellison, Donveyea Watson, Jacob Sheetz, Jae Won Hyun, Jiawen (Jamie) Meng, Ben Berman (not pictured: Mirna Portillo)
New profit has a long history of terrific interns, including current staff members Shruti Sehra and Kevin Greer. Thanks to Nithyaa Venkataramani, our rockstar Talent Fellow, yesterday New Profit was joined by our largest ever summer intern cohort! We are extremely pleased to welcome the following student interns to our team:
Ben Berman (Development) is a current junior at Tufts University studying Political Science and Economics and is joining our Development team, with a strong passion for innovative education models and civic engagement. Ben is currently a Tisch Scholar for Active Citizenship and serves as a Boston Advisory Board Member and Campus Executive Director at Tufts for Generation Citizen. He also co-founded a successful food truck serving the greater Portland, ME area called Mainely Burgers. Ben's manager is Ted Matwijec.
Phillip Ellison (Learning for College/Career Success) is a current student at Tufts University studying Africana Studies and Political Science with a minor in Entrepreneurial Leadership. At Tufts Phillip is a Tisch Scholar for Active Citizenship and sits on the new Tufts 1+4 Bridge Year Advisory Board. Phillip has a strong background in fundraising in addition to political and community organizing, significant ties to several organizations in our network (having spent time in the past working at both City Year and Citizen Schools), and was an honors student at Hostos Community College with a deep interest in the work of this emerging domain. He is excited to bring his start-up non-profit and political experience to team. Philip's manager is Kevin Greer.
Jae Won Hyun (Convenings) is a current junior at Emory University studying International Studies and Biology. She is joining our Convenings team to work specifically on research and design of online tools, webinar development and resources. She has a strong interest in social media, video and technology and spearheaded the TedXEmory event on her campus this past year. Jae's manager is Liz Eskenazi.
Jiawen (Jamie) Meng (LinkedIn Volunteer Marketplace/Communications) is a first-year graduate student at the NYU Wagner Graduate School of Public Service studying nonprofit management. She is an international student from China and has previously worked as a consultant for A Better Community Group, a leading nonprofit advisor and resource for nonprofit organizations in China that recruits professional volunteers to provide pro-bono consulting services for nonprofit organizations. She is excited to leverage our emerging opportunity with LinkedIn Volunteer Marketplace to work with our portfolio organizations on scoping and posting pro-bono volunteer opportunities. Jiawen's manager is Alexia Tamer.
Mirna Portillo (Finance) is currently a student at Boston University studying Economics and Philosophy, and has previously worked with the Boston University Initiative for Literacy Development as well as the WCAC Plumley Village Office on community engagement and outreach. Mirna joined us on April 15th (perfectly appropriate day for a Finance intern to start!). Mirna's manager is Cynthia Hurt.
Jacob Sheetz (Development) is a rising junior at Emory University studying Business Administration and concentrating in finance and strategic management. He spent last summer working at the HYM Investment Group, LLC on research and development of new opportunities for real estate development, and is excited to channel his research skills to building out new opportunities on our Development team for the nonprofit sector. Jacob's manager is Ted Matwijec.
Donveyea Watson (Convenings & Communications) is a rising senior at Saint Augustine's University in Raleigh, NC studying Business Administration. She is a current Management Leadership for Tomorrow Career Prep Program Fellow and was most recently interning at the Caraway Management Group as an Event Planning Intern to support a national event bringing together leaders in philanthropy. She will be working closely with our Convenings and Communications team on upcoming convenings and events. Donveyea's manager is Sandy Fernandes.
Welcome all! We are thrilled to have you here!