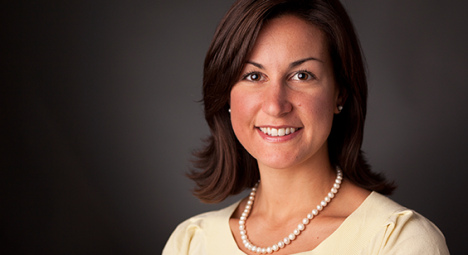 It's WhyLight Wednesday! What's a WhyLight? It's a spotlight on members of the New Profit community and why they do what they do. This week, we talk to Liz Eskenazi...
What is your role here?
I am a part of our field leadership team helping to engage and strengthen an incredible network of leaders from across sectors - uniting social entrepreneurs with policymakers, philanthropists, and leaders in business, academia, and media. Core to my role is designing an energizing and provocative annual two-day experience, the Gathering of Leaders, where we bring our network together to overcome and challenge the barriers to scale, ask what is possible, and transform public problem solving.
What drew you to New Profit?
I have always loved asking "Why!?" and enjoy doing things that make sense and have meaning and purpose. At New Profit, I saw the opportunity to prompt discussion about why certain problems haven't been solved, why collaboration is hard, why person A doesn't know person B and explore what is behind these questions. I also saw this as a chance to design something much larger than an event; I'm witnessing how the experiences I help to design can cause people to change their business model, expose a connection or solution that was unknown, or even initiate a life-long relationship.
How long have you been at New Profit?
A year in August.
What has been your path here?
When I joined the end of last August, I dove deep into the planning the Gathering of Leaders (which we held in Napa in February). Now that I'm out of the intensity of planning our annual event in a 5 months time frame, I'm starting to expand my role to also include other aspects of our field development and enjoy some fun internal leadership opportunities.
What is your favorite part of working here?
The people are real. I don't feel like I am at work. It's clear people go home curious about these issues and opportunities and what can be done to leave our world a better place.
What is the most surprising thing about you?
I think most people would probably say I'm not all that full of surprises; I'm pretty predictable and easy to read. I'm actually struggling with this question (boring!). Those who didnt grow up with me wouldn't know that that I gained a great deal of stage confidence and strength in vulnerability when I was in the 4th grade and botched a talent show performance on my clarinet much to the audience's delight. It was the moment when I couldn't get my instrument to stop squeaking, my partner was trying to go on, the parents were looking at the situation and laughing, that I realized I thought it was pretty funny too and there was no need to hold back my own laughter.
What's on your bucket list?
A current item is to live through our major house renovation. It feels a bit practical for the "bucket-list category", but if you sit with myself or my husband for an hour to hear what is going on, you might start to understand:) Beyond the reno, all things skiing, traveling, food-tasting, wine-tasting in unique places around the world could easily be added!