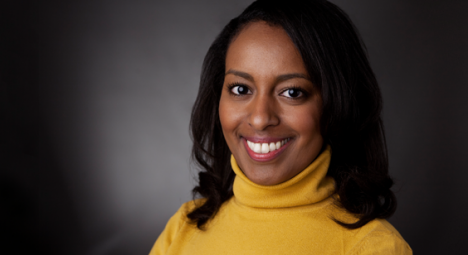 It's WhyLight Wednesday! What's a WhyLight? It's a spotlight on members of the New Profit community and why they do what they do. This week, we talk to Yordanos Eyoel…
What is your role here?
I am a Manager on the Portfolio Investment team and oversee the day-to-day operations of the Reimagine Learning Domain. Additionally, I work closely with deal partners to support two organizations in our portfolio – Management Leadership for Tomorrow (MLT) and New Classrooms Innovation Partners.
What drew you to New Profit?
New Profit's unique approach of merging private and social sector practices to drive transformative impact for the most vulnerable populations in America is what initially drew me to the firm. I was also deeply impressed by the caliber and commitment of the team.
How long have you been at New Profit?
2 years and 6 months
What has been your path here?
My academic background is in Economics and Political Science and I had always envisioned myself working on emerging market development post-school. I had worked with the Ethiopian Embassy, U.S. Congress, the F.W de Klerk Foundation, and also had launched a program for the Ethiopian Global Initiative prior to joining New Profit. But it was my experience at Harvard Kennedy School that introduced me to the concept of social entrepreneurship and venture philanthropy, which led me on the path to join New Profit.
What is your favorite part of working here?
I love that I rarely have an ordinary day. There are always new opportunities and challenges that emerge and I like working in a dynamic and fast-paced environment. I also love the people I work with and our collegial culture.
What is the most surprising thing about you?
As an orientation leader in college, I used to perform a rendition of "Summer Nights'' from Grease in front of hundreds of incoming freshmen and their families twice a week. Thankfully, this was before YouTube!!
What's on your bucket list?
I want to visit every country on the continent of Africa.
Describe yourself in three words.
Inquisitive.
Passionate.
Straightforward.
Want to read more WhyLight interviews? Click on the WhyLight Wednesday tag below!