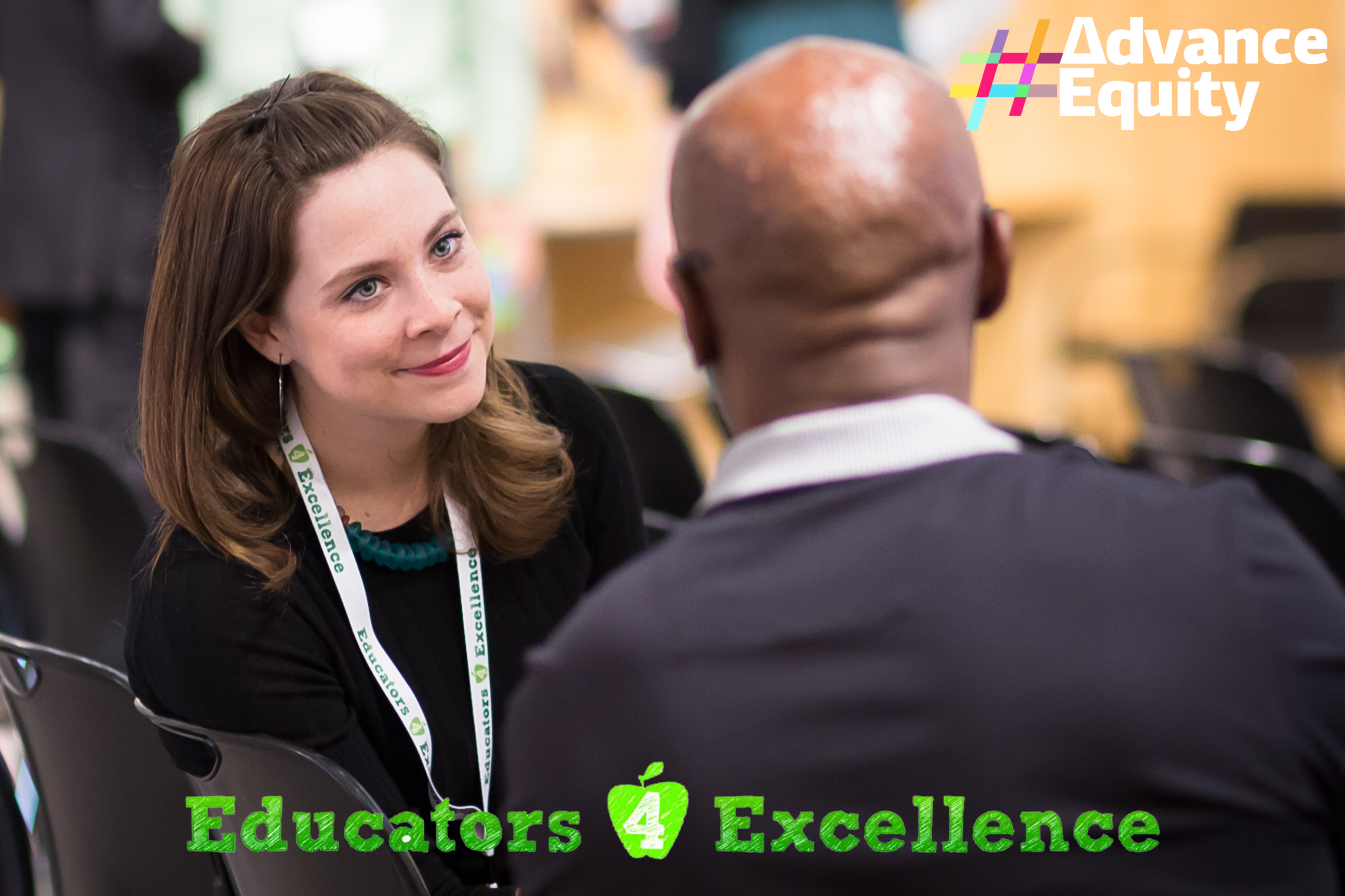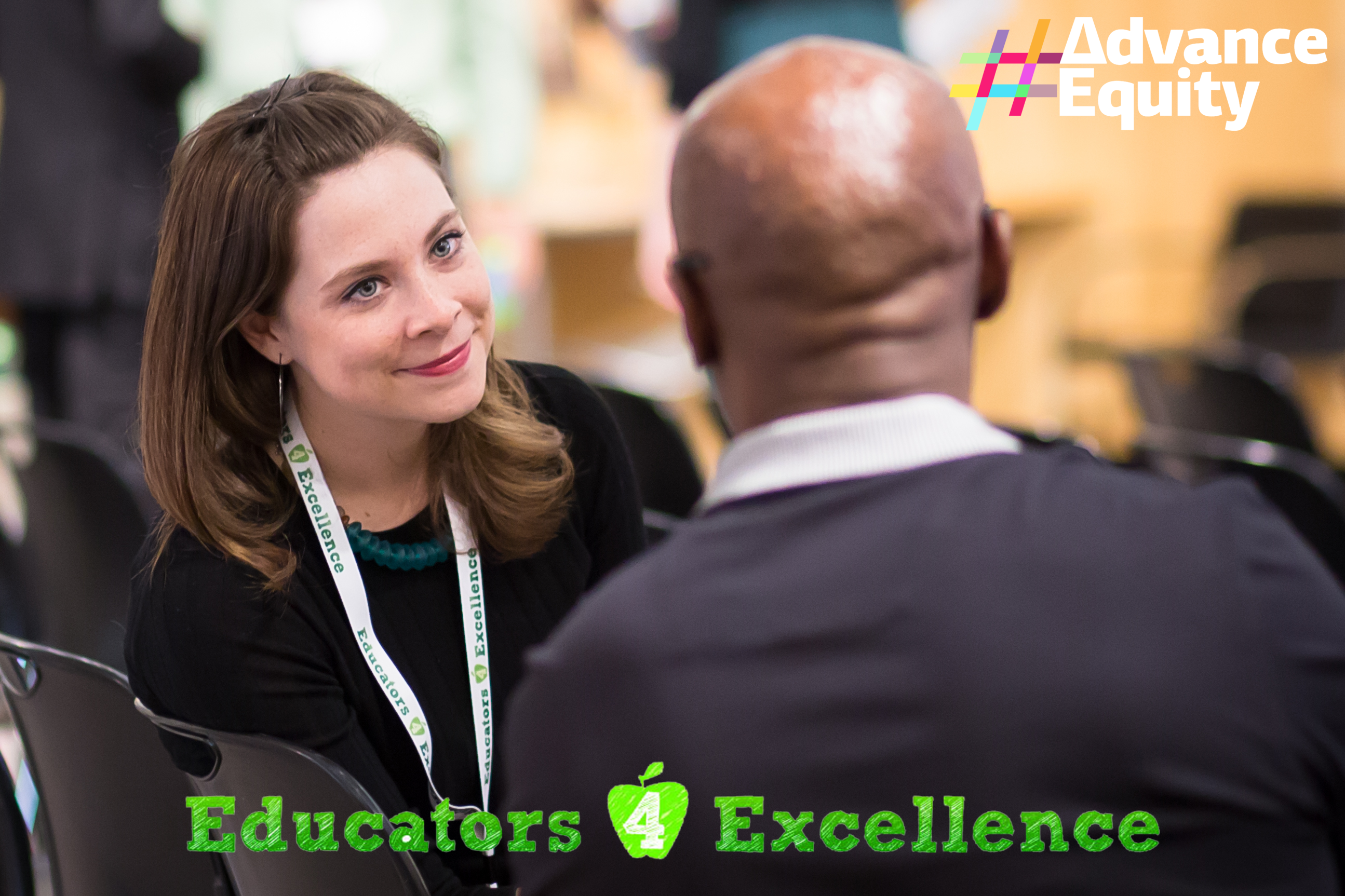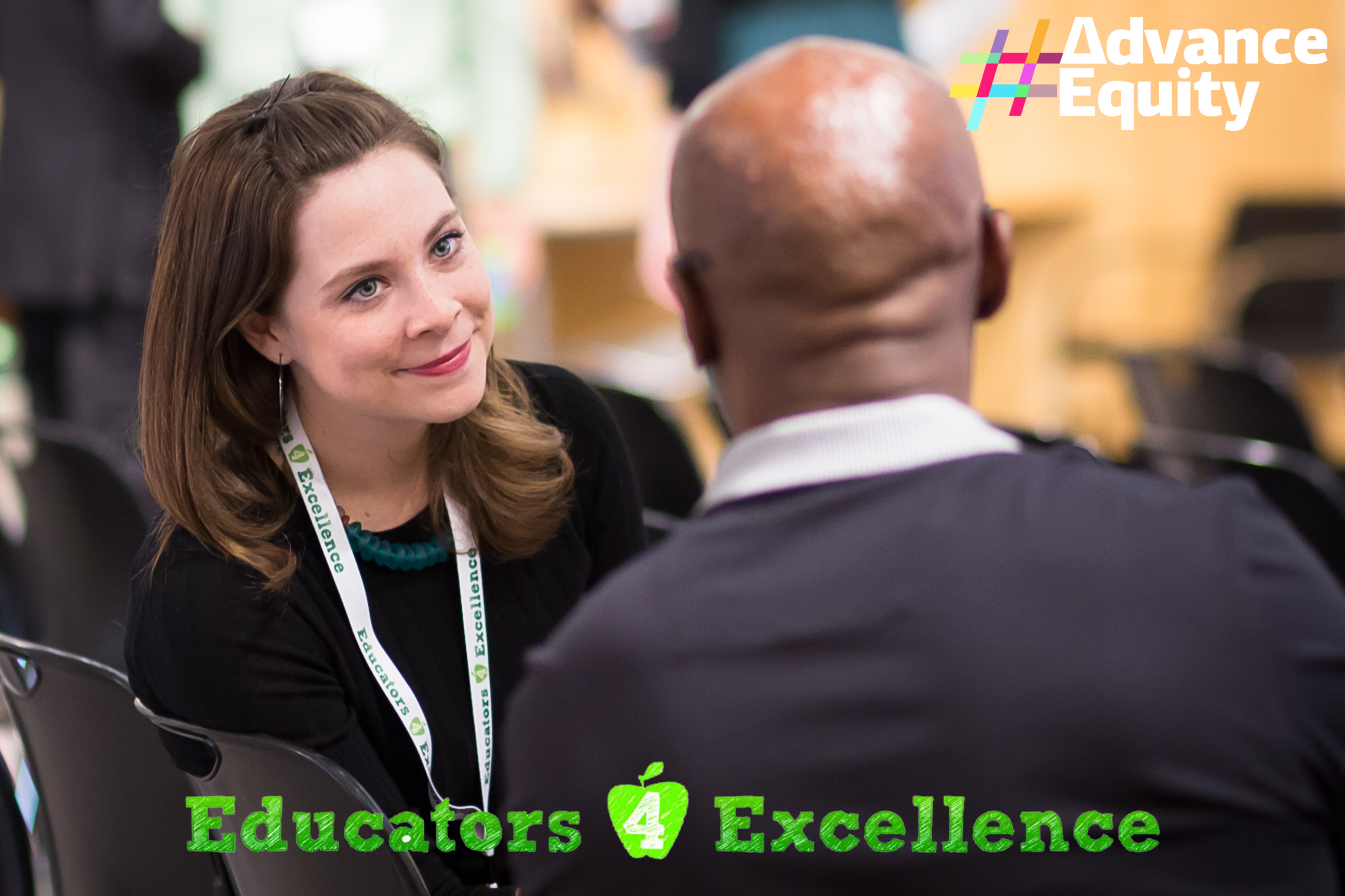 Earlier this summer, we launched #AdvanceEquity, a new digital dialogue series about equity, inclusion, and social impact. #AdvanceEquity is a digital build-out of the rich and provocative conversation that was started at New Profit's Gathering of Leaders in March (VIDEO). Throughout the series, we'll be highlighting the stories of people and organizations that are fearlessly pushing the boundaries to break down systemic barriers to opportunity in America.
As part of this campaign we have decided to start a series to highlight our portfolio organizations and how they are working to #AdvanceEquity. This week we will be highlighting Educators 4 Excellence.
The following post was written by Madaline Edison, Executive Director of Educators 4 Excellence-Minnesota
As more than 40 educators filled Educators 4 Excellence (E4E)'s Minnesota office for a restorative justice training this summer, our hearts were heavy with news of the tragic deaths of black men at the hands of police – including in our own community. For most educators, summer is filled with reflecting on the previous year, engaging in professional development opportunities, and preparing for the next school year; and this year in particular has thrown into relief the importance of teachers doing this work through the lens of racial equity. The educators who gathered for this training spoke about the connections between the violence we see playing out in the streets to the roots of inequity that we can see in our classrooms as early on as preschool. In particular, educators honed in on the disproportionality of disciplinary actions that students of color experience at the hands of a largely white teaching force.
As a grassroots, teacher-led organization whose mission is to elevate the voices of classroom teachers in the education decisions, we facilitate and support teacher-led policy and advocacy campaigns based on priorities set by our teacher members. In 2015, Minnesota teachers identified ending racial discipline disparities as one of the most pressing issues facing students in our community. We know this work is critical, because our survey of hundreds of Minnesota educators revealed that:
45 percent of teachers said that their school uses restorative practices "never" or "not often", with just 3% saying their school used these practices frequently
Yet, 85 percent said that ending racial discipline disparities is either "important" or "absolutely essential" to closing the opportunity gaps between white students and students of color in Minnesota
In response to these student and teacher needs, E4E convened a team of 15 educators, the majority being educators of color, who created a research-based Action Guide on Ending Racial Discipline Disparities. The guide outlines steps educators can take to implement four key practices to reduce racial discipline disparities in K-12 schools, including: restorative justice, peer mediation, social emotional learning, and trauma-informed teaching.
During the 2016-17 school year, E4E-MN will partner with teams of teachers in ten schools across Minneapolis and St. Paul in a pilot program to create school-based plans based on recommendations in the Action Guide. Teachers in these schools have already been making progress in this process. They've convened teams of their colleagues to meet over the summer, discussing trends in disciplinary and engagement data, learning from promising practices in other sites, and making plans to implement new practices in their buildings.
The ultimate goal of this program is not only to reduce discipline disparities in the schools that implement this model, but to distill best practices in order to influence broader policy changes at the state and district level that will lead to more racial equity in our schools. With educators leading the fight for equity in their schools, we are more likely to see fundamental shifts in practice at the school level that will impact outcomes for students in our community for years to come.