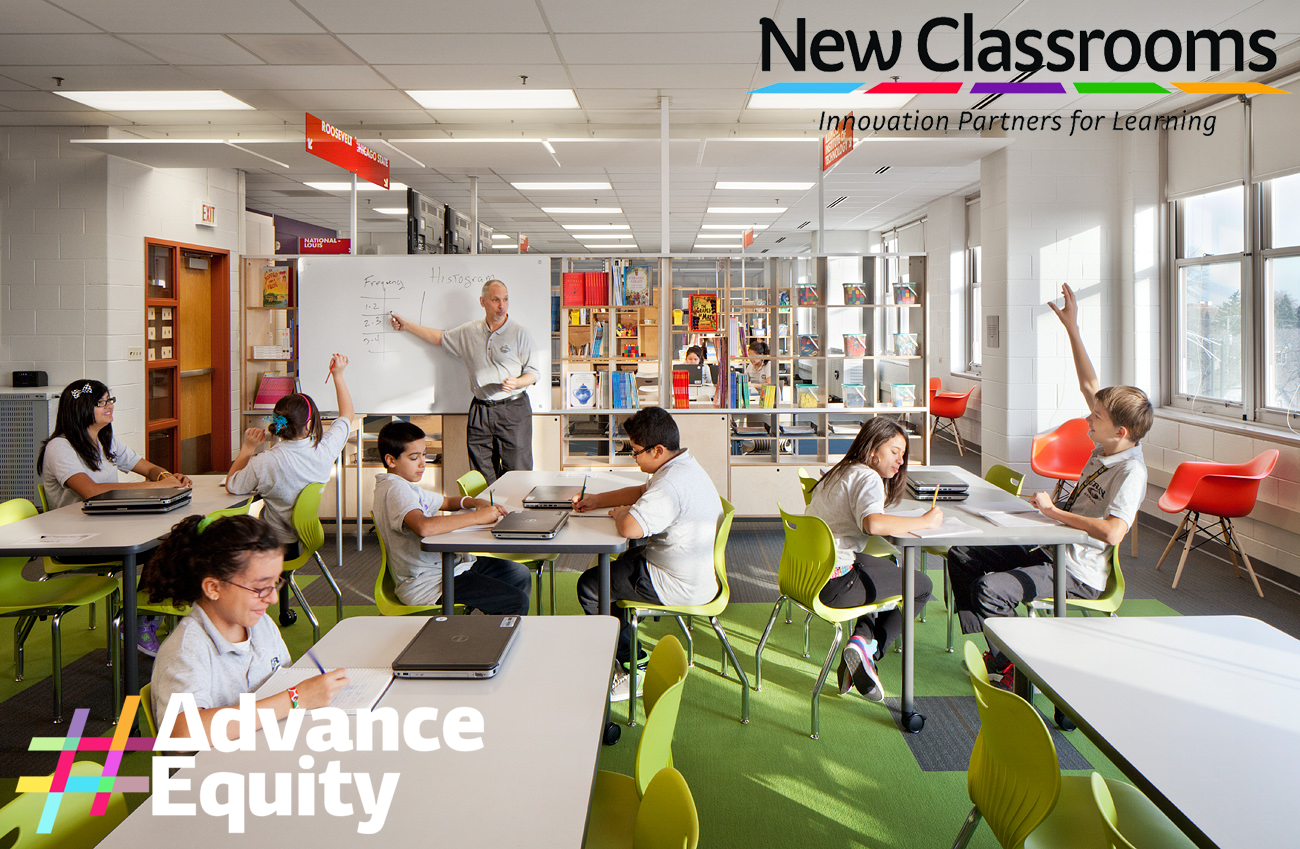 In May 2016, we launched #AdvanceEquity, a new digital dialogue series about equity, inclusion, and social impact. #AdvanceEquity is a digital build-out of the rich and provocative conversation that was started at New Profit's Gathering of Leaders in March (VIDEO). Throughout the series, we'll be highlighting the stories of people and organizations that are fearlessly pushing the boundaries to break down systemic barriers to opportunity in America.
As part of this campaign we have decided to start a series to highlight our portfolio organizations and how they are working to #AdvanceEquity. Today we will be highlighting New Classrooms...
New Classrooms imagines a world where personalized learning is just the way students learn—a world where all students attend a school that meets them where they are, adapts to the unique ways they learn, and develops habits for lifelong success.
Delivering on this vision is what drove our team to create the first personalized learning model, Teach to One: Math now available in 40 schools in 10 states and Washington, D.C. Every day, 13,000 middle and high school students work on lessons customized to their strengths and needs while they are constantly grouped and re-grouped with their peers in the math center.
Middle school math is a crucial point for students in their academic careers. Obtaining grade level proficiency sets the course for success in high school math and college. Yet, two thirds of current middle school students are off-track when the exit 8th grade. These students have a less than 20% chance of graduating high school ready for college.
Teach to One: Math is helping narrow this achievement gap. Students participating in the model in the 2015-16 school year grew 1.4x the national average (on the NWEA MAP assessment) which is better than the results of a top quartile teacher. Academic gains for ELL and special education students were even higher.
While it's nearly impossible to put a top quartile teacher in every classroom, we're working to put Teach to One: Math in a variety of diverse school environments including public, independent and charter, as well as rural and urban.
We believe the introduction of new models will play a large role in narrowing the achievement gap over the next decade. Moving away from the one teacher, one textbook and 28+ student classroom model is crucial for personalization. A school model is a comprehensive solution because it utilizes technology and data, as well as adaptive individualized curricula, a reimagined classroom space, operational support, daily scheduling, and teacher coaching. Models like Teach to One: Math (TTO) introduce an entirely new way to teach and learn for all students.
Innovation is at the heart of our model and over the coming years we'll be evolving personalized learning with a focus on better understanding how students learn through mining millions of data points we collect as well as connecting social-emotional learning to student outcomes. We are excited to share this journey with an amazing group of other social nonprofits, educators and technologists who are committed to change for students.