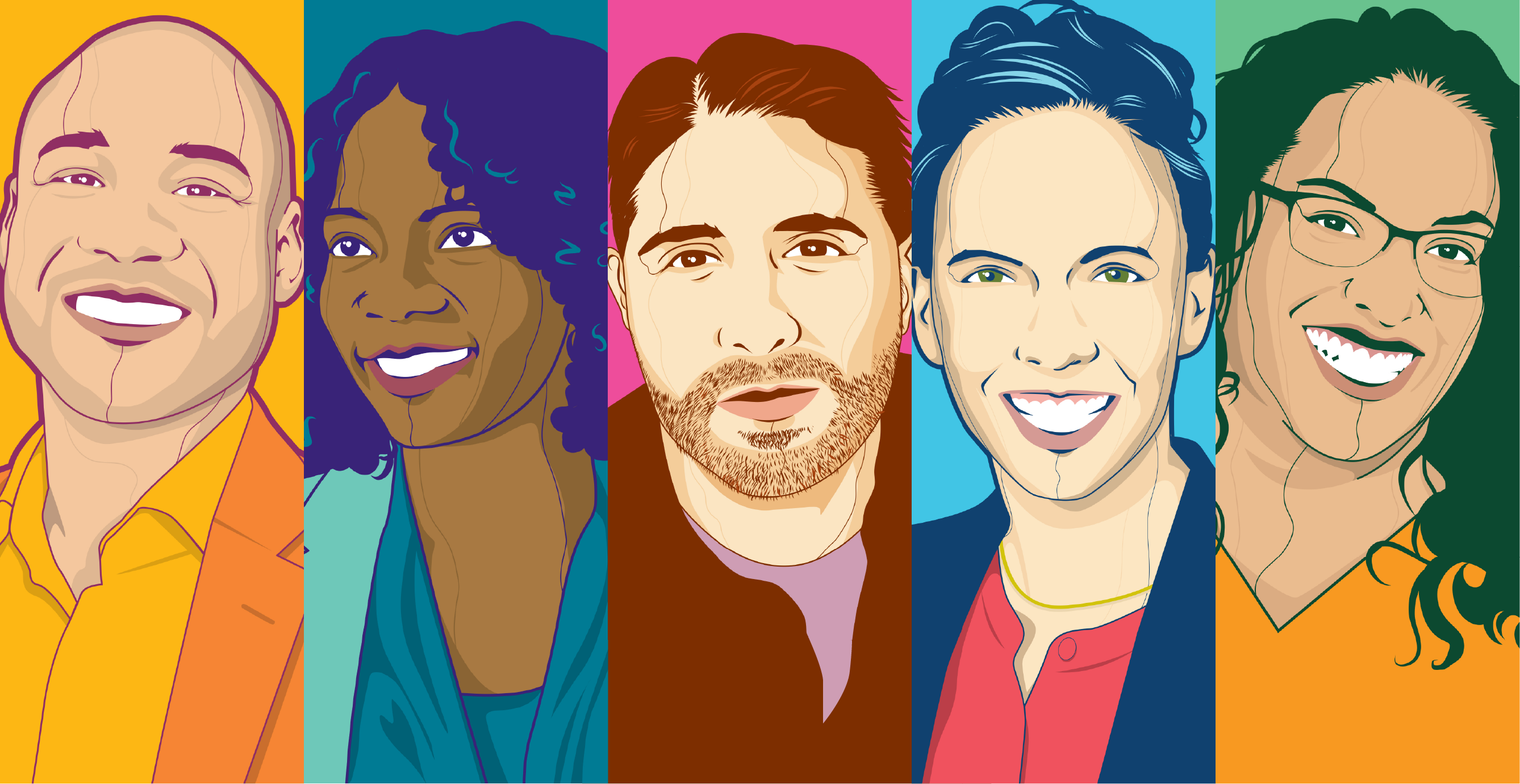 In March, we launched a campaign to shine a spotlight on leaders across America who are taking on some of today's toughest social challenges. We highlighted 20 inspiring leaders from our network and the groundbreaking work they do every day. As part of the campaign, we also ran a nomination process where we asked people to share with us social impact leaders in their networks who inspire them.
We received almost 100 nominations, all of which were inspiring and telling of how much amazing work is being done in communities across the country to advance equity and opportunity. Over the last few weeks our team reviewed all of the nominations and based on the words of their friends, family, and colleagues we have chosen five amazing breakthrough leaders to spotlight!
Keep reading to hear what members of their networks had to say about them and please join us in congratulating these amazing social impact leaders.
---
"Michael is a fascinating, young entrepreneur and social impact leader, who is among the most successful, black tech entrepreneurs in Silicon Valley and has launched a groundbreaking nonprofit called CodePath.org that is bridging the gap between major tech employers, like Facebook, and college grads from underrepresented backgrounds who have the talent, but are often overlooked by Silicon Valley.
Michael knows the challenges of breaking into the tech field first hand. He overcame childhood poverty, and at one point homelessness, to found several technology businesses, including one now valued at over $1 billion, while still in his twenties. Although race and gender inequities are endemic across many fields, equity gaps in emerging tech fields are among the most pernicious."
Click here to learn more about Michael Ellison!
---
"In a formal sense - As a nationally recognized facilitator, trainer, speaker and organizational development consultant, Hanif Fazal brings 20 years of experience, expertise, and commitment to advancing equity and cultural competency. In 2015 he founded the Center for Equity and Inclusion (CEI), an organization focused on advancing equity, diversity and inclusion efforts both locally and nationally.
In an informal sense - Hanif is one of the most committed, passionate, inspiring, and self-less people I know. He examines his male privilege, racial positioning and social conditioning in every aspect of his life, personal and professional. He uplifts trans & LGTBQ+ communities, women of color, POC, indigenous and marginalized communities."
Click here to learn more about Hanif Fazal!
---
"Jennifer has a PhD in nuclear physics. She had a well paying steady job as an analyst tracking nuclear materials and threats world wide. She learned about the 400,000 plus kids in the US foster care system. She discovered that while her work environment leveraged advanced technology to discover families and relationships of people outside the US - the foster care system in the US does not have those same tools. Jennifer decided to career on hold, and started Connect Our Kids. She has recruited a dedicated team of volunteers, raised over $200k in technology development funds, and delivered game changing technology to social workers. Her impact has been large, and on its current trajectory will become immeasurable."

Click here to learn more about Jennifer Jacobs!
---
"Xiomara Padamsee is absolutely a breakthrough leader. Xiomara founded Promise54 to help adults thrive so that they can do their best work for students. Her vision is that organizations committed to educational equity have maximum impact because they have the right people excelling in the right roles, their teams reflect the communities served, their cultures are inclusive, and their internal structures are equitable. Promise54 does this by honoring, supporting, and leveraging intersecting identities and by enabling leaders in organizations to create cultures where those who have been historically silenced can bravely share the full extent of their lived experience, learn from one another, and bridge perspectives."
Click here to learn more about Xiomara Padamsee!
---
"I am nominating Bridgette Wallace, who happens to be may amazing mom! Like many daughters, I could write a never-ending scroll about why my mom is deserving of this recognition, but when it comes to social impact specifically, her superpowers only continue. Most recently, she has decided to take her love of giving and her desire for entrepreneurship and has founded her own venture, called G|Code, in efforts to teach young minority women how to code and eventually use those skills to land technical jobs. With a long-stand passion for urban planning and public policy, my mom saw G|Code as a great way to grow the economic prosperity of people in her Roxbury community while closing the gentrification and wealth gaps in Boston."
Click here to read more about Bridgette Wallace!