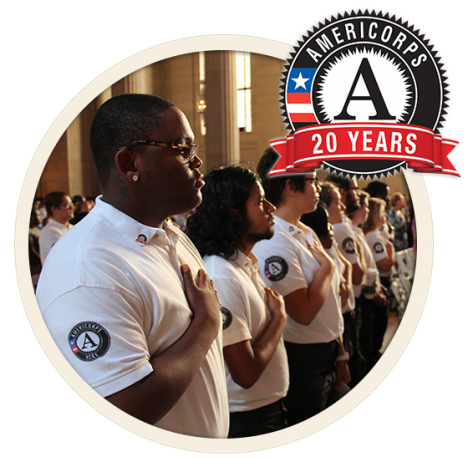 As AmeriCorps celebrates 20 years of service, we are spotlighting a national service alumni each day this week. These alumni have each received AmeriCorps Alums National Leadership Awards for driving national and global social movements.

AmeriCorps alumni are the backbone of social enterprise in America, providing nearly 1 billion hours of service since the founding of AmeriCorps in 1994 at over 25,000 sites. To continue harnessing the power of national service volunteers, AmeriCorps Alums, the only national organization supporting alumni of all AmeriCorps programs, connects alumni to the ideas, resources, and people who support a lifetime of service.

Yesterday we spotlighted Alex Bryan. To see the piece click here!

Today's spotlight will be dedicated to: George Dong, Director of Operations at Teach For America Chicago, Founder of Education in Sight

On September 8, 2014, George was named one of "AmeriCorps Alums 20th Anniversary Leadership Award Winners."



Through his experiences as a Teach For America corps member, George (service began in 2009) found his passion lies in the intersection of public service and education. "AmeriCorps was not a short-term commitment but a lifetime commitment to service," George says. While serving in the inner city of Chicago for two years, he was awarded the Teacher of the Year award in recognition of his dedication to education and to each of his students' academic success. George is now the Director of Operations at Teach For America Chicago. George has also started Education in Sight, a nonprofit aiming to give all low-income communities access to quality eye-care services. Today, Education in Sight has served more than 20,000 students. George was awarded Teach For America's social innovation award and the Yale School of Management's education business plan competition.

For more information about the AmeriCorps 20th Anniversary click here

New Profit is proud to have several of its portfolio organizations affiliated with AmeriCorps.