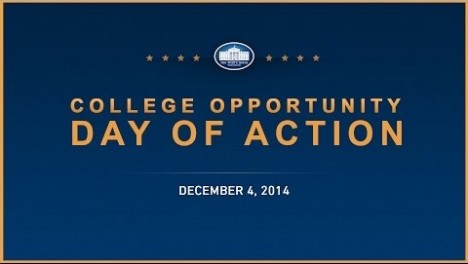 Yesterday, leaders in the realm of education joined the President, First Lady, and Vice-President at the White House College Opportunity Day of Action. This event is part of the President's plan to expand access to opportunity in America by preparing students for and to graduate from college. Some of New Profit's grantee partners --College Possible, College Advising Corps, iMentor and Single Stop -- played a feature role in the event and continue to do so. To learn more, check out the links below!
"When it comes to higher education we spend a lot of time crunching numbers and statistics, but ultimately what matters and what has so many of you here today, many of you who've made this your life work, is making sure that bright, motivated, young people, like... all the students who are here, have the chance to go as far as their talents and their work ethic and their dreams can take them."
College Possible: "College Possible has committed to serving more students in its current cities and new cities, engaging 50 new college partners to support low-income student success and leading the College Success Corps Coalition, which is advocating for a dedicated arm of AmeriCorps devoted to college success."
College Advising Corps: "The National College Advising Corps is partnering with universities to provide more that 80,000 students over three years with college counseling that increases enrollment."
iMentor: "[iMentor has] made two commitments that address the president's call to action and align to our strategic plan for growth, which include the following: 1. iMentor will match 20,000 new students with mentors by 2018. 2. iMentor will offer all students and their mentors the opportunity to extend their match through college completion, with iMentor's continued and comprehensive support."
Single Stop: "Single Stop has committed to supporting this goal by serving 350,000 more low-income community college students by integrating financial counseling, free tax preparation, benefits screening, case management, and legal counseling into existing student services and financial aid. By addressing the financial barriers to college completion, Single Stop seeks to produce an additional 35,000 graduates by 2020 and 100,000 more by 2025. To support this effort, Single Stop is partnering with the Association of Community College Trustees (ACCT) to develop a learning community to promote and improve integrated models for comprehensive student services amongst at least 10% of American community colleges by 2020. The community, chaired by Eduardo J. Padrón, President of Miami Dade College, and Joe May, Chancellor of the Dallas Community College District, will convene conferences and workshops; publish best practices and training materials; and will support the implementation and integration of the Single Stop model as part of a broader set of evidenced-based practices that reform student services and financial aid."
___________________________________________________________
Check out America Forward on Twitter @americaforward to see some great tweets from yesterday
Click here to see an infographic about the Plan to Expand College Opportunity for Everyone