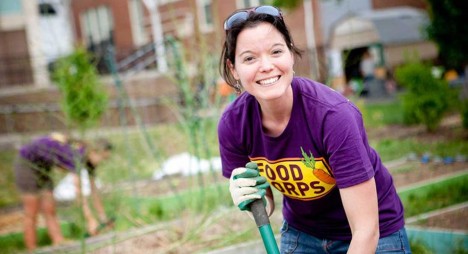 Some big news from one of our portfolio organizations! Debra Eschmeyer, co-founder and Vice President of External Affairs for FoodCorps, has been appointed Executive Director of the First Lady's Let's Move! initiative, and as the President's Policy Advisor on Nutrition, a role previously held by Sam Kass.
Eschmeyer has dedicated her career to creating innovative solutions in the area of food systems and policy. As a co-founder of FoodCorps, she has spent the last five years contributing to the success of the organization, aimed at "connect[ing] kids to real food and help them grow up healthy", FoodCorps "recruit[s], train[s] and place[s] emerging leaders into limited-resource schools for a year of service implementing [their] three-ingredient recipe for healthy kids," which includes Knowledge, Engagement and Access (for more information click here).
We can't wait to see all the amazing strides she will take in this new position.
"For more than a decade, Deb has been leading the way in teaching kids about the importance of healthy eating. From classrooms to gardens to kitchens and farms, Deb has made learning about nutrition fun and accessible for kids across the country. I am thrilled she will be continuing this important work here at the White House, and I know she will be an invaluable addition to our team." - Michelle Obama
Congratulations Debra!