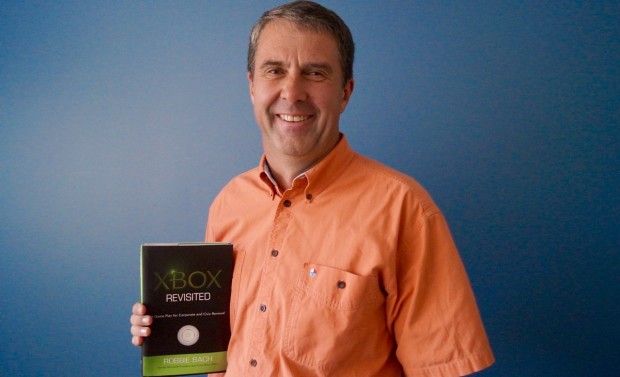 The following guest post was written by Robbie Bach, former President of Entertainment & Devices Division at Microsoft and driving force behind the launch of Xbox. Bach recently joined New Profit for a fireside chat about his new book "Xbox Revisited" and how lessons from the video game business can be applied to social problem solving.
If you look up the word "engineer" in the Merriam-Webster dictionary, the first definition is "a person who has scientific training and who designs and builds complicated products, machines, systems, or structures." In today's technology-driven economy, mechanical engineers, electrical engineers, and software engineers are all specialists with highly sought after expertise, often credited with driving much of the innovation and creativity we see in new products and services. And by-and-large, that reputation is well deserved – and there is an entire crusade aligned behind the STEM acronym to create more Science, Technology, Engineering, and Math oriented professionals.
Beyond the world of Silicon Valley startups, our country has another set of problems that involve equally complex systems and environments that don't necessarily involve technical skills to drive solutions. Whether you are focused on a local education issue, a regional transportation system, or a national taxation question, real engineering work must be done to develop practical, effective solutions. In my "Act II" following a 22 year career at Microsoft, I'm dedicating my time and talents to create a new discipline to address just these types of problems – I call it "Civic Engineering."
Civic Engineers apply a broad cross section of talents and skills to take on the challenges we face in our local, state, and national communities – problems that involve business, non-profits, community organizations, and government agencies. While technical skills are part of that mix, Civic Engineers also utilize analytic tools, communications techniques, leadership attributes, and other capabilities drawn from the social sciences to grapple with problems that have multiple layers and bisect cross sections of our communities. Like other forms of engineering, this discipline requires focus, effort, diligence, and commitment. Unlike the more formal degree programs, it is not an exclusive club. In fact, rather than requiring years of study, advanced diplomas, and a certain love for geekdom, Civic Engineering is the most democratic of clubs, requiring only that we live up to our duties as citizens and apply our common sense.
The other important distinguishing factor in Civic Engineering is that we are ALL called to play this role in varying degrees. In fact, the entire discipline flows from our responsibilities as citizens to fulfill our civic duty – to be engaged in meaningful ways in the issues that affect our communities. Not to be overly dramatic, but this is at the core of our democratic tradition and what makes us strong as a country. While holders of public office and full-time politicians engage on these issues "for a living", their roles are increasingly constrained by an election process that requires significant amounts of fundraising, pandering to special interests, and continued attention to what will drive election opinion polls. They can still play an important role in making progress on difficult issues, but the greater hope for change comes from committed individuals willing to make a difference.
Today we have the equivalent of "special forces" in the Civic Engineering world – people and organizations like Vanessa Kirsch (New Profit), Jeff and Tricia Raikes (The Raikes Foundation), Alan Simpson and Erskine Bowles (Simpson-Bowles Commission), Jim Clark (Boys and Girls Clubs of America), Hadi Partovi (code.org), Gerald Chertavian (Year Up). Unfortunately, the challenges we face are larger in scale than any Navy Seal Team could tackle. In my new book Xbox Revisited: A Game Plan for Corporate and Civic Renewal, I make the argument that fixing America's problems requires more than just these "points of light" – in fact, what we need is an entire Army of Civic Engineers willing to get educated, get vocal, and get involved in issues that matter to them and their communities.
It is fashionable to complain about our national government – and much of that disdain is well-earned. But the real question for each of us is what we intend to do about. To my generation and my peers, I present the following proposition: our country has a rich history, tremendous resources, and remarkable potential. But we are letting that slip away, and, on our current course and speed, we will leave only deeper challenges for our children and their children. It's time for the Civic Engineers amongst us to saddle up and be counted. It is time for all of us to enlist – to join an Army of Civic Engineers dedicated to common-sense approaches to America's most difficult challenges.