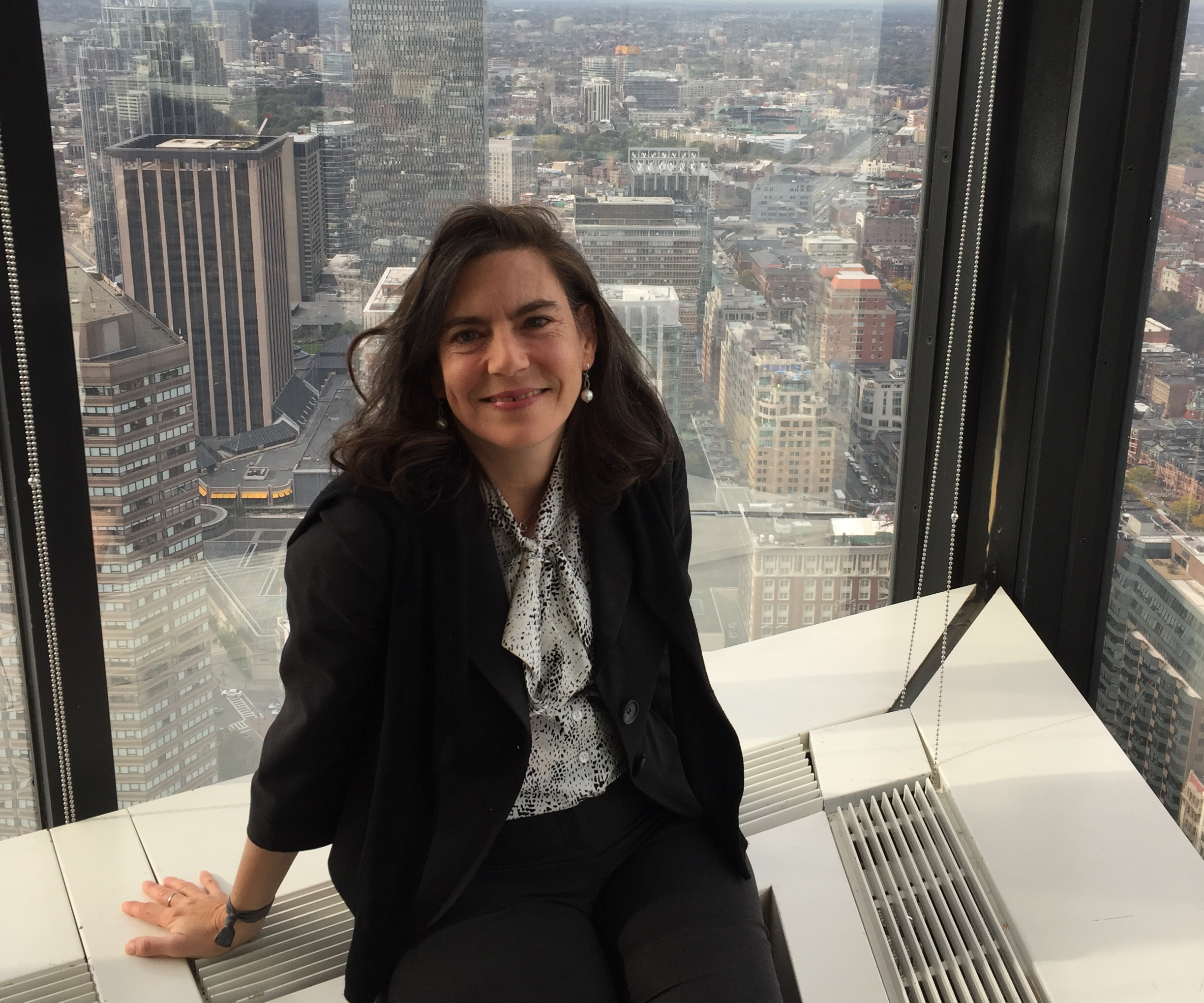 What is Faces of New Profit? It's a spotlight on members of the New Profit community, why they do what they do, and who they are. This week, we talk to Eliza Greenberg…
What is your role at New Profit?
I have a few – I lead the Innovation Fund with Kelly Cutler, am Vanessa Kirsch's chief of staff, a deal partner to 4 deals and a member of the executive team.
What motivated you to work at New Profit/in the social sector?
I always knew that I was going to do something around social justice. I grew up in New York City – you can't grow up in New York City and think that there is equity in opportunity, and that privilege and opportunity aren't completely random. It just didn't make sense to me that I was okay and other people weren't, I hadn't done anything to deserve that. I always knew I wanted to do something around addressing the opportunity gap but didn't know what.
When deciding how to best contribute to the social justice realm and closing the opportunity gap I got this notion in my head that if I worked on the same set of issues but from different sectors eventually I would be the best advocate ever because I'd understand what every sector was up against. So I thought, I want to be in nonprofit, I want to be in government, I want to be in philanthropy, because those were the sectors that were working on things I care about. I started off in nonprofit, I felt very strongly that it was important for me to get real experience on the ground and just really listen for a long time before I went and thought I could make policy for people when I hadn't been in their shoes. I spent nine years counseling homeless and runaway youth, which I loved so much.
During my time there I realized what these kids are really up against, from issues of systemic racism to intergenerational poverty. As much as I loved counseling and therapy, which I still do really love, I decided to work on fixing the systemic issues that cause this. This is when I decided to go to the Kennedy School, thinking I would go into government.
After graduating I decided to try working in government and went to work for then-Mayor Menino and oversaw the homeless funds for the city of Boston. Two years in, he asked me to run the Hunger and Homeless Agency for the city, and I became a political appointee as the Homeless Commissioner for a couple of years. He then asked me to run the Elderly Commission and I took over. Soon I was running all of human services, which was really cool because that level is just a totally different kind of impact than direct service.
Then I kind of reached the top of my growth curve and thought, "Okay, I really need to try philanthropy and see what that industry is like." In general, I thought it was a pretty broken industry so I was not attracted to it. But then I met Vanessa and I thought, "If I were going to experiment in this, this is a place where I could get excited to do it." So I chose New Profit to try philanthropy, and a little bit to figure out if I am someone who enjoys an intermediary role or am I more of an operator. Regardless, I knew New Profit would be a place I could contribute, grow and stretch while continuing to work on the set of issues I care about.
What is the most surprising thing about you?
I think the most surprising thing about me is that I'm actually a huge pessimist. Deep down, I'm a doomsday prepper.
What is on your bucket list?
Travel. There are so many parts of the world that I haven't traveled that I want to experience.
Doing some version of foster care, whether that's short term foster care or long term. Once we're empty nesters, that's definitely a big one.
I'm dying to interview a wide swath of random people about one thing. I want to go to radically different parts of the country and just say something like, "Do you believe in God and why?" No judgment, no nothing, just tell me what makes you believe. It's so fascinating to me.
What is the theme song of your life? Or name a few songs that make up the soundtrack of your life.
"Sing A Song" by Earth, Wind & Fire
What inspires you to keep going in this work?
I truly believe in the goodness and resiliency of my fellow human beings. I've seen amazing things in my life witnessing people bounce back and overcome adversity. So, it's two things. One is understanding that if you could provide the right set of conditions human beings will always blossom and rise up to it. I just think that is so beautiful and true and I always want to work on setting up the right conditions for all. In terms of New Profit in particular, it is the incredible network of people here and the social entrepreneurs that I get to work with. I feel incredibly privileged every day to work with who I get to work with. I so believe in New Profit's world of partners, from our investors to our SE's to my colleagues here - and the unimaginable potential we collectively have.
What is your favorite quote?







  
 
 
 
 


  
  
  
  
    "If you really want to make a friend, go to someone's house and eat with them... The people who give you their food give you their heart." 
    
  
  
  
  

- Cesar Chavez


  
 
 
 
 



What is your favorite book?
There's no way I can pick just one. So, I'll name one that opened up doors in my brain during my formative years - Working by Studs Terkel.
What is your favorite movie?
We started a tradition with my kids when they were little, every Christmas Eve I make lobster risotto and we watch A Christmas Story.
It's not necessarily my favorite movie, but it is the movie that is the most meaningful to me.
Who is the greatest influence on who you are today?
My mom. She was imperfect and limited in some ways but was really willing to work on it, even in her later years. She taught me a lot about the way I want to be and she taught me a lot about the way I don't want to be. She was so open to looking at herself it made me realize that we are all imperfect but that trying to understand yourself and change what you want to change in perpetuity is the goal. I also got my fierce loyalty and value base from her.