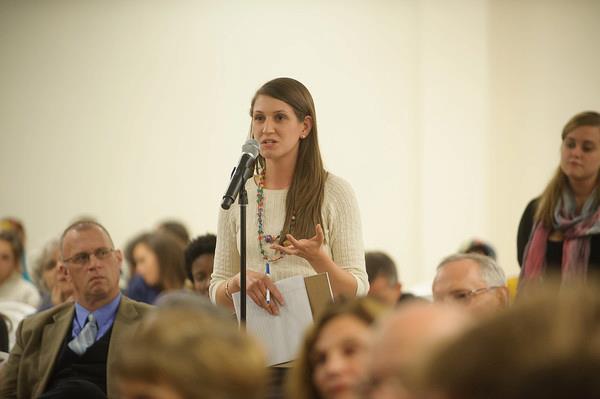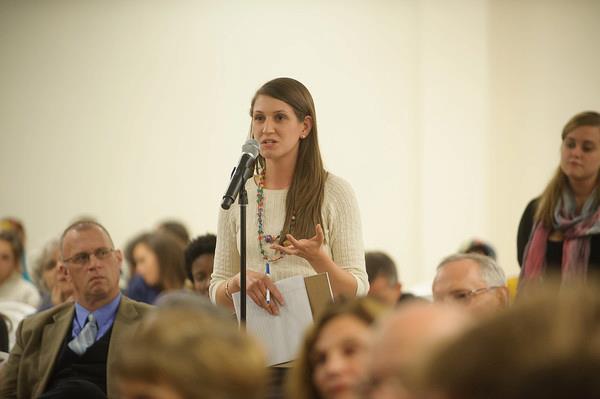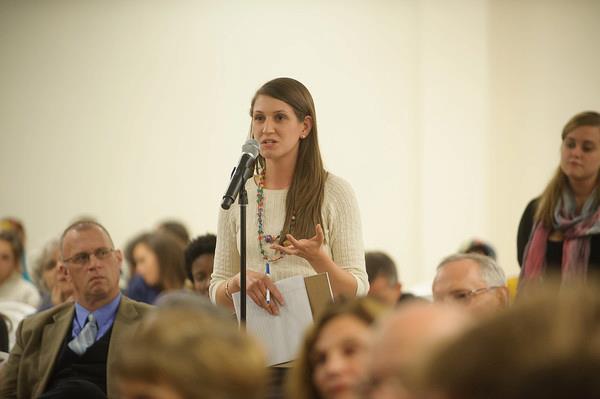 What is Faces of New Profit? It's a spotlight on members of the New Profit community, why they do what they do, and who they are. This week, we talk to Sarah Groh…
What is your role at New Profit?
I'm a Manager on the America Forward team. I work with a coalition of 70+ amazing non-profit organizations on collective policy initiatives. Right now I'm co-managing our outreach and engagement related to the Presidential election cycle (briefing staffers, organizing site visits with candidates, and lifting up important bi-partisan priorities and first hand stories from the social sector). I also work on a number of our federal education policy priorities and support partnership work with state education leaders.
What motivated you to work at New Profit/in the social sector?
I draw a lot of inspiration from strong women in my life who have fiercely advocated for their kids and their communities. I think about my mom's tireless advocacy that empowered my brother to re-enroll in high school after dropping out and the moms I worked with at Horizons for Homeless Children who put their kids' first while they were navigating housing crises.
I was lucky to grow up with some fierce advocates in my corner and because of that I think I grew up with a strong drive to be part of my community and part of something bigger than myself. When I was 13 I got on a civic engagement kick and started going door to door registering voters and from there on out I spent every spare minute engaged in local politics and community organizations. I've had some great mentors and diverse experiences in the sector along the way. I really believe that there's something powerful to learn from the work going on in communities across the country. Some of the best advocates are the quiet folks at the back of the room just doing the work.
What is on your bucket list?
Learning another language.
Describe yourself in three words.
Optimistic. Compassionate. Curious.
What is the most surprising thing about you?
I'm debatably the worst dancer you've ever met but unfortunately that doesn't keep me from dancing a lot. I have one dance move and I'm so unapologetic about it.
What is the theme song of your life? Or Name a few songs that make up the soundtrack of your life.
What inspires you/keeps you going in this work?
This country is a beautiful work in progress. I'm so grateful for the opportunities I've had and what education's brought my way but I'm acutely aware that opportunity in this country is deeply fractured, moreso than we often recognize. Until we collectively move past narrow narratives about circumstance and the barriers people face, I think we all have a tremendous amount of work to do. People have so much amazing capacity and potential but we really do need to invest in taking care of each other and working across sectors to build inroads to opportunity. Every day I think about how where I am now is because of equal parts hard work and good luck and I feel extremely committed to building a ladder for those coming up behind me.
What is your favorite quote?

  
 
 
 
 


  
  
  
  
    "Do what you can, with what you have, where you are."
    
  
  
  
  

– President Teddy Roosevelt


  
 
 
 
 



It's easy to say 'if' I was in that role, in that city, in that position, at that time I would do x. I think one thing I've learned from my incredible friends and colleagues at New Profit is that none of that matters. Start where you are and do good work. Any platform can be a platform for good work and progress.
What is your favorite book?
Life Doesn't Frighten Me by Maya Angelou
Who in your life has had the greatest influence on who you are today?
Without a doubt my mom. She is the best human I've ever met. She has a kind and generous soul and she's an advocate in every sense of the word. She offers everyone she meets so much warmth and grace. We always had a bunch of extra kids from the neighborhood at the dinner table growing up. For me she was the person who had an unshakeable faith in what I was capable of. She has spent the past few years battling cancer and I have never seen someone tackle something so hard with so much love and grace. One of the first things I think about when I wake up in the morning is how to channel her kind spirit and work to be more like her.