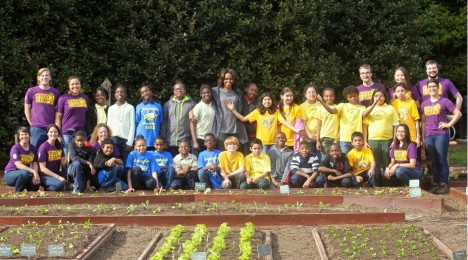 "FoodCorps service members play a critical role in the drive to end childhood obesity. Their task is clear: to carry the magic of what's happening at the White House today out to schools across the country. From Montana to Mississippi, our AmeriCorps members are building school gardens and helping children learn to love healthy food." - FoodCorps Co-Founder and CEO Curt Ellis.
FoodCorps, a New Profit portfolio organization, was at the White House yesterday planting in the garden with First Lady Michelle Obama. FoodCorps' nationwide team of leaders perform a year of AmeriCorps service in limited-resource communities where they conduct hands-on food education, build and tend school gardens, and help get high-quality local food into public school cafeterias. Serving under the direction of state and community partners, FoodCorps members across the country dedicate a year of public service to help children grow up in healthy school food environments.
Today, Co-Founder & CEO and Curt Ellis sent out this wonderful note and photo to tell us about their day. We want to share the joy with you...
Dear All -

Yesterday, Michelle Obama called FoodCorps "close to her heart." She said that the work we do –– "getting out there and teaching healthy habits for our kids –– is brilliant". And she gave each person from the FoodCorps delegation –- four members of our founding team and six FoodCorps service members –– a hug before we said goodbye.

In between those moments, we worked at her side to plant brussels sprouts and mizuna, Lincoln oats and pak choi, with children from the D.C. schools we hope to serve beginning this fall. It was a thrilling day, and a validation of everything we're working for.

We wish all of you could have been with us planting the White House garden yesterday. But we felt your presence in the pride and gratitude that welled up on that sunny south lawn, and in the warmth and thanks the First Lady conveyed to everyone who makes FoodCorps possible. And we put seeds and tender lettuce starts in the ground for each of you.

Congratulations on the hard-earned recognition FoodCorps received at the White House. Because of the work and service we're doing together, there's one newly planted garden in front of a presidential mansion in Washington –– and there are hundreds more in front of schoolhouses across the country.

With gratitude and pride,
Curt
Photo courtesy of Eddie Gehman Kohan, www.obamafoodorama.blogspot.com.
Video of the White House Kitchen Garden planting is available here.