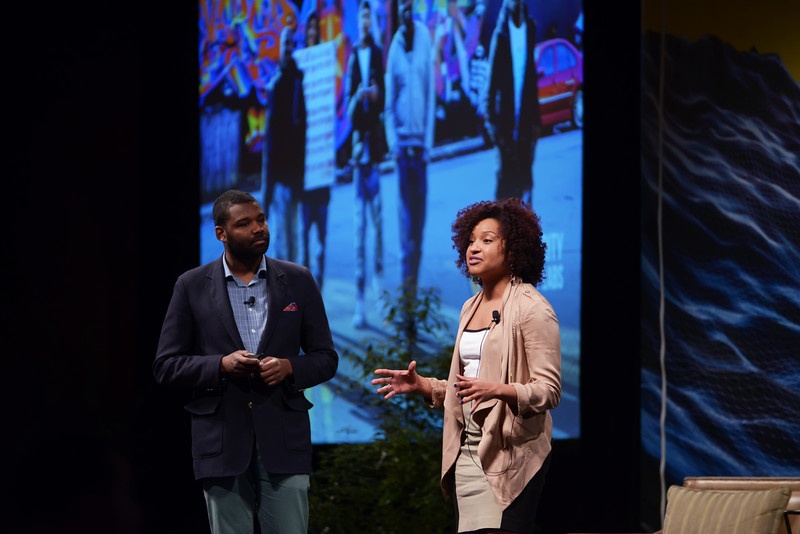 Message from Vanessa Kirsch, New Profit's Founder and CEO
Next week, our community is coming together for the 13th annual Gathering of Leaders, which is being held for the first time in Atlanta. It will be the first major convening of social entrepreneurs and partners from across sectors since the election, and the stakes have never been higher.
For more than a decade, the Gathering has been a place to reconnect with each other and build new relationships, ask the toughest questions about what holds us back, and envision the future together. That formula has renewed our spirits year after year and led to some breakthrough ideas and partnerships, like creating America Forward, unlocking innovation funds, and pursuing new approaches to diversity, equity, and inclusion in our field.
This year is anything but normal, which is why I'm writing to you today. We are going to have to find a new level of boldness and resolve, get curious, and be powerfully vulnerable too. I want to share some of the questions I've been asking myself to get ready:
What beliefs hold us together as a community and a country? From my perspective, we're united by core beliefs and values worth stating and re-affirming. Our community believes in the fundamental values of democracy. We believe that systemic barriers standing between people and opportunity in America can and must be brought down and in the power and promise of ingenuity and social entrepreneurship. We believe in the strategic and social justice imperatives of diversity, equity, and inclusion. We believe in taking risks where others won't. We believe in long-term commitments and collaboration. We believe in pushing the boundaries with innovation.
Where do we need to question our own fundamental beliefs and assumptions? We have to do this always and everywhere, but three key things come to mind for me. Our community took too long to face up to the challenge of diversity, equity, and inclusion. Are we doing enough to drive concrete progress? In a similar vein, the past two years leading up to the election showed that many social problem solvers, for all the progress they've been driving in our cities, have turned a blind eye on struggling smaller towns and rural areas. What are we doing to do to reach out, learn and share, and break down those barriers as well?
What are we willing to fight for? We know that organizations and people in our community are already facing challenges in the wake of the election and are vulnerable to major policy changes. We must fight for each other and against discrimination in every form. Just as importantly, we have to do everything we can to protect and expand the momentum in social problem solving that has been created in recent years.
I know I'm only scratching the surface in this letter, but the beauty of the Gathering is that we get to go below the surface. Both people who will join us in Atlanta and those who will follow through social media (#NPGoL) will have the opportunity to engage, raise their voices, and contribute to dialogue about our collective path forward.
I want to raise one final question to consider ahead of the Gathering: are we maintaining the spirit of innovation that has always driven us to push against the status quo and take risks? That is crucial to me.
Even in the midst of such big challenges, we can't lose sight of two imperatives: innovation and collaborative action. Two quotes come to mind in those respects, one from our New Profit community and one from a leader of Atlanta's past:
"Entrepreneurs have a mindset that sees the possibilities rather than the problems created by change." – Greg Dees, our late friend, a regular Gathering participant, and one of the spiritual founders of the social entrepreneurship movement
"You cannot fully understand your own life without knowing and thinking beyond your life, your own neighborhood, and even your own nation." – Johnetta Cole, first African-American woman to serve as president of Atlanta's Spelman College and current director of the Smithsonian Institution's National Museum of African Art
We are excited to see some of you soon in Atlanta and to hear from all of you as we forge ahead with shared purpose.
Sincerely,
Vanessa