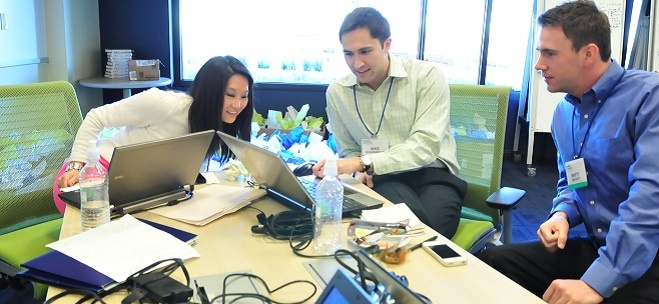 We thank our lucky stars every day to be part of a network of bold and visionary entrepreneurs, philanthropists, advocates, and other partners who are transforming the way social problems are solved in America. While they are a source of constant inspiration, every so often we have a groundbreaking experience that truly shapes the way we think about the future.


One of those instances arose recently during a trip to Dallas to judge the final round of Deloitte's National Case Competition for MBA students at Deloitte University. We have had a long and incredibly valuable collaboration with Deloitte: helping social entrepreneurs build and scale great organizations, and creating networks of innovative problem solvers who can work together to tackle our country's biggest challenges. Four New Profit leadership team members – Vanessa Kirsch, Tulaine Montgomery, Bob Searle, and Sam Hiersteiner – made the trip to Dallas.


Deloitte has held the National Case Competition for the last six years, and 2016 marked the first time the final round case was focused on a social impact organization (which you may have guessed was New Profit). Out of a group of 1,000 students from America's top business schools, 16 teams of four made it through to Dallas. They were given a case about New Profit's future strategic direction and had less than 12 hours to put together a presentation with recommendations.


Here's where things got really interesting. We were impressed by the heroic effort and the presentations, particularly from the final four teams (UVA, Dartmouth, U of Chicago, UNC), but we were floored by some bigger lessons we learned about millennials:


Millennials are hard-wired to think about social problem solving as collaborative, collective, and multi-faceted. Many people in our generation were raised on the brick-and-mortar approach to social change, which suggests that great nonprofits would eventually expand across the land and leave green grass in their wake. But the teams we watched were naturally inclined to think about enveloping challenges with solutions that include on-the-ground programs, technology, social media, advocacy, and other more. The eventual grand prize-winning team, from the University of Virginia's Darden School of Business, surprised all of us by stressing the importance of driving policy change in pursuing transformative impact, which is something that even some sophisticated nonprofits have yet to embrace.




Millennials don't recognize the walls between sectors. Because of the nature of our collaboration, we were particularly pleased to see teams speak about and present ideas as though it was obvious that cross-sector partnership is key to driving change.




Millennials prioritize substance (impact) over style. In a social media-driven world where millennials are in the driver's seat and the flashiest new toy or celebrity-kissed product almost always leads the day, we were inspired to hear the case teams focus so sharply on impact. They pressed us on the question, "How can we maximize outcomes?" almost as hard as we pressed them. It's the first principle from which all others flow.



We might add one additional point: millennials are ready to give their time and resources with purpose. They said as much. That's something that more nonprofits and private sector organizations need to consider as they are writing their strategies for the future.


Check out Deloitte's press release about the winning team from the University of Virginia's Darden School of Business.


We are especially grateful to the team of Deloitte judges and staff that that contributed their time and energy to make the event so meaningful for us and the students who participated. We were also inspired by the industry expert judges from across the social impact sector who came to the event. You can access the full judges list here.


For more insights on Millennials, click here to read about what nonprofits have to learn from Deloitte's 2016 Millennial Study.