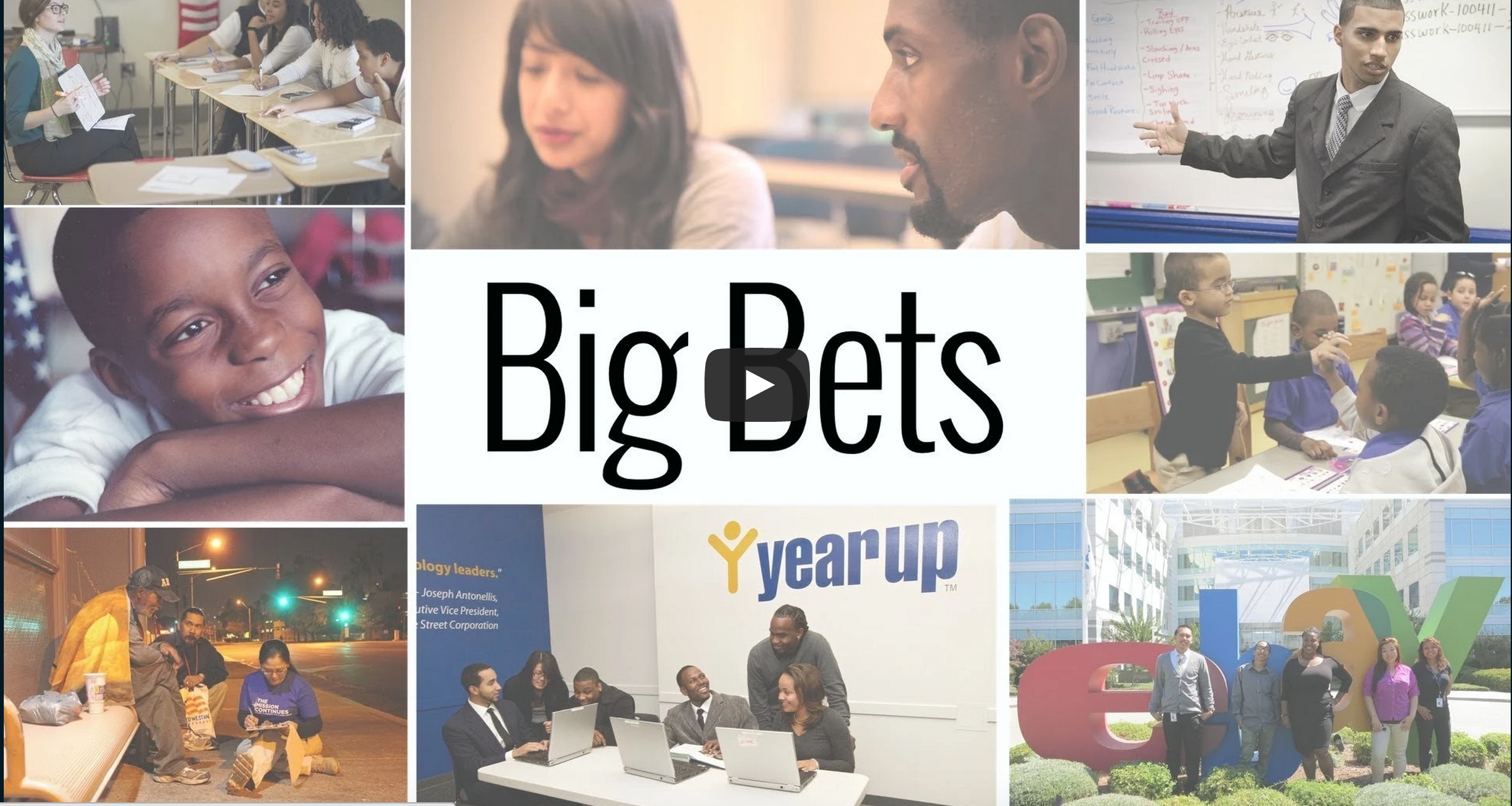 Today, we're publishing Part 2 of my interview with Kate Courteau, the Director of Y Combinator Nonprofits. For a little background on Y Combinator, the venerated Silicon Valley tech incubator, and it's new (and promising) work with nonprofits, read an earlier post I did on the topic. To read Part 1 of the interview, which posted yesterday, click here.
We want to hear your thoughts about these issues, so please leave a comment or reach out to us on Twitter (@newprofit), LinkedIn, or Facebook.
Sam Hiersteiner (SH): What needs to change about the social sector to reach the kind of scale and impact that companies like Airbnb have had in the private sector?
Kate Courteau (KC): One of the biggest problems in the nonprofit world is the lack of early financial support and mentorship for young entrepreneurs who have innovative ideas about how to solve some of the world's largest problems. This lack of early support is discouraging to really smart people who might have great potential to tackle these big problems. At YC we invest in people and we're not afraid of teams with ambitious or potentially polarizing ideas. We recognize that a lot of startups fail but we believe that it's worth the investment even if there's only a small chance that an ambitious approach can solve a really big problem.
Beyond the ideas, we look for nonprofits that seem really similar to our for-profit startups. We look for the same level of determination and vision in the founders. They need to have the willingness to act quickly, to engage with users, and to communicate if things aren't working. They need to have technical competency and understand that utilization of technology can make every company better. In our most recent application and interview process for nonprofits, we focused less on the ideas and more on the profile of a founder to determine success.
Y Combinator itself is a startup company and we hold ourselves to these same standards. We are always looking to improve our process and our program when things aren't working. And we always push ourselves to get better at what we do.
SH: You've talked a lot about the lessons social entrepreneurs can learn from tech entrepreneurs, but what about the reverse? Have you learned anything from your early work with social entrepreneurs in the YC program that could serve as a lesson for your tech entrepreneurs?
KC: In the social venture space there's an overwhelming amount of dedication and optimism. This is great positive energy to have at YC. For-profit startup companies can also learn more about what "winning" should actually look like in the startup world. Fundraising and selling your company for the largest amount of money is not the ultimate end goal. Technology should be leveraged for good things for the world. And teaching entrepreneurs about how to make the right ethical choices for the good of everyone is an incredibly important lesson. This is often the foundation of social ventures so these entrepreneurs can serve as great examples.
SH: Is greater collaboration between the tech and social innovation communities important?
KC: I'd like to see less separation between the two sectors-- there shouldn't be such a great distinction. Social innovation today will be informed by technology. Social entrepreneurs in today's world should have a technical co-founder as a part of the team in order to be successful. Any ambitious solution to a problem in today's world is going to have a technical component, even if it's just at the data analysis level. We've built YC this way. We have a highly-developed backend system at Y Combinator that keeps our team organized and communicating with each other.
SH: Do you think it will be hard for social entrepreneurs to find quality tech and engineering expertise, given the big money out there to be made on for-profit projects?
KC: No, I don't think money is the difficulty. We've found that there are a lot of talented engineers out there who've already made their money from a successful startup and now want to put their talents to work for social good. We've also noticed a growing pool of engineering talent that is specifically interested in working on social impact projects, even if it means that they can't command the same salaries as the for-profit tech world. The engineers are out there, but I will say that in Silicon Valley, it's going to be a little harder than other areas because there's just such an extremely high demand for engineers here.
SH: In your wildest dreams, what will YC have achieved on social impact in five years?
KC: Our hopes are to make some headway on some of the biggest problems that still exist in the world. To get there, we need better collaboration and sharing of successes and failures within the social sector. I get frustrated that there are still so many people working on the same problems and not sharing their findings. I realize that some of that has to do with competition for scant philanthropic resources, but if there was a way to overcome this and get people to share, I think we could work a lot faster and have greater impact.