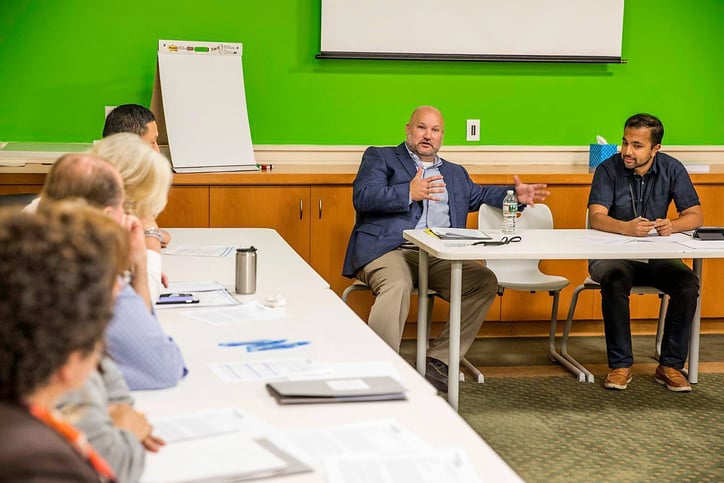 Today, Jeffrey Riley was appointed the Commissioner of Education of the Commonwealth of Massachusetts. It was an exciting development for us at New Profit, as we have been working in close partnership with Riley for the past two and half years in his role as Superintendent of the Lawrence Public Schools (LPS). We applaud the decision of the State's Board of Elementary and Secondary Education and offer our heartfelt congratulations to Riley on this well-deserved appointment.
In 2011, Riley was appointed by the state as the "receiver" of LPS, with a mandate to turn around a Level 5—or failing—school district. Five years later, there is evidence of significant improvement in the district. State test scores are up in both absolute performance and student growth in English and Mathematics. As of 2016, 10 of the 33 schools in LPS now have the highest-level designation possible—Level 1. The high school graduation rate has increased from 47% in 2010 to 71% in 2016. For students with disabilities the graduation rate was 21% in 2010 and has risen to 51% in 2016. Dropout rates have also continued to decline, from 8.6% in 2010 to 4.2% in 2016.
This impressive progress is the result of Riley's visionary leadership, through which he truly transformed the culture of the district—using data to drive decision-making and bringing a growth mindset to principals, teachers, and students. We were fortunate to document one of Riley's signature interventions in LPS: the Acceleration Academies. For one week in February and one week in April, exemplary teachers—from Lawrence and schools across the country—work with small groups of students to help them gain mastery of specific learning standards.
This is no ordinary academic boot camp, as our multi-media case study makes evident, but rather a carefully crafted experience that appreciates and cultivates teacher talent and builds and celebrates student perseverance—transforming the joyless compliance typically associated with remediation into a rigorous and joyful week of accelerated learning. Not surprisingly, a Harvard study found that the Academies had an outsized impact on the turnaround of the district.
Riley understands what it takes to spark innovation in complex systems. He is the epitome of a systems entrepreneur who artfully identifies assets and builds from what works, while also not shying away from shaking things up when necessary. We look forward to seeing what Riley accomplishes from his new perch, and hope to continue supporting his work in the coming months and years.
Jane Feinberg is the Strategic Advisor and Regional Partnership Lead for New Profit's Reimagine Learning Fund.