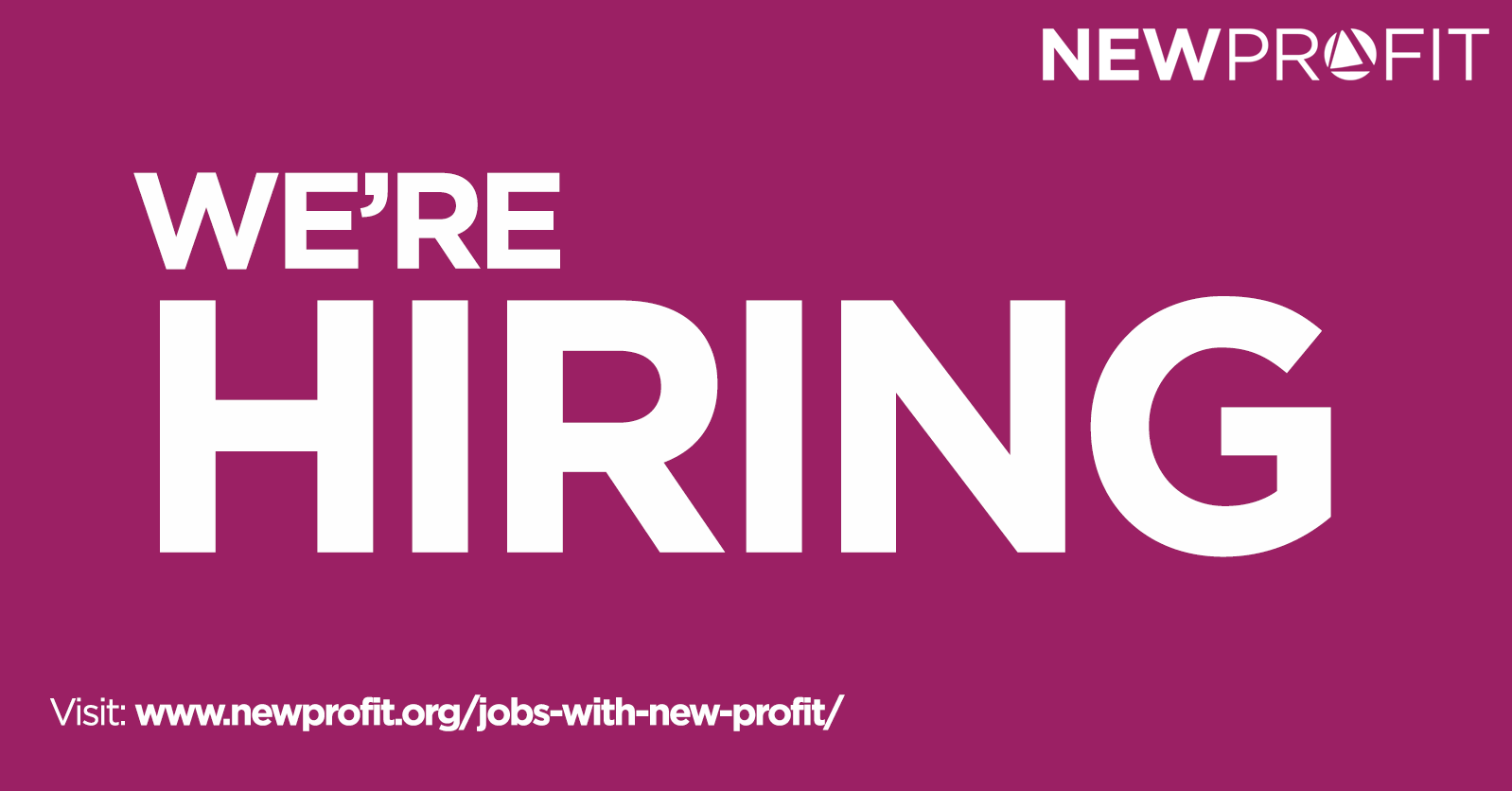 Are you interested in joining the New profit team? Keep reading for details on all our open positions. We're looking forward to hearing from you!
Executive Assistant: New Profit is seeking an motivated, mission-driven, and highly-organized Executive Assistant to provide primary high-level administrative support to two Managing Partners. The Executive Assistant will play a critical role in supporting the managing partners and the long-term success of their efforts by managing logistical processes and tasks that require close attention to detail, and working very closely with New Profit staff members and external constituents. The ideal candidate will work well with a team and also independently; have exemplary organizational skills with the ability to multi-task and respond to rapidly changing priorities; and have superior interpersonal skills, high self-awareness, and sound judgment. S/he will communicate proactively and be comfortable with ambiguity and an ability to thrive in an entrepreneurial organization working at the cutting edge of social entrepreneurship, philanthropy, and policy. Read more and apply here!
Special Projects Associate: New Profit is looking for a collaborative, adaptable, organized individual intrigued by the idea of supporting its innovative Founder and CEO, Vanessa Kirsch. This role is perfect for someone passionate about social change and the philanthropic sector, and wanting to learn about venture philanthropy, fundraising, entrepreneurship, and organizational leadership through close proximity to the CEO. Read more and apply here!
Associate, Portfolio Performance & Support: Are you interested in the use of data to improve social programs? Do you love the insights you can drive from data? Do you like managing processes for the collection and synthesis of data? Are you proactive, organized, and detail-oriented? Do you bring a collaborative mindset and a "roll-up-your-sleeves" approach to your work? Are you looking to bring your passion for social change to an organization working on the cutting edge of social entrepreneurship and philanthropy? If so, New Profit wants to talk to you about an exciting opportunity to join us as an Associate, Portfolio Performance & Support. Read more and apply here!
For general Talent inquiries, click here.